It is our last day in North Wales and having spent the last couple of days by the coast we decide to head inland and take a walk in the Vale of Ffestiniog. Our walking book tells us that our route will cross the tracks of the steam Ffestiniog Railway. So anticipating seeing Jones the Steam at work we head off. Beware there might be a few references to Ivor the Engine in this blog!

As previously said driving in North Wales is a pleasure, the scenery is always stunning and the main roads are pothole free so we have a pleasant trip from Swn Y Mor to our parking spot at the Rhyd-y-Sarn parking and picnic area. We do not see a soul as we head off from the layby on the A496, turning right for a very short while alongside the main road before crossing to join a signed footpath on the opposite side.
We follow this track to its end and then follow a path into woodland. We are soon in the Coed Cymerau National Nature Reserve and walking alongside the Afon Goedol that we soon cross at a footbridge.
Our guidebook says that this path climbs steeply and it certainly does! We are walking back above the river on a narrow path with a precipitous drop to our left, so Freddy the Fearful is proceeding with caution and avoiding looking down. Thankfully we quickly emerge into a conifer plantation, and feeling more relaxed we pass a nature reserve board before following the path through a broken wall.
This is woodland where people have walked all over the place so it is with care that we proceed, there are many fallen trees and our previous experience of walking in such terrain has taught us how easily you can lose the main route.
There are few distinguishing features, other than trees, so we press on in what feels like the right direction.
Occasionally we think we are on the main path, but then again we might be following a badger's trail. Eventually we see a ladder stile and know we are on course.
Once out of the woods we are walking through bracken to another ladder stile and then turn left to join an uphill track. The sun is shining and all is well. The intrepid explorers are now out in the open and following a clear path, perfect!
Many years ago Lynnie realised that there was little point in me having instructions or a guide to anything so she always carries the guidebook and usually the map.
My failure to read instructions led to an early embarrassment as a caravanner. It was our first trip in the Unicorn and the first fight with an awning. We headed off for two nights in Wareham Forest to get to grips with how the van worked. Soon Lynnie was inside sorting things into cupboards, she is good at that, whilst I was outside with an expanse of canvass and a load of poles (the technical term is an awning but after an hour that was not what I was calling it).
After a while Lynnie popped her head out of the door to enquire at my progress, or lack of it, I told her there were bits missing. She looked in the bag and found some instructions and checked the brochure to see what the erected model should look like, within twenty minutes it was up!
Anyway, I digress, back to our walk. We are now at the top of the hill looking out over stunning scenery. We are walking alongside the track bed of the old Ffestiniog Railway and a hundred yards or so further ahead is a ruined overhead bridge.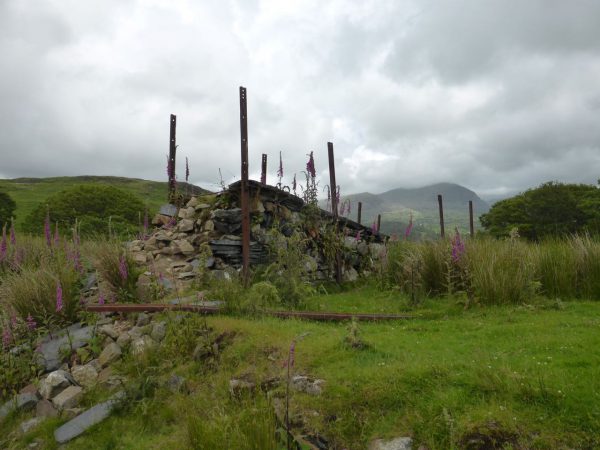 We stride on. We hear the whistle of a steam train and in the sun wait with anticipation to get a good view of Ivor passing by. Our path is broad and clear so easy to follow.
We get a glimpse of the steam train and expect to reach the station mentioned in our guidebook soon.
We continue walking and I bemoan the accuracy of the book, for we have now walked far further than anticipated to reach the station. On meeting someone coming in the opposite direction we enquire if there is a station up ahead. With confirmation that there is we journey on.
Our next major landmark is a reservoir, we reread the guidebook, there is no mention of a reservoir, either our guidebook is missing some key information or we are on the wrong track.
We soon get confirmation that it is our error when we reach a power station. I check the map and guidebook and realise that we should have taken a left turn a mile and a half back. As I consult the map Lynnie spots a £5 note on the ground, quicker than the proverbial rat up a drainpipe she has it secreted in her pocket as part of her Ice Cream fund.
We are alongside the Tanygrisiau Power Station; this opened in 1963 and was the UK's first major pumped storage power station. Water from Llyn Stwlan, a reservoir in the mountains above the power station, generates electricity as it falls towards Llyn Tanygrisiau through four concrete-lined tunnels.
Apparently the Station's four generating units can produce 360MW of electricity, enough to supply North Wales' entire power needs for several hours. At night when demand for electricity is low water is pumped back up to Llyn Stwlan to generate electricity again when required.
The Ffestiniog Railway now runs behind the power station, this is not the original route as in the early 1960's the then derelict track bed was flooded to form part of the reservoir.
Knowing we are in the wrong place we decide to further detour our walk into the village of Tanygrisiau, secretly I think the prospect of finding more discarded cash is what is driving Lynnie on!
As we enter the village we get a close up view of a train pulling into the station and debate whether to catch it back up the valley to Ddaullt Station, thereby saving us a couple of miles walking. However, we are in no hurry, so decide to continue on foot and anyway I have devised a shortcut around the other side of the reservoir that will make it easier to get back to our intended route.
The views from Tanygrisiau are fascinating. They really highlight the history of the Ffestiniog Railway, which was constructed between 1833 and 1863 to serve the slate quarries between Porthmadog and Blaenau Ffestiniog. By the 1870s the railway connected to some 16 quarries with over 30 inclines. All around us we can see redundant inclines the most striking of which is the one that served the Wrysgan Quarry. The engineering that went into creating these routes and building tunnels through the mountains is incredible.
We sit on a bench below the track and enjoy our lunch whilst planning our route back. I am sure if we cross the dam of the reservoir we can join up with a footpath on the other side. Accordingly we cross the dam and take a flight of steps down to the dam's base before climbing up the other side into some woodland.
There is no sign of a path. It appears that others have been here before us so we follow what we thing is the route, but soon find there is no way through and realise that Freddy the Foolish has led us the wrong way.
There is nothing for it other than to retrace our steps back over the dam, around the reservoir, past the power station and eventually we reach the junction in the path where we should have turned off. Our error has added about six miles to our walk.
The route now leads along the old track bed of the original Ffestiniog Railway and we are walking over old wooden sleepers.
This route takes us through a gate into Dduallt Station and we cross the railway line to pass to the right of the station.
Very soon we pass a house and climb a stile and then turn left to walk alongside the railway line. After going under a railway bridge we follow a path through bracken and then wall gaps to reach another ladder stile. This takes us across the rail track again, after another ladder stile on the other side we turn right following the path as it heads downhill to join a track. We continue downwards on this track that soon becomes tarmacked and at a U bend to the left we keep straight on over a stile. The scenery here is cracking and we are soon alongside a waterfall.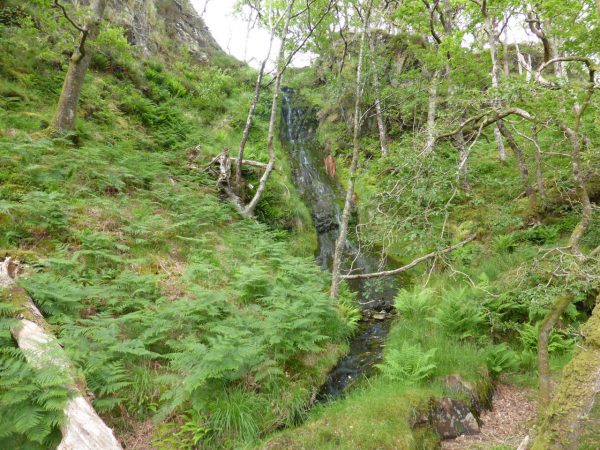 Our route continues downwards through a kissing gate where we fork left and head more steeply down to a concrete track. A right turn and we start back up hill, passing left of a house and across a stream. Then we bear half-left to take a path that starts off level and then passes through a gate before descending through woodland to a tarmac lane which we follow meet the busy A487.
We turn left alongside the road for a short while and then cross to wander into the village of Maentwrog, built in the 19th century by William Oakley for workers in his slate quarry.
Apparently Maentwrog means "Twrog's stone" (maen = stone). According to legend, a giant known as Twrog hurled a boulder from the top of a hill down into the settlement, destroying a pagan alter. The slate covered village church is, of course, St Twrog's church.
After a wander around we head back to the main road by crossing the old bridge and take the footpath on the opposite side of the road that runs along the embankment over low lying fields. William Oakley built this embankment to protect local farmland from the being flooded by Afon Dwyryd. As we walk along the embankment we keep a careful eye on a herd of bears that casually watch us from their sedentary position.
On joining a tarmac lane we turn right and follow this for a mile and a half until we meet the bridge over the Afon Dwyryd known as Pont-Dol-y-Moch. This bridge is thought to date back to the 16th Century and is the original structure so is now a Grade II* listed building.
The lane eventually leads us to the A496, here we turn right uphill to the junction with the B4391. We turn left and soon after take a footpath on the right through a gate that leads up a track. This is a steep climb and we chat as we walk and in doing so miss our turn on the right, on reaching a blocked gate we review the map and eventually realise our error. So back down the hill for fifty yards and then we take a path (now on our left) to a ladder stile, and then follow a wall to its end. At a crossroads of paths turning left to head back down to the B4391. Here we encounter a high stile leading to steps onto a busy road, by a bend, so not the easiest of maneuvers with two dogs.
We turn right and uphill for 200 yards before turning left at a footpath sign. This path takes us downhill, at the bottom we pass through a gate and cross a boggy path. Now bearing right to follow a path at the bottom of the field, where way markers skirt some cottages and bring us back to our starting point.
It has been an eventful walk. Our guidebook says it should have been five and a half miles. Checking the map it looks like we have done about twelve, but in doing so we have seen some fantastic scenery. There is no doubt we will miss North Wales when we head off tomorrow.
27th June 2015
[To follow our walk you will need Ordnance Survey Outdoor Leisure Map OL18 – Harlech, Porthmadog & Bala]
© Two Dogs and an Awning (2015)