For a number of years I have considered walking the Clarendon Way, the 27-mile walk between the cathedrals of Salisbury and Winchester.  I am not sure what has stopped me, mainly trying to find the time, but now retired I have no excuse.

When I mentioned my plan to our friends Mandy and Stuart I was surprised, but pleased, when Mandy said she would like to join me.  She is preparing for a walking holiday later in the year in Costa Rica and welcomes the chance of notching up some miles on a long walk on a hot day.
Our starting point is Salisbury Cathedral. Being a Salisbury lad I have grown up with the sight of the spire, my familiarity with the building means I, like many others, don't take time to appreciate it.  Built in the 13 century it has the tallest church spire in the United Kingdom standing at an impressive 404 feet.
Usually I see the Cathedral from a distance whilst walking the surrounding countryside and seeing it close up in the early morning sunlight reminds me I should come here more often.
The Clarendon Way is a well-marked, signed route  and is clearly marked on the OS map so I will not explain every twist and turn along the way. We leave Salisbury via Milford Street and then up Milford Hill.  As a teenager my father lived with his sister and brother-in-law on this road and it was whilst living here that he met my mother.  Both came from Southampton, but the events of World War II resulted in them being in Salisbury.
Following the way-markers we take a footpath heading downhill across the railway line and reaching Milford we carry straight on to cross the River Bourne at Milford Bridge. I went to St Thomas' secondary school and the school badge represented the five rivers of Salisbury and three choughs. I quickly learnt the rivers, using the thumb and fingers of my hand: Ebble, Nadder, Wyle, Avon and Bourne but I had no idea why there were three choughs.  However, I now understand there are three choughs in St Thomas's Church in Salisbury so there must be a connection.  (If you ever visit Salisbury be sure to pop into St Thomas' Church, it is an absolutely wonderful building.)
Our route now heads along a tarmac lane into Clarendon Estate and carries on to Clarendon Palace. This is a spot I frequently visit on one of my regular walks from home.  We decide to take a brief detour to visit the ruins of the old Royal Palace, built in the 12thcentury and used as a hunting lodge by successive Kings.  By the 1500's the use of the lodge had declined and it gradually fell into disrepair.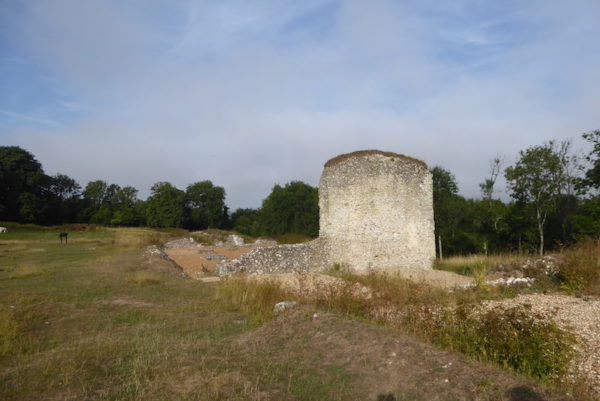 When I was a nipper this site was full of trees and it was challenging to find any of the remains.  Now it has been cleared and is a little known gem of local history, overshadowed as a tourist attraction by Salisbury Cathedral, Stonehenge and Old Sarum, but well worth a visit because of its place in history. It was here that Henry II signed the Constitutions of Clarendon, seeking to restrict ecclesiastic privileges and curb the power of the church courts.  The result was conflict between King Henry and Thomas Becket, the Archbishop of Canterbury, eventually leading to Becket's murder.
Having had a wander around the Palace remains we continue along the Clarendon Way towards Pitton. This is our home village and we pop in for a cup of tea with Lynnie before heading off again towards Winterslow. This is a route we both walk frequently with our dogs.  It feels odd to be on a long distance trail when so far I have only covered ground that I walk regularly.
After going through Winterslow the route follows an old Roman Road to Buckholt Farm and then takes a drove to reach Broughton.
Keeping to the way-marked route we leave Broughton and cross fields to reach Houghton.  It is extremely hot, but feels cooler as we cross the River Test.
The route now climbs a hill before dropping down into King's Somborne.  We are ready for our lunch but struggle to find a bench so in the end opt to perch on a small wall by a driveway.  Soon after settling down a car heads up the driveway, when a few minutes later I see someone wandering down towards us I prepare myself for a "move along" conversation.  Unexpectedly the lady offers us two ice-cold cans of drink.  Such a random act of kindness is much appreciated.
Refreshed we continue through the village and then head steadily up Beacon Hill the downland views as we ascend are cracking, we can see for miles.
Walking through Beaconhill Plantation we almost miss the path to Farley Mount.  This is a short diversion on the right, which takes us to a trig point; this is the eighty-fifth I have bagged.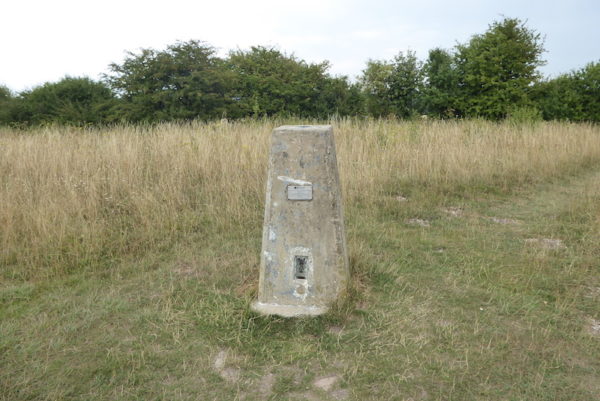 Whilst the trig point is an attraction, it comes second at this location to an amazing folly below which is buried a horse.  There are identical inscriptions outside and inside the folly which read "Underneath lies buried a horse, the property of Paulet St John Esq, that in the month of September 1733 leaped into a chalk pit twenty-five feet deep a foxhunting with his master on this back and in October 1734 he won the Hunters Plate on Worthy Downs and was rode by his owner and was entered in the name of  "Beware Chalk Pit".
Back on the Clarendon Way I explain to Mandy the joys of trig bagging.  As much as I enthuse I am not sure she is convinced it is a pastime she is ready to take up!  We walk through the edge of Farley Mount Country Park parallel to Sarum Road and then follow the way-markers left along Lanham Lane taking us a circuitous route past the edge of Royal Winchester Golf Course and leading back to Sarum Road.
We are now on the outskirts of Winchester and both know there is a straightforward walk into the centre of the City.  However, we stick to the Clarendon Way route which heads through fields on the edge of the City and then crosses South Winchester Golf Course.
We go through Oliver's Battery and then across access land overlooking Badgers Farm (which is not a farm but a housing estate) with views of Winchester Cathedral in the distance.
Back into residential streets our route takes us besides the Hospital of St Cross.  The notice says it is closed but we ask if we can pop our heads in for a brief look.  The hospital is an Almshouse founded between 1132 and 1136 and is said to be the oldest charitable institution in the Country.
It was founded by Henry of Blois then Bishop of Winchester and grandson of William the Conqueror and brother of King Stephen of England.  Today accommodation, under two charitable foundations is still available for up to 25 elderly men known as "The Brothers".  They are either Black Brothers belonging to "The Order of the Hospital of St Cross" or Red Brothers belonging to the "Order of Noble Poverty". This is a fascinating place and is open most days for internal and external tours.
Now our route goes through the water meadows to enter the heart of Winchester and our walk ends at the Cathedral.  I haven't been inside this magnificent building so we decide to briefly step inside. It is stunning and requires more time than we now have.  It is said to be one of the largest Cathedrals in Europe, with the longest nave and the greatest overall length of any Gothic cathedral in Europe.
To be honest after walking twenty-seven miles my mind is more on alcoholic refreshment than spiritual enlightenment so we quickly adjourn to the Green Man in Southgate Street. Here we gratefully quench our thirst whilst waiting for Stuart and Lynnie to join us and take us to the Boot at Houghton for good food and beer.
You can view this 27 mile walk on OS Maps and download the GPX File Here (Subscription to OS Maps Required)
To follow our walk you will need Ordnance Survey Explorer Map 130 – Salisbury & Stonehenge; Explorer Map 131 – Romsey, Andover & Test Way; and Outdoor Leisure Map OL32 – Winchester
7th August 2018
© Two Dogs and an Awning (2018)