After my early morning walk with the dogs I am soon out again for an early start to tackle the Yorkshire Three Peaks.  This is a walk that I have done on three previous occasions each time starting from Horton-in-Ribblesdale, but today I am going to start from a small layby (Grid Ref SD745777) on the B6255 a few hundred yards past the Hill Inn.

Crossing the road I head across a field on a well-worn footpath, passing a disused limekiln to join the Three Peaks Path.
After passing through a gate I take a slight diversion from the traditional Three Peaks route by turning left to walk by Great Douk Pot, a large pot hole surrounded by a wall, keeping to the left of the pothole I pick up a well used path on the far side with a view of the cloud shrouded Ingleborough in front of me.
I have used this route on all of my previous Three Peaks walks, it avoids the busy path up Ingleborough and although it adds a bit of distance to the overall walk it is a far more enjoyable ascent.  I follow the pathway and after going through a wall gate take a left turn to follow a path up towards Simon's Fell.
I first used this ascent of Ingleborough five years ago, then it was a faint, indistinct path, now it is obviously well used and easy to follow.  It is a stiff climb; on my previous Three Peaks walks it was the final ascent tackled by tired legs, today meeting it early in the walk it is an easier prospect.  As I ascend the cloud starts to clear from Ingleborough.
Finally at the end of the ascent I turn right along the ridge path heading towards the summit of Ingleborough there is still some up to go, but I know the worst of this climb is completed.  By the time I reach the summit of Ingleborough the sky is clear and it looks like I am going to be in for a cracking day.
I will not describe my route in detail, as it is straightforward for anyone walking the Three Peaks because there are plenty of way markers.  My next peak is Pen-y-ghent, but first there is the long steady descent into Horton-in-Ribblesdale.
Over the years that I have walked this path it has had a lot of work, clearly there is heavy footfall and the path was eroding and spreading so areas have been laid with flagstones and levelled.  It does not detract from the overall challenge.  I know there are those who would say it sanitises the route, but without this work the path would be a broad unwelcome scar on the moor.
After going through a section of limestone pavement at Sulber Nick there are piles of flagstones waiting to be laid.  In the distance Pen-y-ghent beckons me.
When I set off this morning Lynnie told me not to race around.  Last year I set a new personal best time of 7 hours and 44 minutes, I was then keen to break the 8-hour barrier.  This year I aim to be under 8.5 hours, still a quick pace but a little more relaxed.
Going through Horton-in Ribblesdale the effect of the recent dry spell on the water level of the River Ribble is noticeable.  I don't recall ever seeing it this low.
Not starting from Horton means I have avoided the normal early morning groups, although as I leave the village and start my ascent I soon catch up two groups of walkers setting off.   I always find the ascent of Pen-y-ghent more challenging than it looks, it is a stiff steep unrelenting uphill route.  With the final section to the summit plateau requiring a bit of a clamber.  I tackle this section with care, the limestone grit is worn smooth with all the many boots that pass this way and if wet needs to be tackled cautiously.
A few years ago when Lynnie and I walked Pen-y-ghent with the dogs work was being done on the summit to lay a flag stone path, this makes the final ascent across the summit easy to follow and I am soon at the trig point.  Two down, one to go!
Since last here work has been undertaken to stop the spread of the path on the initial descent of Pen-y-ghent, it had become particularly unsightly, but hopefully it will soon return to nature.  The next section of my walk is a long descent before another smaller incline over Whitber Hill and then downhill again to briefly join the Pennine Way.
Leaving the Pennine Way at a finger post I head towards High Birkwith, this section is relatively flat, so easy going.  Soon I am crossing God's Bridge and continuing on towards Lodge Hall.
The route soon joins the side of the B6479; this road section is the only distracting feature of this walk.  Care needs to be taken walking besides the road, as not all car drivers seem to be attuned to the likelihood of groups of walkers heading towards them.
At Ribblehead I meet the first people I have seen since leaving Horton-in-Ribblesdale a couple of hours ago.  These folk are just visiting the stunning viaduct.
Next I pass Blea Moor signal box.
I then reach the aqueduct over the Settle to Carlisle railway line.
Soon I can see the waterfall of Force Gill, after the recent dry spell this is just a trickle.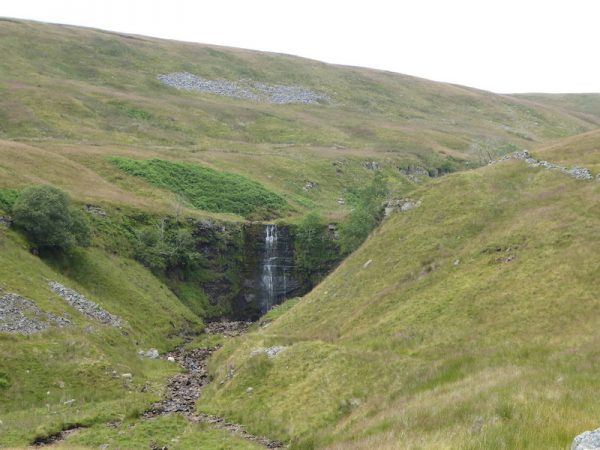 Now it is time for the ascent of Whernside, this a long gradual haul.  Unlike Ingleborough and Pen-y-ghent there are no sudden steep inclines.  Going up I meet a lone female walker who is just walking this peak, she seems to be struggling but says she is enjoying the challenge.  Soon I get a stunning view across a tarn.
Quite quickly I am at the top of Whernside, there are groups of walkers picnicking, still with Ingleborough to tackle.  Whereas this is the final peak of the day for me.
Along the ridge of Whernside work is being done to repair the path and then as I start my descent I realise that significant work has been done here.  The old route used to be steep and treacherous in parts, now steps and rocks make it safer to get down.  However, it is still a bit of a challenge for weary knees.
Now the route is straightforward following farm tracks back to the road and turning left to pass the Hill Inn.  Back at the car I have covered the 24 miles in 8 hours and 26 minutes.  Thereby, achieving my target.  Now it is time to head back to the caravan to take a shorter walk with Lynnie and the dogs!
To view this 24 mile walk on OS Maps Click Here
To follow my walk you will need Ordnance Survey Explorers OL2 Yorkshire Dales Southern &Western

16th July 2019
© Two Dogs and an Awning (2019)