I am walking on my own today. This is our last day at Wyndham Farm and Lynnie has decided a day around the caravan is what she needs. So Crosby and I are going to have a jamabout from the site. Leaving the site I turn left into Waterloo Lane and follow this towards Silton, passing the Waterloo Mill now an attractive house on the River Stour.
Soon I take a footpath on the right leading through a kissing gate into a field and follow this to another field home to the impressive Wyndham's Oak. Apparently over 1,000 years old and one of the greatest trees in the Country. This ancient, gnarled oak was named for Sir Hugh Wyndham (1602 -1684), who lived an eventful life and now rests in the village church. He is said to have spent many hours sitting in the shade of this wonderful tree.
I continue across the field towards the church and after going through a gate continue on a path beside the church to reach a road and turn right and walk down the hill through the village. This is a well spread out village and from passing the last house I walk half a mile to reach the village hall. This was built in 1886 as a school with an attached cottage for the school mistress. The school closed in 1926 and the building became the Village Hall.
On reaching a B road I turn left and pass under the A303 and walk to Bourton and turn right into New Road and soon enter Zeals. Heading through the village I pass a two tiered water fountain, donated to the village in 1875 by Julia Chafyn Grove. Apparently it was not until 1938 that water was piped to the village from nearby Mere.
Further on I pass the War Memorial designed by the parish Rector S H Handcock in 1920 to commemorate the local men lost in World War I.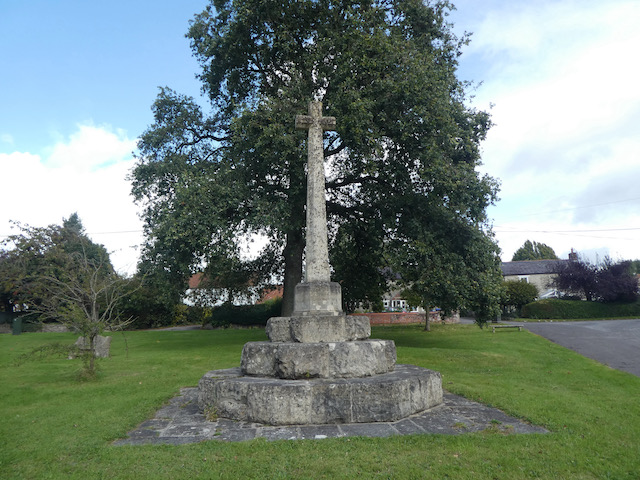 On our journey to Wyndham Farm CL a few days ago we passed the almshouses in Zeals. It looked an interesting building so I decide to take a short detour, continuing on New Road to pass the Bell and Crown pub and village hall. I reach the almshouses which were erected and endowed in 1865 by William Chafyn Grove and dedicated to the memory of his mother.
From the almshouses I turn around and head back along the road and then take the second turning on the right to enter Portnell's Lane. I stop to look at the elaborate St Martin's church, consecrated in 1846, one of the designers was George Gilbert Scott who later designed the Albert Memorial which stands in Kensington Gardens.
I now follow Portnell's Lane through the village and it is not long before I am in open countryside. When the lane bends to the right I continue straight on following a lane signposted to Penselwood. Heading downhill I reach a junction and continue straight on to pass Row Farm and then continue past a couple more isolated houses to reach a footpath on the left. I take the path as it leads downhill to a footbridge over the River Stour.
Across the bridge I turn right and follow the path besides the river. This is the path that Lynnie and I walked a few day ago on another walk. Near a bridge by a ford I take a track on the left and head steadily up Bottle's Hill. The area around here is known as Pen Pits because it is littered with ancient iron age quarries. These were used to acquire Greensand used for quern stones and whetstones. Quern stones were used for grinding grain and whetstones were used for sharpening tools. Many of these small quarries have not been filled, on another visit to the area I will look to see if I can locate any.
Staying on the track I reach a junction of paths and continue on along a tarmac lane to reach Pear Ash Farm.
I ignore a lane on the left and carry straight on, passing a couple of bungalows and staying with the lane to reach Penselwood. At a junction in the village I turn left and soon reach the entrance to the 15th century St Michael's Church.
Leaving the church I reach a triangle of grass at a junction. Here I take Great Hill the lane signposted to Wincanton. This lane descends steadily to become a lane named Underhill, I stay with this until I reach a footpath on the left which leads by the dilapidated Raymond's Farm.
The waymarked path heads up through trees to soon reach a field. I cross and then at a junction of paths keep heading west to enter a field of pasture which I cross, stopping on the way to bag the Ordnance survey trig pillar which is surrounded by sheep. This is the 219th trig I have bagged.
The path descends to a lane where I turn right and head downhill to a junction where I turn left. Still heading downhill past a series of large houses I reach the edge of Bourton. Here I turn left and follow the pavement into the village. I now stay with the pavement for just over a mile walking through the village to reach the junction with the B3092.
Here I turn right and then in less than a hundred yards turn right again into Silton Lane to pass the Old Chapel. The lane continues past the Doctor's Surgery and soon becomes a path that reaches the fencing for the A303. I turn left and then on reaching the B3092 go under the A303 quickly turning right to retrace my outgoing route back into Silton.
In the village I pass the church and then continue on past Manor Farm and its fine barns.
Staying with the road I head downhill to the junction with Waterloo Lane where I turn left and head back to Wyndham Farm where Lynnie awaits my return. My walk has covered nine miles. Much of it has been on tarmac, but along very quiet country lanes or roads with pavements.
It is now time to start preparing for our trip home tomorrow. We have enjoyed our six night stay at Wyndham Farm CL and it will certainly go on the list of those we want to revisit.
You can view this 9 mile walk on OS Maps and download the GPX File Here
To follow my walk you will need Ordnance Survey Explorer Maps 129, Yeovil & Sherborne and 142 Shepton Mallet & Mendip Hills East.
24th September 2020
© Two Dogs and an Awning (2020)
All information on this site is provided free of charge and in good faith and no liability is accepted in respect of damage, loss or injury which might result from it. To the best of my knowledge the routes are entirely on public rights of way or within areas that are open for public access.
Walking can be hazardous and is done entirely at your own risk. It is your responsibility to check your route and navigate using a map and compass.