After yesterday's walk along the West Sussex coastline we are keen to tick off another stretch. This time we decide to head east, our starting point is Ferring, just a short drive from our site at Littlehampton.

We park up close to the village cricket ground. It is over thirty years since I last visited Ferring and that was to play cricket. For a couple of years this was one of the fixtures on Farley Cricket Club's tour. I have fond memories of playing here; it was on this ground that my Duncan Fearnley "Attack with Ian Botham" cricket bat scored a rapid fifty. Unfortunately I was not holding it at the time, the previous day I had bemoaned the lack of power in the bat and one of my teammates had offered to try it out. Of course the conclusion was "there's nothing wrong with the bat Freddy, it's the bloke holding it".
Our walk starts by heading south towards the sea along the footpath running besides Sea Lane, a wide grass verge separates the two. At the end of the lane we turn left heading eastwards with the sea to our right and Goring Gap to our left. In an area where housing has intruded all along the coastline this is a cracking space. It is protected land separating Ferring from Goring and must provide a haven for numerous species of wildlife.
There is a strong breeze and the waves are rolling in. Nothing like storm force, but for a lad who has spent most of his life on the chalk downs of Wiltshire the slightest choppiness to the sea surface suggests a "storm at sea".
The route is very straightforward; we just keep walking towards Worthing. Rounding the corner a very orderly row of beach huts come into view. A later internet search reveals that one of these will set you back approximately £13k, a lot for a shed!
Reaching the promenade we immediately know that Worthing is Bognor's well-to-do cousin. The Victorian beach shelters are immaculately maintained and in comparison to Bognor it has a feeling of restrained prosperity.
Soon we are opposite Marine Gardens where the pavilion catches my eye so we pop in to have a wander around. Laid out in 1930, a time of austerity though it was still considered important for people to have access to open leisure space, this garden combines formal gardens with bowling and putting greens. The days of modern austerity have meant that from 2015 the local authority could no longer finance a park warden!
Continuing east we walk towards the pier, still about a mile away, passing a wonderful row of fine old sea front houses before reaching The Lido. In 1897 this was the location of an elegant birdcage bandstand, in 1907 an enclosure was built to provide seating. The present structure was built in 1925 and renamed The Lido. For a while it was a popular seafront venue, but the decline in interest in band music lead to it's conversion to a swimming pool in 1957. Now the site is used as a children's amusement park, but the splendor of the structure still remains.
Next up on our journey is Worthing pier, and a very fine pier it is too.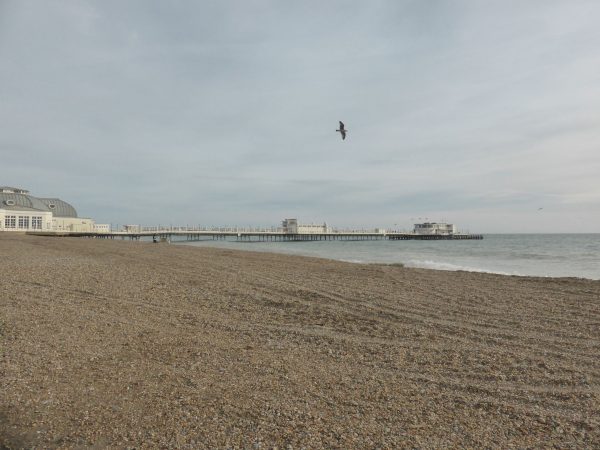 It originally opened in 1862 and then in 1888 was widened and extended to allow for the construction of a 650-seater pavilion. Disaster struck on 23rd March 1913, which was Easter Sunday, when a storm left the southern end cut off from the land. Apparently for a while the remaining section of the pier was known locally as Easter Island. Just over a year later in May 1914 the pier was re-opened.
Disaster struck again in September 1933 when fire destroyed the pier apart from the northern pavilion, but by 1935 the pier was again open. Today it is a truly wonderful place to be, as we head to the south pavilion there are collections of local artwork.
At the end of the pier is an elegant tearoom; looking through the window we see the wonderful art deco interior. If we did not have the dogs with us we would go in and have a 'cuppa' just to see the interior in more detail! Instead we spend some time enjoying the November sun looking back toward Worthing.
Once more on the Promenade we continue eastward and the next building to catch my eye is The Dome. This fine building opened in 1911 as an entertainment hall with a cinema added later in that year. By 1921 the cinema was so popular that the building was converted to primarily be a cinema. Apparently, more recently, the Council made several attempts to have it knocked down, but in 2005 it was saved and restored by a charitable trust. Unfortunately in 2015 that fell into financial difficulty. Nowthe Dome is no longer run by a not-for profit organisation, but at least the legacy of the building has been secured.
A little further along we see a blue plaque on the opposite side of Marine Parade. If there is one thing that Freddy cannot resist it is checking out blue plaques. This one marks the site where George Warne (1864 -1916), an early motoring enthusiast, founded his hotel Warnes promoted as "The Motorists Mecca", it became Worthing's premier hotel. It attracted a number of famous visitors including King George VII, King George V, Emperor Haile Selassie, Winston Churchill, General Montgomery, and General Eisenhower. The site is now home to luxury apartments.
By this time we realise that Worthing is steeped in history and packed with stunning buildings, each with a fascinating story to tell. We will return another time to explore it in more detail. Today we continue eastwards away from the centre of Worthing soon reaching the spot where Worthing's beach fishing fleet is moored. In the second half of the 19th Century it boasted over one hundred fishing boats, now the numbers have dwindled but some still remain to make a stunning scene.
We have walked five miles and decide it is time to turn around and head back to Ferring. We take a short diversion through the centre of Worthing, but it is late in the afternoon so we don't hang around for long.
It has been a fascinating wander, we certainly plan to return and investigate what other historical delights Worthing has to offer.
You can view this route on OS Maps and download the GPX File Here
To follow our walk you will need Ordnance Survey Explorer Map 121 – Arundel & Pulborough
16th November 2016
© Two Dogs and an Awning (2016)
All information on this site is provided free of charge and in good faith and no liability is accepted in respect of damage, loss or injury which might result from it.  To the best of my knowledge the routes are entirely on public rights of way or within areas that are open for public access.
Walking can be hazardous and is done entirely at your own risk.  It is your responsibility to check your route and navigate using a map and compass.