Being near the south coast provides a great opportunity for walking more coastline. This is another part of the country where I am comfortable walking on the coastal path, there are no cliffs here! The starting point for our walk today is besides a car park at Atherington. Because it is out of season the car park is closed but there is space to park besides the road.

From the car we head the short distance to the shingle banks of the beach, the tide is receding but still too high for us to descend the shingle bank. We turn right and head west along the top of the shingle bank.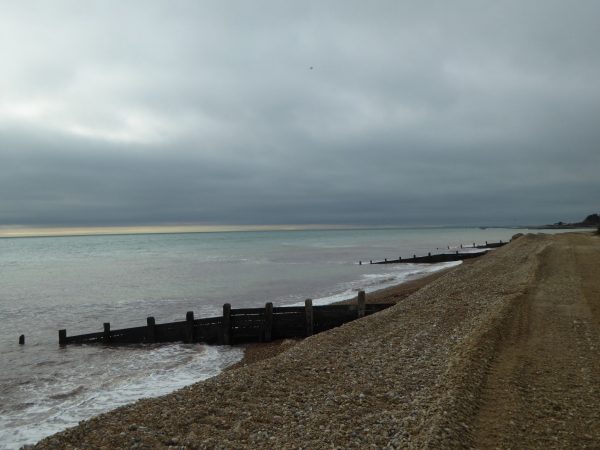 The low-lying fields to our right look to have fertile soil, but the sea has breached the defences in a number of areas and the farmland is being eroded away.
New work on the sea defences forces us to walk along the edge of a field before clambering back onto the shingle at Poole Place. A bit further on the sea is washing up against a sea wall protecting private gardens and we have to leave the seafront and head inland through housing to the centre of Middleton-on-Sea.
After passing playing fields on our left and shops on our right we take a left turn down Sea Lane, passing the village pond and heading back towards the sea. We continue on Sea Lane, ignoring all roads to our left and right, this eventually brings us to the shingle beach where we turn right and are soon on a wide grassy area with numerous benches. An ideal spot for a sandwich!
Refreshed we continue west along the sea front, passing a collection of well-ordered wooden huts.
Around the corner the huge Butlins Resort at Bognor Regis comes into view.
This holiday park opened in 1960, in the 1980's the resort was refurbished and continues to be developed with new hotels which appear to be a far cry from the traditional chalets. Nowadays this site reportedly receives 300,000 residents and 85,000 day visitors a year. It sounds like it would be too crowded for me!
Bognor received its royal recognition following King George III's visit in 1929. The King had been suffering with lung disease and his physicians recommended sea air to aid his recuperation. It is said that the King was not over impressed with the town. Over eighty years later I am afraid to say that I draw the same conclusion.
Like many places we have visited around the coast there are signs of a once grand seaside resort. However, some have tried to retain their former grandeur whilst seeking to revitalise their towns. In the case of Bognor it just feels run down and neglected. I am sure some local people who care about the town are working to restore it, but unfortunately their efforts are not yet apparent.
It is sad to see Bognor Pier disused and neglected. The pier was built in 1865 with a pavilion added in 1900. The Council sold it to a private investor in the 1900's and it was closed for a while for major restoration, soon after a cinema, theatre and restaurant were added. During World War II it was used as an observation station by the Royal Navy and renamed HMS Barbara.
Storms in 1964 and 1967 caused damage, including the loss of the pavilion. It was then sold to an American Company, but closed in 1974 after suffering fire damage. It became Grade II listed in 1989, but its continued decline resulted in an application for demolition being submitted in 1994. Bognor Pier Leisure Ltd stepped in preventing demolition and they still own the structure. A local Community Interest Company, Bognor Pier Trust is trying to work with the owners to raise the funds to save the pier from further decline.
Signs of Bognor's once grand past prevail around the Royal Norfolk Hotel, where there are still some fine houses and the hotel looks imposing. Apparently Bognor's original hotel and assembly rooms were situated on a nearby site but burnt down in 1826. In the 1830's a new hotel was built, apparently in 1872 Charles Louis Napoleon Bonaparte III stayed at the then Norfolk Hotel and in 1886 it was renamed the Royal Norfolk Hotel.
After wandering about a bit we decide that we should be heading back to the car. We have walked more than five miles so it will take us a couple of hours to get back and the light is already fading. We stop briefly to look at the beached fishing boats alongside the pier and then retrace our steps back along the sea front.
The tide is out and we are able to walk along the beach at Middleton-on-Sea. It is an odd feeling walking here, the huge sea defences are fully exposed, earlier we could not see them.
As the sun goes down we are treated to another magnificent sunset.
One of the many pleasures of being away is watching the sunset across unfamiliar scenery. This one is absolutely stunning and slows our progress as we frequently stop to look behind us.
At the same time the low bright sun is casting interesting light onto the chalk and shingle in front of us. Everything is pink tinged.
We have covered eleven miles, as always we have enjoyed the "out" and covered new ground. We are thoroughly enjoying caravanning in the winter, which is not something that I would have imagined saying four years ago!
You can view this walk on OS Maps and download the GPX File Here
To follow our walk you will need Ordnance Survey Explorer Map 121 – Arundel & Pulborough
15th November 2016
© Two Dogs and an Awning (2016)
All information on this site is provided free of charge and in good faith and no liability is accepted in respect of damage, loss or injury which might result from it.  To the best of my knowledge the routes are entirely on public rights of way or within areas that are open for public access.
Walking can be hazardous and is done entirely at your own risk.  It is your responsibility to check your route and navigate using a map and compass.