After a night of heavy rain we start to think about our walk for the day.  Whenever we plan a trip to Brigholme Farm CL Lynnie requests we do some new walks, as we only visit once a year I find this difficult.  There are so many walks I really love, like the climb to the top of Ingleborough from Clapham, which Lynnie is fed up of and terms a trudge from Gaping Gill to the top.  However, there are some walks that Lynnie is happy to repeat.  So today I suggest a route through Crummack Dale.

We start from Clapham, heading towards the village church and then keeping the church on our left leave the village through the tunnels besides Ingleborough Hall.  Following the route uphill we are soon at a junction of paths where we keep straight on along Thwaite Lane.
Walking along this track there are great views in all directions, we stop to look around and Lynnie notes that Ingleborough looks interesting covered in low cloud.  Our intention is to walk along this track and then head towards the small hamlet of Wharf.  To our left is Robin Proctor's Scar.
Striding along we recall a previous wander over Robin Proctor's Scar to visit the Norber erratics, on a whim we decide it would be good to take a detour there today.  So at the next footpath appearing on our left we leave the track to head across a field.  There are bears but they are not interested in us or the dogs.
We soon reach a ladder stile.  There are many things I like about walking in the Dales; however, getting Labradors over ladder stiles is not one of them.  Crosby is nimble enough, but Dexter has always taken the view that if I want him to go over a wall I need to lift him to the top of the stile and then lift him down again!
After the stile it is a climb up the scar to reach the rock formations that are littered around this hill.  The erratics are granite glacial deposits on limestone.  Over the centuries the limestone has eroded leaving the granite boulders balancing on them.  They make for a stunning sight.
We have been here a couple of times and it never ceases to amaze us that so few people come here.  There is someone in the distance but apart from him we have the place to ourselves.
After ambling around and eating our picnic we resume our walk by following the path north towards a ladder stile.  After heaving Dexter over the stile we continue on the path as it heads north towards the cairn at Long Scar.
At Long Scar we join the Pennine Bridleway and turn right.  After a couple of hundred yards where paths meet there is an option of routes.  To go to Crummack Dale we should continue on the Pennine Bridleway, but I have a cunning plan so we go left to follow the Dales High Way.  It is sometime since we walked this path and it is a cracker as it heads by limestone pavement with great views of Pen-y-ghent- to our right.
To our left Ingleborough lays shrouded in mist.  It looks very inviting, but I don't mention this to Lynnie.  I am not certain she would approve of my plan!  On reaching Nick Pot we turn left following the gradually ascending path,  about a mile along Lynnie enquires when we will reach Crummack Dale.  She has walked this path many times, but not in such mist and usually in the opposite direction, I realise she is still oblivious of my intention.  We are beginning to near the summit of Ingleborough but it is well hidden in the low cloud.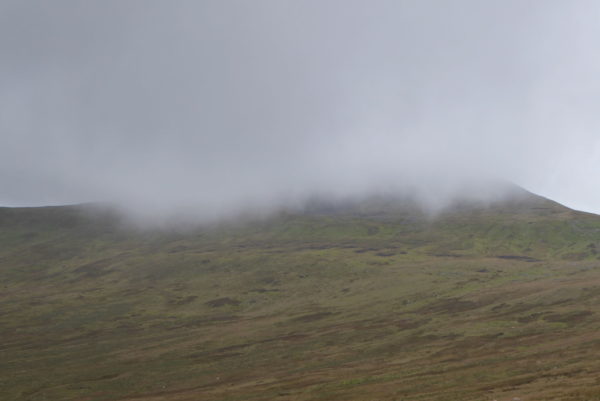 The final section to the summit is quite a steep climb; surely Lynnie will cotton on now!  We are shrouded in low cloud as we walk across the plateau to the trig point.  We have been here dozen's of times so I am sure to be found out.
But after the usual trig point pictures I ask Lynnie where she is.  She has no idea and confidently tells me she has never been to this spot before, which surprises her as she thought we had done all the trig points around here.  I show her on the map and confirm it on the OS Map App.  The conversation over the next couple of minutes is not repeatable!  Needless to say Lynnie disapproves of my "deceitful," alternative route and is not best pleased at having been completely bamboozled.
Our planned route off the summit is via the path heading over Little .  The visibility is not good and I am pleased I know the path well.  However, I still double-check on both the OS map and app that we are taking the correct path. As we leave the summit and start descending the cloud momentarily clears and treats us to a cracking view.
Now the route is really easy.  After crossing Little Ingleborough the path descends quickly, and we can soon see Gaping Gill in front of us.  Approaching Gaping Gill we take the path to the right avoiding the pothole, which we have viewed many times.  It always makes me feel a bit weak at the knees and at this moment in time Lynnie might be tempted to give me a shove over the edge!  After going through gates in a wall we turn right to head towards Trow Gill.  It is a long time since we have come down through this section, we take it cautiously as the recent wet weather has made the well-worn rocks very treacherous.
The track carries on through a gate and then another gate before passing Ingleborough Cave where we stop to watch a Dipper feeding in Clapham Beck.
Our route is now the path through Ingleborough Estate, there is a charge for walking this route, but it is well worth it.  This is a wonderful spot, one that my Mother always loved, especially the area around the lake.
After paying our dues at the end of the estate path we stop to look at the waterfall where the beck flows into the village.  We cannot recall ever seeing the water flowing at such a tremendous rate through here.
It has been a wonderful walk covering eleven miles, though not the one we intended when we set off.  But that's the joy of jamming about, you can head wherever the mood takes you.   Now I just need to compensate Lynnie for taking her to the top of Ingleborough, but hopefully a pie and pint in The Talbot in Settle will be a good start!
To view this walk on OS Maps Click Here
To follow our walk you will need Ordnance Survey Outdoor Leisure Map OL2 – Yorkshire Dales – Western Area
5th September 2017
© Two Dogs and an Awning (2017)