It is no secret that one of our favourite locations is the Yorkshire Dales.  I have been visiting the area since a child and it is one of the first places I took Lynnie when we first met.  One of our regular stops in the area is Brigholme Farm CL and it felt a bit like coming home when we arrived after six hours travel yesterday.

Fortunately we were able to pitch up before the rain started, because having started it didn't stop for eighteen hours.  I am not too bothered about walking in the rain, especially when it is with the one I love.  I think that line has the makings of a song, I will have to work on it!  But having two soaking wet Labradors in a caravan is best avoided if at all possible.  So we wait for the rain to ease before heading off on one of our favourite walks around Settle.
From Brigholme Farm CL we turn right and soon cross Penny Bridge over the Ribble.  The rain has swelled the river since we arrived yesterday and should make for some spectacular waterfalls in the area.
We turn right following the road under the railway bridge.  At the crossroads we go straight over into Ingfield Lane and at the bottom fork right around the newly developed retirement housing complex.  Standing guard on the verge is one of the entrants in the Settle Flowerpot competition.  This one is Darth Vader and his presence alarms Crosby a bit.  But in fairness it is not something you would expect to meet on a wander in the Dales.
I am of that group of people who have never seen Star Wars; in fact there are numerous films I have never seen.  But there are a couple I have seen loads of times particularly Mary Poppins and Calamity Jane.
In a few hundred yards we reach Brockholme Lane on the right.  Walking along this track is a delight with the stone barns dotted in the fields.
At the end of the lane we go through a gate and at a crossing of paths close to a modern barn, turn left to follow the lane steadily uphill to Lodge Farm.  Going through the farm gate we turn left and at a fork in the track take the right option.  Usually from here you can see Ingleborough but the low cloud today limits our view.
We go through a gate and walk along the track by a plantation and then at a second gate follow the walled track.  At another gate we keep straight ahead keeping Black's Plantation on our right.  At the junction of Mitchell Lane and Lambert's Lane we fork right into Lambert's Lane and follow this walled track, enjoying the views.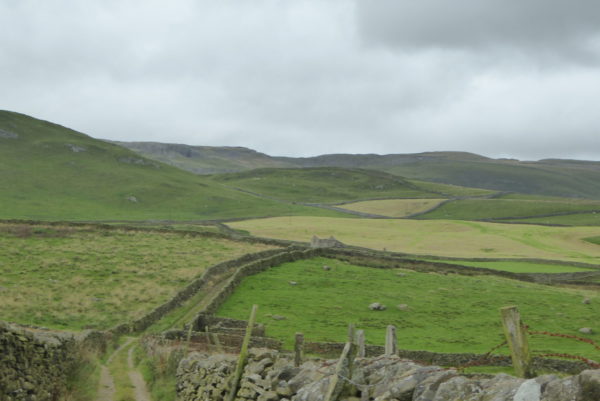 Reaching a road it is a right turn and then shortly a left on to Stockdale Lane.  In a few hundred yards at the bend we are over a ladder stile to follow the path as it gradually climbs up alongside the wall.  There is recent evidence of bears so we keep a sharp eye to see where they are lurking.  After a few hundred yards there is a limekiln on the left.
As we approach Sugar Loaf Hill we meet the bears, but they are not too bothered by us or the dogs so we pass warily through them.  In front of us is one of our favourite views in the Dales, the spectacular escarpment of Warrendale Knotts and Attermire Scar.
From here our route is under Attermire Scar, passing Victoria Cave.
After going through a kissing gate we turn left and go through a gate on a farm track to descend downhill through another gate.  We then take the path on the left way-marked the Pennine Bridleway.  From here there are great views to the right of Langcliffe Quarry.
Now it is case of following the path across a couple of fields below Blua Crags before descending on a walled track to return to Settle and then back to Brigholme Farm.  It has been a cracking wander covering just over seven miles.  It is good to be back in the Dales.
To view this 7 mile walk on OS Maps Click Here
To follow our walk you will need Ordnance Survey Outdoor Leisure Map OL2 – Yorkshire Dales – Western Area
5th September 2017
© Two Dogs and an Awning (2017)