Another rainy day in West Dorset. The forecast is miserable, but that does not bother the dogs, we are on a new site and it's time to explore some fresh walks. We are close to a footpath so I head off with the dogs through Washingpool Farm and along the footpath towards Middle Pymore Farm. There is a sign alongside two benches on the edge of a hilltop field, apparently this is Chesil Model Flying Club's meeting point. Unsurprisingly, given the weather, nothing is flying today.
We explore the path towards Salway Ash, but this is taking us too far from base so we turn and rejoin the lane, bumping into a farmer who has just milked his heard of Friesians. I bid him 'good morning', he reckons that is an inaccurate description, but promises that it will be fine by late afternoon.
We walk through Dottery with its small corrugated iron church and then on to Atrim. Turning down the lane towards Glebe Withy Bed and then a bit of a clamber up through Ebb Plantation. A fallen tree hangs over the steep inclining path. Not a problem for the dogs, under they go, I bend my not so supple back and misjudge the gap resulting in a thump on the turnip, an exclamation of displeasure and on we go.
Now on Monarch's Way, we follow this to Bilshay Farm, some stunning views behind us and then skirt around Waddon Barn and under Allington Hill before heading back to the van. We have covered just over five miles and Lyn has been to the farm shop so there is a welcome cooked brunch on our return.
The drizzle puts us off going far, so we spend time doing jobs around the van. Then as predicted by the farmer the weather brightens and we drive down to West Bay for a wander. West Bay is also known as Bridport Harbour. In the past its main commercial trade was exporting the ropes and nets made in Bridport. The harbour has moved a few times, the original being about a mile inland, closer to Bridport. In 1395 it moved, but increased trade made that site redundant and in 1740 it moved to its current site.
At one time there was a thriving ship building industry located to the west of the harbour, in 1823 it employed 300 men. Today there is a mixture of fishing and pleasure boats.
West Bay beach was used in the introduction to the BBC television series 'The Fall and Rise of Reginald Perrin'. David Nobbs, an excellent author, writes a fantastic story of Reggie's life and the original BBC series starring Leonard Rossiter is a favourite of mine.

Around West Bay there are a lot of static mobile homes. In the height of summer it must be packed, but this evening there are few others enjoying the evening spring sunshine. A very pleasant spot.
To view the 5 mile walk from Washingpool Farm CL on OS Maps Click Here
To follow our walk you will need Ordnance Survey Outdoor Explorer Map 116 – Lyme Regis & Bridport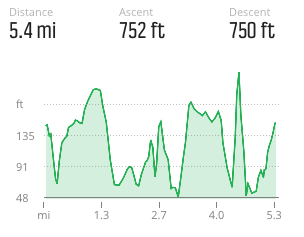 23rd April 2014
© Two Dogs and an Awning (2014)