My car is booked in for it's annual service today, not that it has done many miles since the last service. But nevertheless the requirements of the warranty mean things need to be checked over. I will use the opportunity to go for a walk around the Wallops.
My walk starts at Pinchbeck's Garage in Middle Wallop and I leave to pass the George pub and then turn left along Farley Street and follow this lane through the village to pass the Chapel House and a fine old barn at Hay Down Farm.
Just after passing the barn I turn left into School Lane and then after a short distance, before reaching the school, turn right on a footpath that goes behind houses to cross a tarmac lane and then along the edge of fields.
On reaching a lane I turn right and go downhill turning left to pass the Village Green of Nether Wallop with the Wallop Brook running along its northern side.
I am now on Heathman Street and follow this into Nether Wallop. On reaching the Old Post Office on the left I take a right turn into The Square to cross Wallop Brook and then turn left into Church Lane and follow this to reach St Andrew's Church. Originally built in the 11th century the church went through major changes in the 14th century and apparently the tower was rebuilt after it fell down in 1704. I am unable to go inside, but have read that it contains parts of a mural which have been dated to precede the Norman conquest.
In the churchyard there is an unusual pyramid shaped memorial commemorating Fred Dowse who died in 1760 and Anne Dowse, 1757.
I leave the church on a footpath heading south, this goes uphill and soon joins a lane, Church Hill. I walk along the lane as it heads south away from the village. One of the houses I pass has an ordnance survey benchmark and I happen to meet the owner by his gate. Needless to say he did not share my interest in benchmarks so there was not an opportunity to view it.
I stay with the lane to pass Berry Court Farm and then near a barn take a footpath on the right heading across a field to reach Nether Wallop playing field.
From the playing field I pass through houses to reach Five Bells Lane where I turn right and then almost immediately turn left into Ducks Lane. On reaching a road junction I take a footpath opposite going along the edge of fields.
This path leads to Bent Street where I turn right to go through the village passing attractive thatched cottages to reach Farley Street where I turn left and walk back towards the George Inn. I know the car service will not yet be completed so I take a left and follow the pavement besides the A343 and then turn right into Salisbury Lane and stay with this to reach Station Road where I turn left and pass the White Hart pub.
I stay with Station Road through Middle Wallop and just as I leave the village I take a lane on the left, Pottery Drove, and follow this past Croft Farm and then continue along a track.
At a junction of tracks on the edge of Ministry of Defence restricted access land I turn right and follow the track as it heads north to Palestine.
At a junction with Mount Carmel Lane I turn left and follow it to Zion Road where I turn right and follow the lane into the village. At a junction with Mount Hermon Road I turn left and shortly after as the road sweeps to the right I continue straight on along a lane which soon crosses the railway line.
Staying with the lane I reach a junction with the Portway, a Roman road, I follow this as it goes to the right and then cross the B3084 and continue past Manor Farm Dairy. Last year I walked a long a track which runs parallel to this road but closer to the hillfort of Quarley Hill.
This is a quiet lane and I do not encounter any traffic as I continue on to pass Oakleigh Farm and then at a fork in the road go right to soon turn south heading into Grateley. At a fork in the road with an impressive horse chestnut tree I go right and follow the lane past the village graveyard to reach the Norman church of St Leonard's.
It is a cracking day and I avail myself of a bench in the graveyard to stop for lunch. Resuming my walk I pass Manor Farm and the interesting Silo House. I cannot recall previously seeing a grain silo that's been converted to a house. I am sure it is an interesting place to be in a hail storm.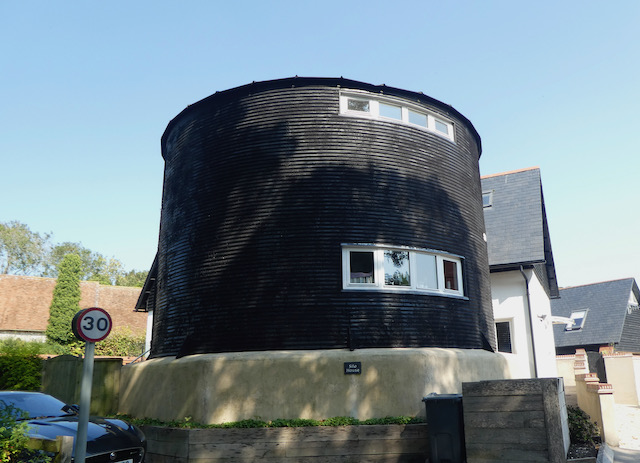 At a junction I turn left into Station Road and stay with this through the village to pass the school. This leads into High Street and on reaching the Plough Inn I turn right.
I now head along Chapel Lane which leads to a track, Georgia Lane, and follow this under the railway line. The track now goes to Great Vinels Copse.
The path continues along the edge of Upper Grateley Wood and I follow this to reach a junction of tracks where I turn right and head towards Oklahoma Farm.
I pass the farm and cross Old Stockbridge Road and then join Park Drove and head south towards Park Farm. Just before reaching barns I take a footpath on the right across a field.
The footpath then follows a hedge lined route between fields heading south towards Wallop. After crossing a minor road I continue on to a junction of tracks where I turn right and soon reach a tarmac lane. At a junction I turn left and follow this lane past the village shop.
At a junction by the War Memorial I turn left into Station Road. Within a few yards I take a brief diversion to visit the Church Sunday School Hall to seek out the OS benchmark that is cut into the wall. It is years since I last visited this hall, then it was for a cricket tea whilst playing a match on the nearby playing field.
Rejoining the road I walk through the village to return to the crossroads and my starting point at Pinchbeck's garage. The car is ready for collection and I pay my bill thinking, not for the first time, how grateful I am for deciding to buy a Ssang Yong rather than another Landrover.
You can view this 14 mile walk on OS Maps and download the GPX File Here
To follow my walk you will need Ordnance Survey Explorer Map 131 Romsey, Andover & Test Valley
16th September 2020
© Two Dogs and an Awning (2020)
All information on this site is provided free of charge and in good faith and no liability is accepted in respect of damage, loss or injury which might result from it.  To the best of my knowledge the routes are entirely on public rights of way or within areas that are open for public access.
Walking can be hazardous and is done entirely at your own risk.  It is your responsibility to check your route and navigate using a map and compass.