After my early morning walk I headed off to Perry's Cider Farm Shop at Dowlish Wake. I hasten to add that I was not in search of cider, but a pint of milk. However, the shop had a range of local produce and a wonderful collection of old farm machinery. So we have decided to plan a walk which will take us to Dowlish Wake so that Lynnie can have a look around.
Leaving the site by the pedestrian gate in the south west corner we join a footpath and head downhill to cross a brook and then enter pasture fields.
Keeping the hedge line to our right we head steadily uphill to reach a gate. Here we follow the footpath across an arable field to reach a minor road, Nash Lane, where we turn right and we stay with the lane until we reach a footpath on the left leading along the driveway to Chibley Farm. We follow the driveway to cross a stream and then take the footpath to the left as it follows the hedge line and then crosses fields to Chillington.
In Chillington we turn right by St James' church and then follow the lane out of the village heading north. On reaching a junction we turn left into Mill Lane following the signs to Dowlish Wake. In the village we turn left to pass the 17th century packhorse bridge which crosses Dowlish Brook.
Just after the bridge we turn right to reach Perry's Cider Farm Shop. Apparently William Churchill began Perry's Cider here in 1920 as a side line to his work as a Blacksmith. I am not a fan of cider, I have tried it a couple of times but I do not take to it and much prefer a beer. However, I am fascinated by the plethora of old cider making equipment scattered around the car parking area.
As well as cider presses there is an old Ferguson tractor in a shed. For years I drove a tractor like it when cutting the village cricket pitch at Farley.
Lynnie continues to browse around the shop which is not a problem to me I could spend hours looking at all this old kit.
Having done her circuit of the farm shop Lynnie rejoins me, I try to show her some of the bits I have been looking at. She is interested, but does not share the same level of enthusiasm as me.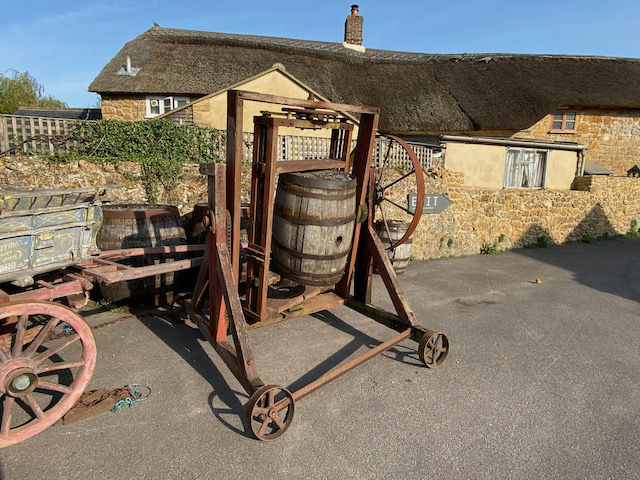 On rejoining the road we turn right and wander through the village and at a fork in the road go left and pass the New Inn pub.
Just after the pub we turn right on a tarmac lane and pass an interesting old corrugated iron barn.
At a junction of lanes we turn left and walk out of the village. After a few hundred yards we turn left into Chard Lane and pass Chard Lane Farm. At the end of the lane we turn left and follow a narrow lane to reach a junction where we turn left and then after passing West Farm turn right following a lane to reach the 12th century St Michael's church.
We stay with the lane until it reaches a junction with Dowlish Lane here we turn right and head steadily uphill and are soon walking through an area of woodland. At a junction we turn left and follow this lane as it heads downhill to Higher Chillington where there are fine views across the valley.
In Higher Chillington we keep heading north east along the road to reach a crossroads we continue straight on to join Nash Lane and then after a couple of hundred yards take the footpath on the right and retrace our route back to Hill Farm.
Back at the site it is time to start packing up, we are heading home tomorrow. Whilst enjoying another stunning sunset.
Hopefully we will be away in the caravan in another week or two.
You can view this 8 mile walk on OS Maps and download the GPX file Here
To follow my walk you will need Ordnance Survey Explorer Map 128 Taunton & Blackdown Hills
12th September 2020
© Two Dogs and an Awning (2020)
All information on this site is provided free of charge and in good faith and no liability is accepted in respect of damage, loss or injury which might result from it.  To the best of my knowledge the routes are entirely on public rights of way or within areas that are open for public access.
Walking can be hazardous and is done entirely at your own risk.  It is your responsibility to check your route and navigate using a map and compass.