Lynnie's back is showing slight signs of improvement.  She is not up to a full walk but reckons she could go further than she has covered on recent days.  Since arriving at Woodstock CL, Ron the owner has made a number of suggestions of interesting places to visit, including Laugharne.  So that is where we drive today.

It is only a short trip from Woodstock CL and we are soon parked up below Laugharne Castle. Our stroll starts by heading away from the castle in a southerly direction besides the estuary of the River Taf.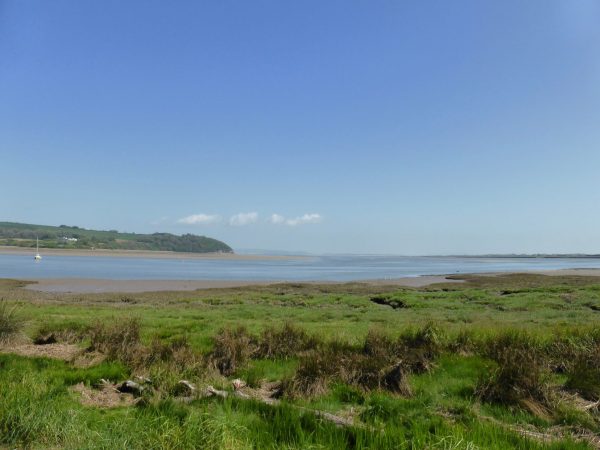 Within a hundred yards we encounter a film crew, I naturally ask one of the many people standing around what they are filming.  Apparently they are working on a scene for a new joint venture between BBC Wales and S4C, called Keeping Faith.  Later research shows that many of the team that worked on Hinterland are involved in this production.
I don't watch TV these days, but when I commuted to London I watched Hinterland on the iplayer and thoroughly enjoyed it.  I may watch the first in this series to see if it is as good.
We follow signs for the Dylan Thomas Birthday Walk.  This is a walk of approximately two miles created by a local chap called Bob Stevens to promote the poetry of Dylan Thomas.  It heads out of Laugharne and climbs over St John's hill to the south of the town.  Originally this footpath was put in place in 1856 by the Laugharne Corporation to enable cockle pickers to access the cockle beds on the lower marsh to the south of the town.
The path soon starts to climb and there is a steep drop to our left, I am comfortable whilst trees and bushes hide this but when we reach the occasional clear section my knees start to buckle.  Normally, at such times, Lynnie takes the dogs but today with her back still sore we agree it would not be a sensible move.  So I head back down whilst Lynnie admires the view.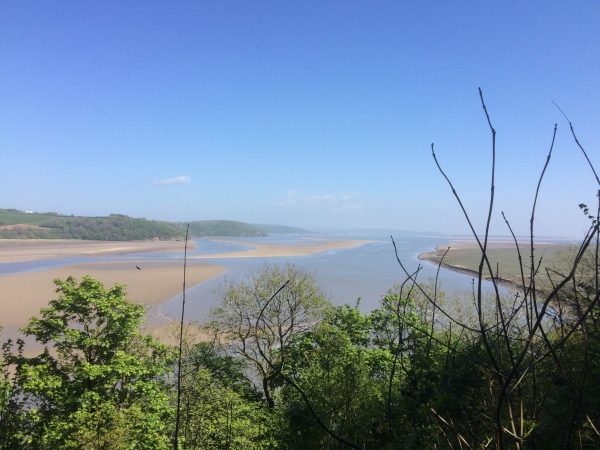 When Lynnie rejoins me we head back towards the Castle and then follow the footpath along the estuary towards the Boathouse where Thomas lived for the last four years of his life.  Just above the boathouse is a reconstruction of Thomas' writing shed.
You can imagine how the views across the estuary would have inspired his writing.  I have my own equivalent of Thomas's writing shed, the awning, meaning every week or two I have a different view to admire whilst developing my prose!
Lynnie's back is feeling okay so we decide to venture further along the footpath, which forms part of the Wales Coastal Path, this is a pleasant wander through woodland with the estuary to our right.  Eventually we reach fields and follow the way markers to reach a cottage at Delacorse.  From here we pick up a lane and climb up hill, after quarter of a mile the coastal path turns to the right, but we stay on the track and at a junction turn left and then very quickly right to head towards Laugharne Church.  Lynnie is now getting a bit of gyp from her back so progress down the hill is slow and difficult.
St Martin's Church dates from the 14th century it underwent restoration work in the late 1800's and more recent repairs after storm damage in 1954.  We can hear activity inside the church and I do not want to disrupt them, instead we  do what many other visitors here do, go in search of Dylan Thomas' grave.  In a churchyard full of polished slate headstones the white memorial cross stands out.
Dylan Thomas was born in Swansea in 1914 but his family originated from Carmarthenshire.  It is reported that he first visited Laugharne in 1934 and soon set up home there with his wife Caitlin.  They left soon after the birth of their son in 1940, but returned in 1949 when a benefactor purchased the Boathouse for him.  He lived there until his death in 1953.
From the churchyard we head down to the A4066 and turn left to follow the pavement back into town, along the way passing some fine Georgian houses.
I admire the chapel with its fine circular window.
Then we reach Brown's Hotel.  Dylan Thomas was notorious for his drinking so presumably he visited many pubs in the town, but Browns is said to be a location where he spent many hours.
Just a bit further along the road is the distinctive town hall with its clock tower.  This building dates from 1747 with the lean-to extension added in 1774.  The clock was a later addition in the 1890's.  It is a striking building, just a pity it is so close to the main road.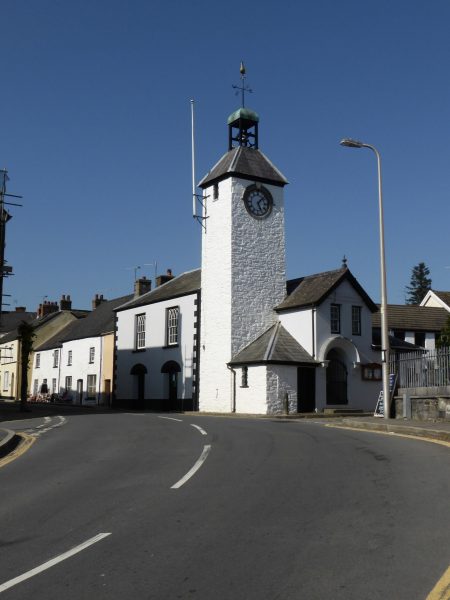 By the time we arrive at the Castle it is closed to visitors, however, we are able to wander through the gates to have a brief glimpse of the interior.  I could write pages on the history of this building, needless to say it has changed hands between the English and Welsh on a number of occasions.  An earlier castle was built here early in the 12th century.  But it was not until around 1247 when in the control of the de Brians that it was built in stone.  This stunning castle is now in the ownership of Cadw.
As we carry on down the road we come to the Celtic Cross in the area of the town known as the Grist.
Laugharne is a really interesting place one to revisit and explore in more detail on a future trip to the area.  Hopefully next time Lynnie will be fully fit.
8th May 2017
[To follow our walk you will need Ordnance Survey Outdoor Explorer Map 177 Carmarthen & Kidwelly]
© Two Dogs and an Awning (2017)