Yesterday we did a lot of wandering around and probably covered a few miles but unless I have a rucksack on my back it does not feel like a real walk. So today the boots and rucksack are soon attached and we are off to walk another section of the Sussex coastline.

The starting point for our walk is the outskirts of Fairlight and we stop at a car park on Lower Coastguard Lane, behind St Andrew's Church. From here we head down Lower Coast Guard Lane towards the coast stopping at the Hasting Country Park Visitors Centre. Whilst Lynnie pops inside I have a look around and spot an interesting plaque.
The plaque is for Grey Owl 1888-1938 and the inscription reads "Born and educated in Hastings, Archibald Stansfield Belaney early became fascinated with the North American Indians and their way of life. Emigrating to Canada in 1906, he spent most of the following two decades among the Indians of norther Ontario. He adopted their lifestyle, became expert in hunting and trapping, and assumed the name Grey Owl. During the 1920's he became alarmed at the rapid despoliation of the wilderness, the wanton slaughter of wildlife and the threat to Indian cultural survival. He stopped trapping and from 1929 until his death achieved worldwide acclaim through his books and lectures in which he pleaded for recognition of "the natural brotherhood between man and animals" and for the protection of the wilderness".
After his death from pneumonia, apparently exacerbated by his excessive drinking, it was discovered that Belaney had falsely claimed to having been born to a native Indian mother. Supposedly she met his Scottish father whilst they were both touring Britain with Wild Bill Hickok's Wild West Show. The discovery of this fraudulent claim damaged his reputation. However, during his lifetime his books and lectures attracted a huge following it is indisputable that he had considerable influence on the development of wildlife conservation.
We walk towards the coastguard cottages before turning right to follow a path. There's a huge network of paths in this 660-acre country park. We follow the marked footpath along the Saxon Shore Way through the park.
The route follows through woodland and open areas that provide great views out to sea.
When we reach Ecclesbourne Glen the coast path is closed because of recent erosion, we pause and see sections of steps on the old path hanging on the edge of the cliff. It is a reminder of the fragility of parts of our ever-changing coastline.
Our diverted route heads inland through Ecclesbourne Glen, the sky is overcast and gloomy. Walking through the glen we are surrounded by trees and water drips from the rocks; this is a dark place. I am sure there are many interesting mosses and lichens, but I warn Lynnie that this is the sort of place that a Globby Monster inhabits.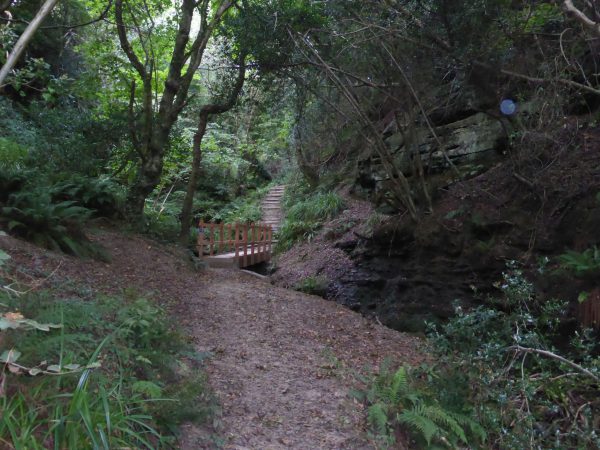 In my world a Globby Monster is an energy-sapping creature, unseen, but liable to latch on to you during the dark days of winter. To combat them you need regular exposure to the sun to maintain high bounce levels. IN the absence of any sun the only other way to ward off Globby Monsters is to keep smiling and always look on the bright side, but the slightest lapse and they might strike.
At the top of the Glen we turn left to take one of the many paths leading over East Hill and soon we are descending across the open park towards Hastings. There are cracking views of Hastings Pier from here.
We follow a footpath to the top of the East Hill Railway Lift and take the steps down towards the Old Town. This funicular railway was opened in 1902, originally with a water balancing system, but in the 1970's converted to electric.   It is said to be the steepest funicular railway in the UK.
Descending the steps we get views of the Hastings fishing fleet. Apparently there has been a fishing fleet operating from this beach for over one thousand years. Today it is reported to be the largest beach-launched fishing fleet in Europe. We have seen a number of beach fleets during our travels but few with trawlers of this size.
Just as we reach the bottom of it starts to drizzle and within minutes it is pouring down. Since starting touring in 2014 we have been very fortunate with the weather and have rarely encountered rain whilst walking. We find shelter and the storm soon passes.
After a wander towards the pier we turn back to explore part of the Old Town. This is a real surprise, we were not expecting anything like this, it is a maze of fascinating little streets with a plethora of interesting shops and bars. Having the dogs with us limits our exploration. We will have to return some time without Dexter and Crosby.
The shopping streets are crowded so we look for a quieter area and then, without planning to, find ourselves on West Hill; another fine open space with stunning views. Apparently John Logie Baird, the inventor of television, made his first radar experiments from this hill. I find it slightly ironic that the chap who invented something now broadcasting such shite into people's homes was working in such stunning surroundings.
We wander back down into the Old Town and then leave along All Saints Street with its raised pavement on one side.
This leads to Harold Road and we carry on gradually climbing and just after All Saints Crescent take a footpath on the right. This goes uphill to join Barley Lane. From here our route is very straightforward, we follow Barley Lane uphill, after passing a large caravan park it becomes a track.
We are now on the 1066 Country Walk – Hastings Link, but where this main route turns to the left we follow a footpath straight on across fields. Continuing on this path, ignoring numerous paths to the left and right, we soon find ourselves heading towards the Old Coastguard cottages at Fairlight.
On reaching Lower Coastguard Lane we turn left to return to the car park, taking time to appreciate the view to our right over the western end of Romney Marsh.
It has been an interesting walk of eight miles; we agree that a return to Hastings Old Town is on the agenda for a future tour.
To view this walk on OS Maps Click Here
To follow our walk you will need Ordnance Survey Explorer Map 124 – Hastings & Bexhill
8th October 2016
© Two Dogs and an Awning (2016)