Despite planning earlier in the year to retire I have yet to achieve my aim. The main reason is my inability to say no when someone asks me to do some interesting work. The problem is my clients are doing really good things to support others in society, so when they ask for help in developing something it is hard to refuse.

The beauty of my work is that with modern technology I can do it anywhere. Sitting in the awning typing away or making phone calls is not a problem. Every now and again I have a looming deadline and need to get something completed and today is one of those days, so for much of the day it has been head down and focus on the task in hand. It is easier to do this when there are storm clouds gathering and the dogs are not over keen to get out.
By mid afternoon I have done what I need to do and it is time to lace up the walking boots. After a few days of challenging walking Dexter often complains. So it will be a shortish walk today. I know my definition of a short walk does not accord with some others, but for me it equates to four or five miles.
We are going to do a variation of a walk we have done many times before. From Brigholme Farm CL we turn right and soon cross Penny Bridge over the Ribble. We turn right to go under the railway bridge. At the crossroads we go straight over into Ingfield Lane and at the bottom fork right around the new retirement housing complex. In the distance to the north the sky looks ominously dark. I think we are in for a drenching.
In a few hundred yards we reach Brockhole Lane on the right. The sky to the south is blue with the odd cloud drifting across. Things look better in this direction!
We often walk along this lane, known locally as Watery Lane. Usually, apart from the odd section, it is dry under foot but today it is like walking in a stream.
At the end of the lane we go through a gate and at a crossing of paths close to a modern barn, turn left to follow the lane steadily uphill to Lodge Farm. Going through the farm gate we turn left and at a fork in the track take the right option. We go through a gate and walk along the track by a plantation and then at a second gate follow the walled track. At another gate we keep straight ahead keeping Black's Plantation on our right.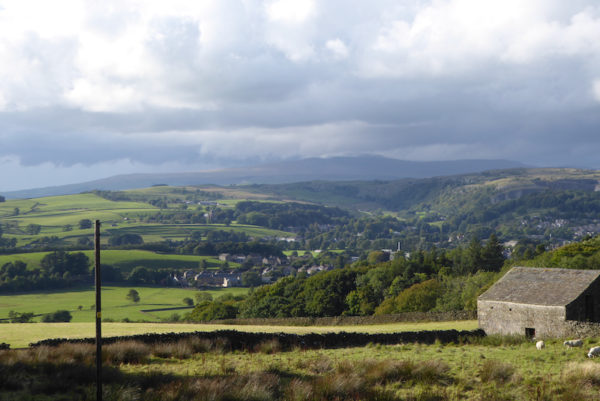 At the junction of Mitchell Lane and Lambert's Lane we turn left and follow Mitchell Lane downhill into Settle and then back to Brigholme Farm CL. I am not sure how we have managed it, but somehow we have covered four miles with storms brewing all around us and not had a drop of rain. I'm not complaining, I've seen enough rain in the last week to last me for a whole year!
To view this walk on OS Maps Click Here
To follow our walk you will need Ordnance Survey Outdoor Leisure Map OL2 – Yorkshire Dales – Western Area
13th September 2017
© Two Dogs and an Awning (2017)