I am walking on my own again today. When I announced that I fancied a walk up Whernside Lynnie quickly decided there were things she needed to look for in the shops in Settle. My starting point is from the roadside parking at Batty Green, which provides a stunning view of the Ribblehead Viaduct.

I take the path towards the Viaduct and after going under the magnificent arches continue on the path through Gunnerfleet Farm and then carry on along the tarmac drive towards Winterscales Farm. On meeting a junction of paths I turn left towards Ivescar and ignoring the stile leading up the steep side of Whernside carry on through a couple of fields. I approach a gate between fields where a cow stands guard, however, she doesn't seem bothered by either the dogs or me and just keeps a close eye on us as we pass under her nose.
After going through Broadrake I turn right at Bruntscar joining the three peaks path heading to the top of Whernside. First I stop to look at the limekiln besides the track.
This is initially a steady upward route, with the occasional steeper section. It is only after passing through a gate that the really steep climb is encountered.
Usually I stride up here, but for some reason today I am struggling and something is making me wheeze. It is a good excuse to stop and admire the view.
A chap is heading slowly down the path and as we pass we stop briefly to chat, he has been struggling with knee problems and apologises for keeping me waiting to pass on this narrow section of path. However, we both agree that it's better to take it easy rather than knock yourself up and end up incapacitated, after all it is not a race it is about being out here.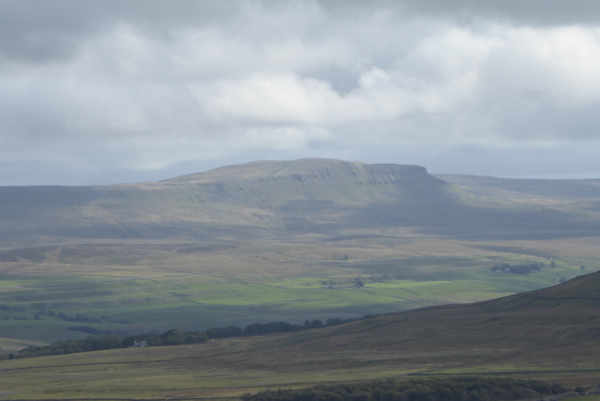 Once on the ridge I turn right and follow along it, still upwards until finally reaching the summit of Whernside. I have "bagged" this trig point many times, and it is my 26th of the year.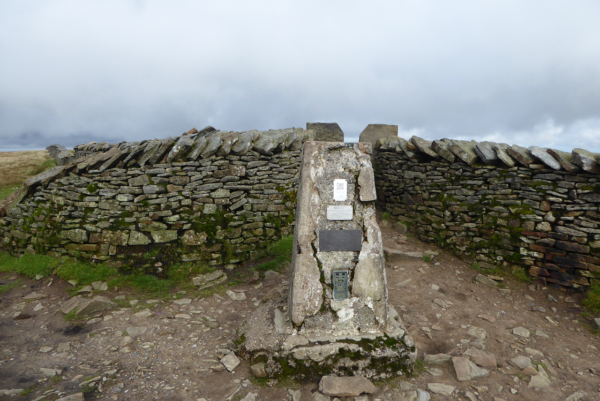 At 2,415 feet the views are stunning particularly down to Deepdale and further onto Dentdale.
Continuing along the ridge I am walking into the wind and it is certainly blowy, but it is not too long before I start to descend on the three peaks path. Normally I would expect to meet people heading up, but today there is nobody walking towards me. As I walk down I stop to view Denthead Viaduct in the distance.
At the junction of paths I turn right to descend Slack Hill, stopping after a gate to admire the waterfall at Gill Force, once again the wet weather has swelled the volume of water flowing.
Over the aqueduct at Blea Moor there are sheep grazing and they watch with interest as we pass.
I follow the path with the railway on the right and as I head towards Blea Moor signal box I spot a limekiln high to my right, I have noticed this before, though I have walked this path numerous times.
The clear path carries on towards Ribblehead Viaduct and I am treated to a train crossing just as I approach. I have yet to be close by when a steam train crosses the viaduct, which must be an amazing sight. I have seen it from a distance, but one day will make plans to be here at the right time!
I have gone eight miles during which I have ascended and descended 1497 feet, so a good afternoon's walk. Time to head back to Brigholme Farm, we are meeting up with Richard and Trudie for a hand of crib and some beers this evening. Cheers!
To view this route on OS Maps Click Here
To follow our walk you will need Ordnance Survey Outdoor Leisure Map OL2 – Yorkshire Dales – Western Area
12th September 2017
© Two Dogs and an Awning (2017)