Lynnie has had two days off from walking and whilst there is no guarantee of a dry day today the forecast looks reasonable, so she decides to come on a jamabout. By way of encouragement I have promised a new walk today starting from Stainforth so that we can visit Stainforth Force.

There is plenty of parking around the village of Stainforth, but we use the Yorkshire Dales National Park car park on the edge of the village by the B6479. It costs a few pounds, but helps fund access to the National Park, so money well spent in my opinion. We leave the car park and head to the B6479 and turn right along the pavement and then soon take a narrow lane on the left that leads down to Stainforth Force.
As we approach the old bridge we see youths in wetsuits messing about in the fast flowing river. Their antics are amazingly stupid, one slip and the fast flowing river will sweep them out of control and draw them to the waterfall and rocks beyond. The river here has seen tragedy in the past and we hope we are not about to witness another.
Our route continues up the tarmac lane, but we briefly detour to watch the fast flowing river through Stainforth Force. We have been here many times, but never seen it in such spectacular flow.
Returning to the lane we walk steadily uphill with Knights Stainforth caravan site on our left and at a T-junction at Little Stainforth we turn right to follow the lane northwards. It is a dry afternoon and there are great views of Pen-y-ghent in the distance.
After just over a mile we approach Helwith Bridge Quarry.
We follow the road as it sweeps round to the left and then at a junction turn right to walk back towards Helwith Bridge.   By the bridge crossing the River Ribble is the aptly named Helwith Bridge Inn. The pub's website states it was built in the 1820's as a canteen for local quarry workers and has been a public house since the 1870's when the nearby railway line was constructed.
On reaching the B6479 we turn left and proceed with caution for a few hundred yards before taking the track that veers to the right. At a junction of paths we continue straight on along Long Lane heading towards Pen-y-ghent. Bathed in sunlight it looks really attractive, I have no intention of climbing it again today, but just in case Lynnie makes it abundantly clear that she is not venturing up there!
Every now and then rain sweeps along the valley, so our waterproofs are constantly being put on and then off as it is really warm when the sun shines.
The constant stopping does give Lynnie time to take pictures of sheep.
Where the path forks we keep to the right and on reaching Churn Mill Hole we turn right along the Pennine Way Path.
As we approach Dale Head we meet two young chaps and stop for a brief chat. They are walking the Pennine Way, but it is clear that their hearts are no longer in it and there is a suggestion they have had enough. They are a week into the walk and have had almost constant rain, so you can understand why they might want to stop. Personally I would opt for a day of rest and take the opportunity to properly dry out before starting again, but I have yet to undertake a long distance walk so do not know how it affects your mind and willpower.
On reaching a road we turn right and follow Silverdale Road towards Stainforth. This is a very rural lane and only a couple of cars pass us, but we do meet a group of thirty plus foreign cyclists on tour. Some cows in a field observe us closely as we pass; presumably they don't see too many people around here.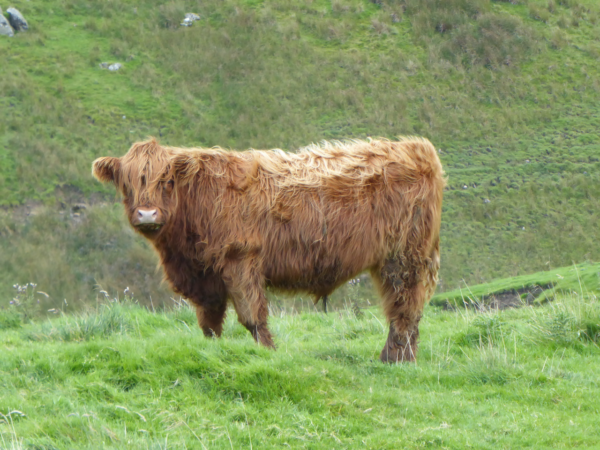 As we drop down into Stainforth the water can be seen running off the fields opposite to join Stainforth Beck.
In Stainforth we stop by the stepping-stones that cross Stainforth Beck, the water level is high and it is a hazardous spot. A Rowan Tree besides the river is dedicated to the memory of Rochelle Aimee Cauvet. In October 2000 she was on a school trip walking in the Dales and they went river walking up Stainforth Beck. She and another girl, Hannah Black, lost their footings and were swept away and drowned. It makes seeing the lads in the gushing river earlier even more worrying.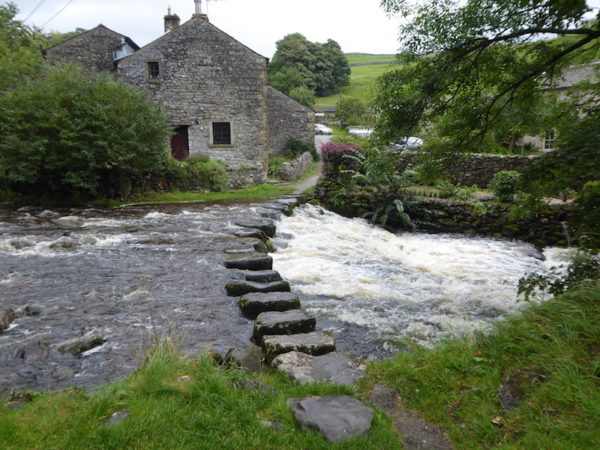 It is now only a short walk back to the car park. It has been a stunning walk covering just over eight miles. Time to head back to Brigholme Farm CL and get our thinking heads on, we are off to the Talbot tonight with Richard and Trudie for a bite to eat and to take part in the pub bingo quiz.  The Talbot is a cracking pub and our combined brain power resulted in us winning one of the prizes!  These vary in value and are chosen from a lucky dip, the group before us won a meal.  We won a bag of crisps!
To view this walk on OS Maps Click Here
To follow our walk you will need Ordnance Survey Outdoor Leisure Map OL2 – Yorkshire Dales – Western Area
11th September 2017
© Two Dogs and an Awning (2017)