Earlier in the year when we were planning this trip Lynnie asked if I fancied eating anywhere special on my birthday. A stupid question really, there was only ever going to be one answer, The Little House Restaurant in Settle. It ticks all the boxes for me, the food is outstanding, the service could not be more attentive and it also means that we can spend an evening with our dear friends Maurice, Jane and Carlos.

This year my birthday falls on a Sunday, so we are going to celebrate a day early. But first I need to go for a walk, if I had to choose my favourite walk of the many that I have done, it would always be a trip up Ingleborough. Blog followers will know I do this walk regularly (I have already done it a couple of times this year) but for the sake of completeness and for those who have stumbled on this blog for the first time I will once again record the journey.
There are many routes up Ingleborough but my favourite route is from Clapham and that is where I start again today, there is ample parking in the Yorkshire Dales National Park car park.
Leaving the village the route enters the Ingleborough Estate Nature Trail, this is always a special place for me, and it was amongst my mothers favourite spots in the Dales. So it is in reflective mood that I wander alongside the lake on the estate.
I reach The Folly, a key milestone when we used to walk this route when Ben and Lolly were children.
I follow the path past Ingleborough cave and then climb through the dry gorge of Trow Gill. Arriving at the top there is a steady ascent through the rock strewn path.
After going through the wall gates I follow the path towards Gaping Gill but veer off at a junction to avoid the pothole and head straight up Little Ingleborough. I never tire of the views from here they are truly stunning.
It is a good climb to the peak of Little Ingleborough but from here the well-defined route follows the ridge before the final ascent to the top of Ingleborough itself.
This is always a very special place, as blog followers may remember. I give my wave to some special people who are sadly no longer with us. For me being here is like watching that bit of Mary Poppins when the wind changes, I know that it will bring tears to my eyes, and as ever my emotions get the better of me.
I wander over to look at the view of Whernside and the magnificent Ribblehead Viaduct. At the moment it is clear on the top of Ingleborough, but I can see cloud heading my way so decide not to hang about and make a start on the descent.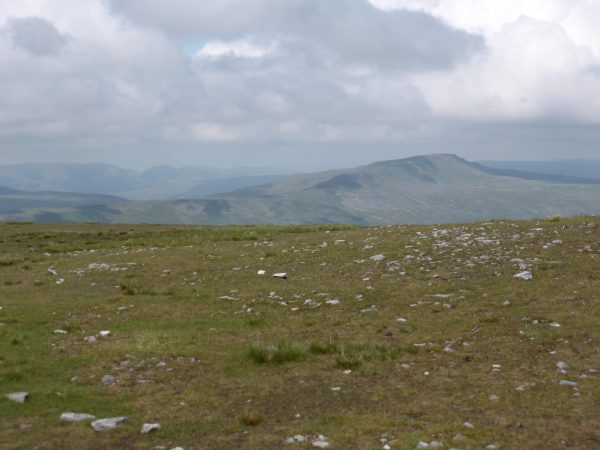 I take the rocky route of the Three Peaks path towards Horton. As I walk the cloud descends behind me and within minutes it obliterates the view of Ingleborough.
My route passes through a section of limestone pavement, soon after at a cross roads of paths I turn right towards Clapham. There are bears across the path, but these are well used to walkers and dogs and show no interest in Dexter and Crosby.
After going through Sulber Gate I walk alongside the stunning Crummack Dale.
I soon bump into a couple of ladies walking in the opposite direction. Usually on such encounters there is a passing greeting, but today these two want to stop and pet the dogs and have a chat. Ten minutes later I head on, we have discussed a wide range of topics in a brief period of time including, dogs, walking, travelling in a caravan and the beauty of the area. Such chance encounters are always interesting.
The grassy path leads towards Thwaite Scars and after passing through a couple of gates joins Long Lane. There is a choice of routes here, you can take a right and re-join the trail through the Ingleborough Estate or head along the rocky lane. By way of a change I opt for the route along the lane, which eventually leads to a T-junction of tracks. I turn right and head downhill through the tunnels to emerge by Clapham Church.
On my recent visits the church has been covered in scaffolding, but now the repairs appear to have been completed.
I consider popping into the New Inn for a pint, but decide that it is best to head back to Settle to get prepared for a night out on the town.
4th July 2015
[To follow this walk you will need Ordnance Survey Outdoor Leisure Map OL2 – Yorkshire Dales – Western Area]
© Two Dogs and an Awning (2015)