Before coming to this area one of the locations Lynnie identified for a visit was the National Trust owned Wicken Fen Nature Reserve.  So after a morning's work we set off  for a wander around.  It is only a short drive from our site at Heatherbield CL to the village of Wicken. However, there is plenty of traffic about.  Every time I have driven around here I have been surprised by how much traffic there is.

Parking in the National Trust car park we wander down to check we will still be able to access the reserve after our walk.  Returning to the car park we take the footpath opposite the toilet block along Breed Fen Drove.
This is the route of the Rothschild Way a walk I have not heard of. Apparently it was the idea of a local group to create a thirty-nine miles footpath linking the Nature Reserves at Wicken Fen and Woodwalton Fen.
The reason for linking these two reserves was that Charles Rothschild purchased Wicken Fen in 1899 and Woodwalton Fen in 1910.  Born Nathaniel Charles Rothschild he became known as Charles and was a member of the Rothschild Banking family.  He took a keen interest in nature conservation and in 1915 published a list, the Rothschild List, of 284 sites across Britain suitable for nature reserves.  Apparently, he pursued his interests in nature alongside his banking career, going to the office everyday to focus on his special interest in gold refinery.
At the end of the track we turn left still on the Rothschild Way to skirt the outskirts of the nature reserve.  Walking along Spinney Drove we see a pair of Common Cranes on Spinney Fen.
Reaching Upware Road we cross continuing on the Rothschild Way.  Lynnie is demonstrating her tracking skills and suggests that she is like Tonto to my Lone Ranger.  As we walk our conversation turns to celebrity horses, we agree that the Lone Ranger rode Silver, but where does Trigger come into the equation? After a while we come to the conclusion that both Roy Rogers and Ernie the fastest milkman in the west had a horse called Trigger.  Next up is Champion the Wonder Horse; here we are stumped because we cannot recall the name of Champion's canine companion.  In the end I have to cheat and look it up, of course, he was called Rebel!
By now we have reached a point where the path turns left along a track and goes alongside Commissioners Pit to follow the edge of a field to reach Upware.  We turn right passing the Marina and then follow the road around to the Five Miles From Anywhere pub.  We turn left here walking besides Reach Lode, to reach a minor road by a converted pumping station.
We join the path as it follows the north side of Reach Lode and walk along by the moorings.
We proceed in an orderly fashion, well not quite orderly because Lynnie is lagging behind, we have reached Adventurers' Fen the view across is stunning.
On reaching a track close to a car park we turn left and take a slight detour along Harrison's Drove so Lynnie can take pictures of some Highland Cattle.
Returning to the track we turn left and follow this towards the village of Wicken, we pass through a couple of gates between fields containing Konik Ponies.  The National Trust uses these ponies and the Highland Cattle to help manage the fens for wildlife.  To me most horses are the same, I know a shire horse from a Shetland pony, but in between they have four legs and if you get too close they might bite or kick. I would struggle to tell a New Forest pony from an Exmoor Pony, but I am pretty sure I have never seen a Konik pony before.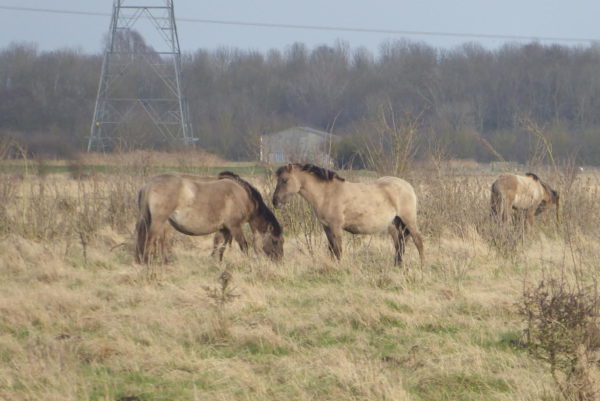 Apparently they are Polish ponies, better not tell all those ardent Brexiteers or they will have them sent back! They are wild horses particularly adept at living in harsh habitats and severe weather conditions.  The east wind that has been blowing since we arrived on the Fens is more agreeable to them that in it is to us!
The path now skirts St Edmunds Fen and then goes through fields towards Wicken.  To our left is Wicken Corn Windmill built in 1813 .  From later research I discover the mill drives two pairs of French burr stones, and various types of flour dresser. The windmill business closed in 1933, although it was still worked occasionally by engine until 1942. It was restored from 1987 by the millwrights of the Wicken Windmill Partnership.  It is now open occasionally to the public, but unfortunately not today. The mill's flour is sold locally.
Entering the village we are about to cross the road to look at the Maids Head pub when I have a brief exchange with a local, I state it has been a cracking day, he agrees saying "Spring is coming when the sun is shining on both sides of the hedge".  Not a term I have come across before, but I know what he means and it is sure to become part of my vocabulary.
The Maids Head is a 13th century thatched pub it's website suggests it is one of the oldest pubs in Cambridgeshire.  It also says there were originally three pubs in the village, The Red Lion opened in the late 18th century and closed in 1930s and The Black Horse closed in the 1950s. In 1983 The Maids Head was destroyed by fire but immediately rebuilt to its original design.
We wander across the green to the village pond and then spy an old water pump, the attached plaque states it is the last remaining of four water pumps in the village and was in use until mains water came to the village in 1949.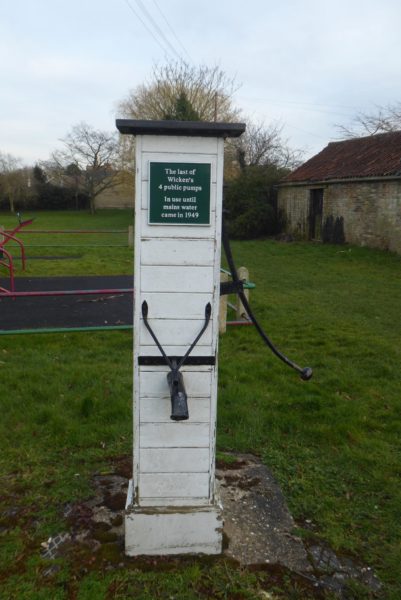 Wicken is an interesting village with loads of old buildings, so we don't rush.  But we are mindful that we want to wander around the boardwalk on the fen before the centre closes.  We head back to the National Trust visitor centre and take the boardwalk path.  Soon we are looking at the old drainage windpump, the last survivor of the many thousand drainage windpumps of the Cambridge Fenland.  It was moved from Adventurer's Fen and restored on this site in 1956.
We stroll along the boardwalk stopping briefly in the bird hide.  Without binoculars we do not observe anything, but it is a cracking spot.
This is an interesting bit of Fenland carefully managed by the National Trust to ensure the habitat is suitable for a variety of wildlife.  It is good to know that as far back as 1899 people like Charles Rothschild had the foresight to preserve such places for future generations.
Our wander around Wicken has covered six and a half miles, not as far as I had hoped, but Wicken village has been very interesting.  It is now time to head back to the Coachman and make plans for tomorrow's outing.
To view this 7 mile walk on OS Maps Click Here
To follow our walk you will need Ordnance Survey Outdoor Explorer Map 228 – March & Ely
14th March 2018
© Two Dogs and an Awning (2018)