A Bank Holiday weekend and rather foolishly we decide to go to the small town of Newport on the Pembrokeshire Coast. This is an attractive seaside town, but as soon as we arrive we realise that it is a very popular tourist spot and in addition there is a carnival starting down on the seafront.

Once parked near the seafront we head off, walking along a path that runs parallel with the estuary. We then join the road and walk into the town stopping to look at the Neolithic burial chamber Carreg Coetan Arthur (dated at 3000 BC).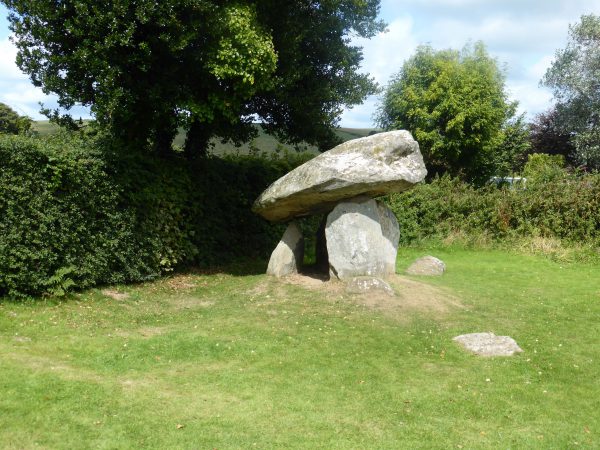 Before continuing into the centre of the town. Here we come across a Michelin Guide listed restaurant, which gives you an indication that this is an area with a number of second homes and holiday cottages.
We walk up to St Mary's church and pass it to enter College Square. Then turning up a small steep lane we keep straight ahead at a junction and arrive at a gate. Through this and we are on Carningli Common. We head upwards to join a path on the left alongside a stonewall, we continue on this until we can see a rocky outcrop. This is the location of the Carningli Wishing Well. We walk through thick bracken to the outcrop, but it is so overgrown that we struggle to identify the well.
Returning to the main path we follow it up to another rocky outcrop on the horizon. This is Carn Ingli hill fort, it said that if you spend a night on Carn Ingli Mountain you either become a poet or go mad. There are many other stories and legends associated with Carn Ingli (The Mount of Angels). We have no intention of staying here until dark.
After a clamber over rocky scree we reach the summit (1,138 feet) and the views are stunning. This is another magical place to visit. At the top we have a very engaging conversation with a lady out running. She has been here before and like us finds it a great place to be.
The summit is at the centre of the Iron Age hill fort and the surrounding area has remnants of 25 hut circles. With the high bracken these are not easily seen. But it is still amazing to think how this area has been utilised for centuries.
Our descent is returning down by the same route. As we enter Newport we try to get a glimpse of the castle. The remains of which have been incorporated into a house. Apparently the castle was first built in 1191 and over the years was attacked and rebuilt. In 1859 the ten ruins were incorporated into a three-storey house and is now a private residence.
This has been an interesting place to visit but there are too many people about for us. We are beginning to wonder how we will cope when we return to "normal" life.
(23rd August 2014)
[To follow my walk you will need Ordnance Survey Outdoor Leisure Map OL35 –North Pembrokeshire]
© Two Dogs and an Awning (2014)