There have been weeks when we have felt ready to move on. At other times we have been sorry to leave a site. So yesterday we were particularly sad to be leaving Barons Court. Andrew really has developed a cracking site, it has the added bonus of being in a great walking location and on the edge of an extraordinarily friendly village.

Before packing up I popped down to the village butchers, L J Bailey & Sons. We have had excellent meat all week and I wanted to take some with us. This is a busy shop but there is still time for a conversation with every customer.
After a final chat with Andrew, we bade him farewell with promises to return. I know that once word gets around this site is going to be extremely busy.
A steady drive westwards takes us to our next site on the edge of the village of Maenclochog. After setting up and looking at the helpful information pack provided by the site owner we wander down to the village to get our bearings.
On Friday we decide to take a walk from the site. The site information pack contains a laminated walk starting from the lane next to the site, it looks ideal. We head off down the track following the lane to the right, through a kissing gate and onto a board-walk through gorse. This leads to another kissing gate and then into woodland where the path is frequently interspersed with raised walking boards to ensure easy passage over the boggy ground. This is another wood that looks fine in daylight but would be spooky after dark.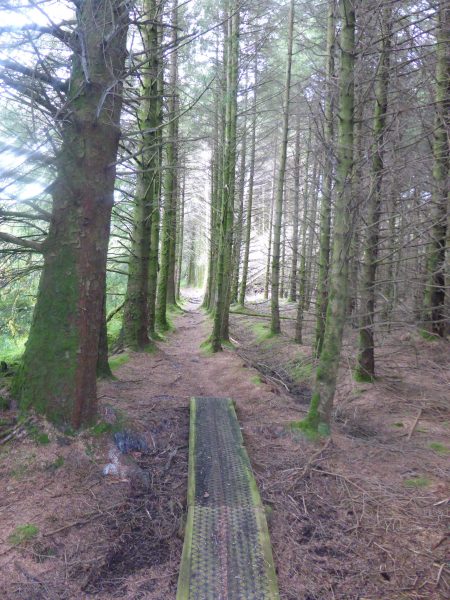 We arrive at another kissing gate and follow a lane for a few hundred yards before going over a stile (lifting the dogs) and then crossing a field on a well way marked path that takes us gradually uphill. Another stile (another lift of the boys) and we join a track that takes us further up. All the way we have stunning views to our right and behind us.
The track is beside woodland and then crosses boggy ground before going through a gate, still climbing. Eventually we reach the trig point at the top of Foel Cwmcerwyn. At 1,758 feet this is the highest point in the Preseli Hills and from here there are amazing views. There is a strong wind blowing and it is a cool day so we don't hang around too long.
We head off on a clear path to the edge of woodland, as we go downhill a regular stream of walkers pass us. This is the busiest path we have been on for months. It is great to see both young and old working their way up the hill.
Through a kissing gate and we join a downhill path, apparently we are now on the old gold road, a Neolithic track way dating back some 5,000 years that crosses the Preseli Hills. It was part of the trading route between Wessex and Ireland bringing in gold from the Wicklow Hills.
At a junction of paths our route is a track that leads downwards through woods. We are looking for a picnic spot and are rewarded by a bench carved from a tree trunk by a small waterfall. Everyday we have a picnic on our walk, and everyday we have found a stunning spot. Often it is somewhere where others have previously stopped for refreshments and the boys are kept busy searching for crusts and crumbs.
On our way again we continue down and pass the first of a series of slate quarries. Further down we come to the disused Rosebush Quarry, this is an impressive site. Quarrying at Rosebush started in 1842 and the quarry was worked until the end of the century. This quarry supplied the slate for the roof of Westminster Palace.
In the village we walk to the pub the Tafarn Sinc, built from timber and zinc sheeting in the grounds of the former railway station. It was originally a hostelry for quarry workers and the railway platform still exists in its beer garden. We resist temptation and decide to call in another time.
The railway opened in 1876 and ran from Rosebush to Clyderwen and was operated by the Narberth and Maenclochog Railway Company and used for transporting slate from the quarries. The line closed in 1882 but reopened in 1895 for passenger services. It finally closed, both passenger and freight services, in 1949.
As we walk from the pub we see a sign for Pant Mawr Cheese and decide to investigate. Freddy's do like cheese. I walk up the farm drive and into the small shop whilst Lynnie and the boys wait outside. They too like cheese and would be uncontrollable in the shop, especially Lynnie.
I enquire as to the types of cheese on offer and spend the next five minutes tasting them (whilst taking some out for Lynnie to taste too, but none for the boys!) Cheese and a pot of local honey paid for we wander along the lane to take the road back down to Maenclochog to sample our purchases.
Tonight we will be our 150th consecutive night in the Unicorn. Something we would have had difficulty even imagining a few years ago but we are having a cracking time and are unsure how we will adjust to living back in a house.
(22nd August 2014)
[To follow my walk you will need Ordnance Survey Outdoor Leisure Map OL35 –North Pembrokeshire]
© Two Dogs and an Awning (2014)