Whilst chatting to one of our fellow caravanners this morning I am told about an interesting trip to St Martin's Haven. So a quick look at the map and off we go.
We drive towards Marloes and follow a narrow lane down to St Martin's Haven. At a dead end there is a National Trust car park. On arrival it starts to rain heavily, but it is a short downpour and we are soon off exploring.

First to the small cove, from here boat trips run to nearby Skomer Island. The boats depart hourly between 10:00 and 12:00, the Island is limited to 250 visitors a day and the first boat back is at 15:00. Skomer is just off the southwest peninsula of Pembrokeshire and is a temporary home for migratory birds, including the Manx Shearwater, Atlantic Puffin, Guillemots and Razorbills. Apparently the island also has its own mammal, found nowhere else in the world, the Skomer Vole. The only permanent human resident is the warden.
The cove is also popular with divers and you can see why when we climb up and see the clarity of the water. We have thoughts of a coastal path walk, but they are soon quashed when I am greeted with a steep cliff.
Our alternative plan is to have a wander around the National Trust Deer Park the views over Gateholm Island and out to Skomer Island are stunning. There are sheer cliffs here too, but I can keep well inland whilst Lynnie explores. A number of people are on the edge looking down, so Lynnie goes to investigate and spots seals.
It is a great place, but I prefer to be further inland than this. Our next stop is Goodwick Harbour nearby Fishguard. There is an ice cream van in the car park, Lynnie debates (briefly) if she wants one and then is out of the car and off like Usain Bolt.
We wander along the breakwater. The information board tells us that this is the location of the last Invasion of Britain. Apparently on 22nd February 1797 four French vessels anchored off the rocky headland and ferried ashore some 1400 men. The invaders, obviously happy to be on dry land, soon became drunk on stolen alcohol and the locals successfully resisted the invasion. The French surrendered on 24th February at Goodwick Sands.
Goodwick also has another other place in history, it is from here that the first successful flight between Britain and Ireland departed. On 22nd April 1912 Denys Corbett Wilson took off in his Bleriot XI. The flight lasted one hour and forty minutes before a safe landing in Enniscorthy.
As we head back from the breakwater it starts to rain again, we make a dash to the car and return to the Unicorn to batten down the hatches for the anticipated storms.
(24th August 2014)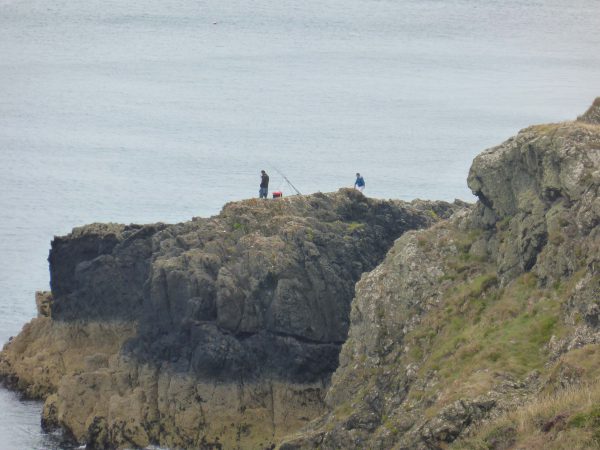 © Two Dogs and an Awning (2014)