Once again it is a foggy start, but it soon begins to lift. I take the boys out for an early morning walk, do some work and then we plan our walk. When travelling we like to explore the area we are in as much as possible and rarely cover the same ground twice. However, as we consider our options we talk about our misty walk yesterday and agree to do the same walk again aiming to admire the views.
So we head for Reeth and park up. It is a Sunday and this is obviously a popular spot for day-trippers. We manage to find a space on the village green and once again head off.

For those that read yesterday's blog I promise that this is not an exact reenactment and there are some interesting (to me at least) diversions in today's walk.
Leaving the green in a southwesterly direction we take the footpath to the river that passes by the side of the National Park Information Centre. At the end of the lane we turn left and then right into a walled lane passing a doctor's surgery and children's playground. At the end of the lane we go downhill towards the river.
We walk besides the river to the suspension bridge. Over the bridge we carry straight on, walking away from the river, then at a crossing of footpaths we turn right to walk with a wall to our left. Through a gate we follow the path to the River Swale. Our route continues besides the river, going over stiles to a fingerpost where we climb away from the riverbank.
As we walk below Stubbin Farm we can see back across the Dale, today it is clear enough for us to appreciate the view across to Calver Hill.
We continue through a gate and up to the tarmac road, then steadily uphill. Suddenly in front of us we spot a stoat, or perhaps a weasel, lunching on a dead rabbit. We stop about twenty yards away, but our approach has disturbed the creature's meal and refuge is sought in a dry stone wall.
But a good lunch is obviously too good to leave for long and despite our close proximity it quickly reappears.
Though a country boy I am always unsure when it comes to identifying stoats and weasels. Both are killers, despite their size they will take on prey far larger than themselves. The description of a Weasel is 15 to 25 cm long, light brown with a pale underside. Whereas, its cousin the Stoat is 15cm to 30cm long, light brown with a pale underside and a black tip to the tail.
These fellows move pretty quickly so seeing the tip of their tail is not so easy. We watched for about ten minutes, but still could not decide whether we were watching a stoat or a weasel. Perhaps, I could return in a few years to see if he is still here. Mr Weasel has an expected lifespan of three years whereas Mr Stoat can live for about ten years. From this I conclude that the black tip adds another seven years lifespan!
We decide not to visit Maiden Castle today, so after ignoring the first bridleway we take the second signed to Castle Bolton. It is still misty, but our view up the Dale is clearer than yesterday.
As we continue uphill there are grouse butts dotted all over the moor. Like yesterday we frequently hear and spot grouse, fortunately for them the only danger we present is capturing their image.
As we near the shooting lodge the track forks and we take the left continuing on a clear route across open moorland. Today we are able to appreciate the cracking views we missed yesterday, though it is still a bit hazy.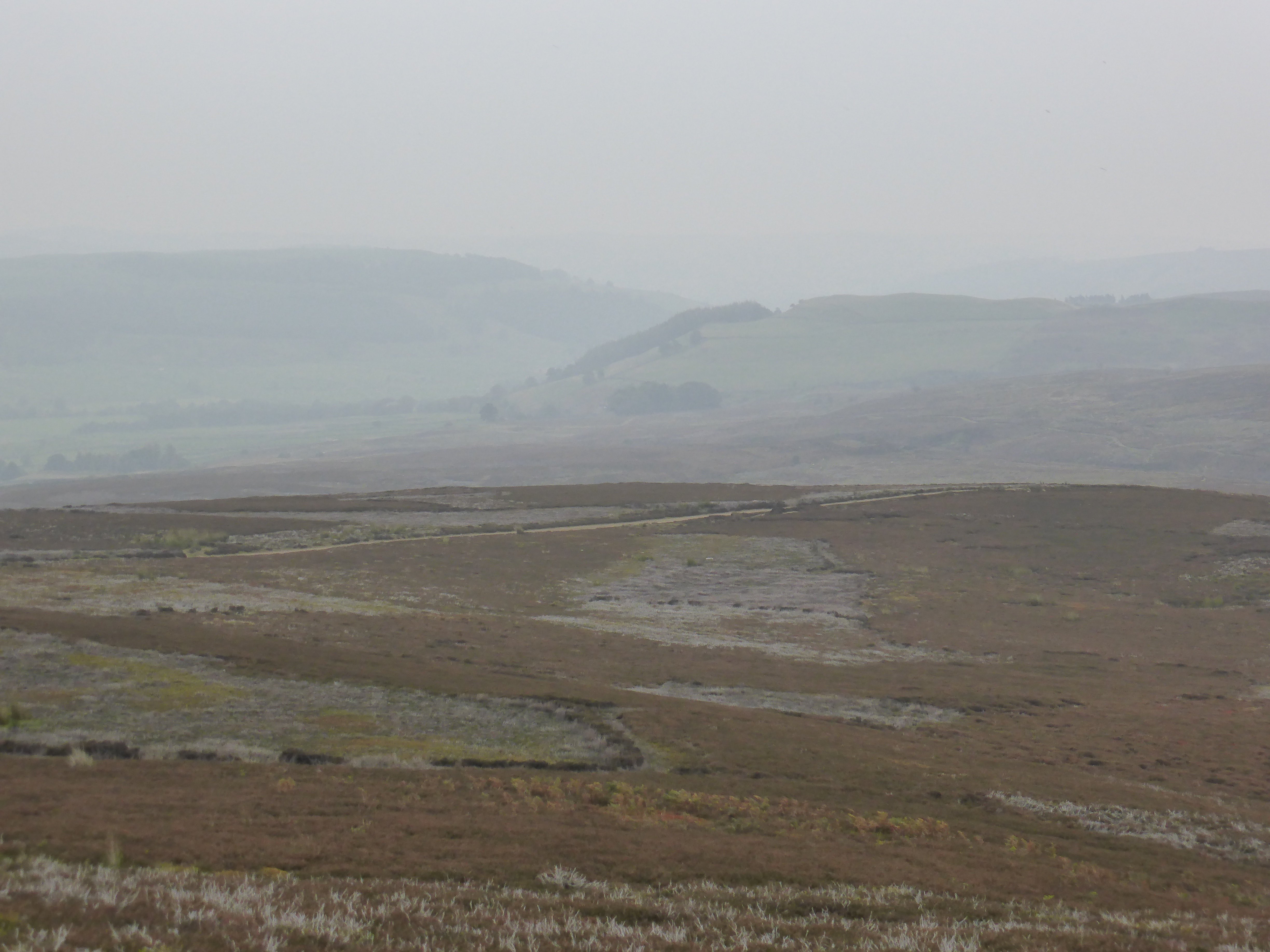 The track eventually descends to a stream. We cross and go through a gate to follow a track leading to a road. We turn left and descend along the road into Grinton.
We stop to look at a sheep on the roof of the Bridge Inn. Why there is a sheep on the roof is unclear especially as it has a unicycle on its back! I can only assume that the unicycle is due to the Tour de France passing through the village in 2014, but I haven't a clue to the significance of the sheep.
We turn left and walk along the lane with the church to our right. After about a quarter of a mile we turn off to the right onto a bridleway and follow this across pastures with Reeth on the opposite side of the river. We cross the suspension bridge and retrace our steps back to the centre of Reeth.
We have walked about 8 miles and despite being a repeat of yesterday's it has been a great walk. We have made a note to return to Reeth at some stage in 2016 to explore more of the many walks from the village centre.
4th October 2015
[To follow our walk you will need Ordnance Survey Outdoor Leisure OL 30 – Yorkshire Dales Northern and Central areas]
© Two Dogs and an Awning (2015)