We can never tire of walking on the Quantock Hills and so far have managed to ensure that at least part of our route is across new ground. Frequently the majority of our walk is on paths that we have trodden recently.

Once again we park at Dead Woman's Ditch, just as we are about to let the dogs out a flock of sheep head our way. We decide it would be wise not to let them into the melee of sheep and collies, they have their work cut out herding the flock without Dexter and Crosby's help.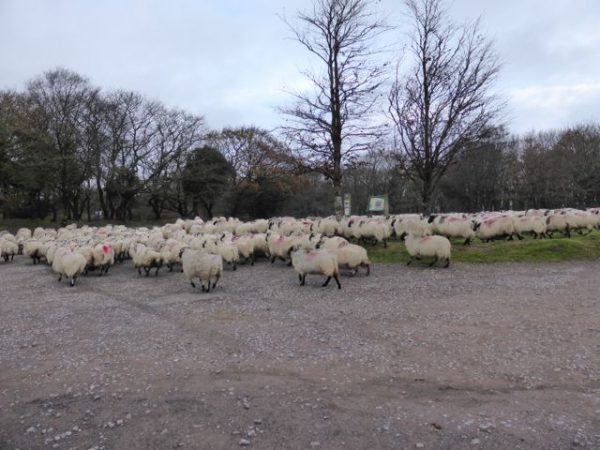 When they have passed we head off on the lane towards Dowsborough Hillfort. From here we follow our familiar route to Holford.
The trees still retain a few leaves, but surely not for much longer. It is now getting decidedly chilly, but thankfully still dry.
From Holford it is back to the hills via Holford Combe. At the junction of Combes the challenge is to find a new route path. Fortunately there are a myriad of routes and we find one through Frog Combe that we have not previously covered. On reaching the top of the hill it is a left turn along the stony track to the car park.
Another cracking walk in stunning countryside!
19th November 2014
© Two Dogs and an Awning (2014)