Anyone who has followed this blog for a while will know that we have an affection for the Yorkshire Dales. It is a place that we have visited frequently over the years and its undoubtedly my favourite place in the Country.
There are other locations where you get stunning views and good walking. There are also places where you can be assured of a friendly greeting from a total stranger whilst walking down the street, and other spots where the beer is good. But in our travelling experience the one place where you can always guarantee all of these is Settle.

It was a long journey up from Wiltshire yesterday, we arrived late afternoon and soon set up and went for a wander. Whilst putting the awning up the wind picked up and through the night it has been blowing. Today there is still a stiff (and chilly) breeze but it is dry. We have decided to do one of our favourite walks, the circular route from the site to Victoria Cave.
From the site we turn right and soon cross Penny Bridge over the Ribble. Then it is a right turn to follow the road around under the railway bridge. At the cross roads we go straight over into Ingfield Lane and then at the bottom fork right.
In a short distance we reach Brockholme Lane on the right and follow this delightful track all the way along until we reach a crossroads of paths with a modern barn on the right.
Turning left we head up the lane to Lodge Farm, through the farm gate we turn left and at a fork in the track take the right option. The views back across Settle and over to Ingleborough are cracking.
We walk up through the plantation and follow the walled track, through a gate and then straight ahead to keep Black's Plantation on the right. At the junction of Mitchell Lane and Lambert's Lane we fork right into Lambert's Lane and follow this walled track, enjoying stunning views.
Reaching a road it is a right turn and then shortly a left onto Stockdale Lane. In a few hundred yards at the bend it is over a ladder stile to follow the path as it gradually climbs up alongside the wall.
After a few hundred yards there is a lime kiln on my left (Freddy's do like lime kilns!) and then it is around Sugar Loaf Hill to be confronted with one of our favourite views in the Dales, the spectacular escarpment of Warrendale Knotts and Attermire Scar. It gets even better walking towards it crossing a couple more fields.
From here our route is under Attermire Scar, passing Victoria Cave and then through a kissing gate before descending onto a tarmac lane and following it downhill through a gate towards Langcliffe.
After going through another gate there is a brief section downhill on the road with views to Pen-y-ghent to our right before taking the Pennine Bridleway route on the left and following this across a couple of fields below Blua Crags all the way back to Settle.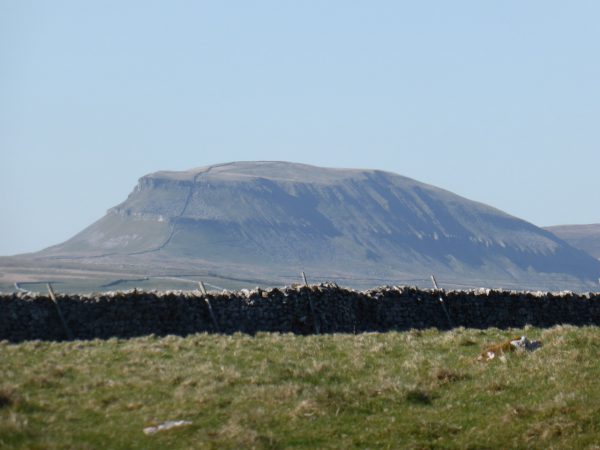 This has been a cracking walk. My Suunto Traverse says we have covered just over seven miles, we have passed three other walkers. It always amazes me that you rarely meet anyone on this route, which is very surprising given the proximity to Settle and what a great Dales walk it is.
All I need now to round off the day is a decent pint, tonight it is Thwaites Wainwright provided by the good folk in the Lion. Cheers!
To view route on OS Maps Click Here
To follow this walk you will need Ordnance Survey Outdoor Leisure Map OL2 – Yorkshire Dales Southern and Western areas
9th May 2016
© Two Dogs and an Awning (2016)