One of the beauties of being close to Settle is that Lynnie can wander off whilst I work away in the awning. There are plenty of places for her to visit and one of her favourite spots is Jane's bookshop. She usually returns with a bag full of books for us to read.
Yesterday I spent the day in Manchester with a client and have to catch up with some work. So it is after lunch before we think about going out. After spending a few hours in the car yesterday I am keen to walk from Brigholme Farm and there are plenty of options.

We leave Brigholme Farm and turn left along the road and then at the crossroads turn right to wander through Giggleswick towards the B6480. on meeting the road we turn right and then soon after take a left along Stackhouse Lane. On a weekday afternoon out of school holidays this is a quiet lane, but when the holiday season starts there is more traffic heading to and from the large caravan site at Knight Stainforth.
I like wandering along this lane because it gives a stunning view of Langcliffe Quarry to the right.
We follow the lane through Stackhouse and on to Knight Stainforth. As we walk we seek to find solutions to the worlds ills. Today it is why are the government keen to allow fracking.. We are just simple souls, but have read enough about the risk to water supplies and damage to the wider environment and despair that those who have been entrusted to govern our country are unable to see the long term impact. To me it is bleeding obvious, but unfortunately I am not a decision maker, nor do I have friends in the City. If I was ever elected to be a politician it would be on the promise of free beer ever Friday!
At Knight Stainforth we turn right and head down the lane to the River Ribble. The old packhorse bridge is a cracker.
Around the corner there is a sign on a gate warning of "Bull in Field". Over the years we have passed this gate and never seen a bull, cow or calf. Not only have we not seen them, in recent years we have taken to looking over the gate to see if there are any obvious signs of bovine residence. There has never been a single cow pat. If I were to develop a manifesto for parliamentary election it would include the requirement for landowners to remove misleading signs. We have entered fields where a bull is present, but not seen a sign, but more often seen a sign but no bull. Frankly I think it is misleading and there should be laws, there should be a Sign Regulator, similar to the role of the Advertising Standards Authority.
As we reach the brow of the hill we pick up the Pennine Bridleway that leads us into Stainforth.
We go through the village following the Pennine Bridleway as it climbs steeply towards Catrigg Force. Had there been rain we would have wandered down to look at the waterfall, but the ground is very dry and the rivers lower than we can remember so we leave it for another day.
At a gate at the top of the track we take a footpath crossing a field to the right to reach another gate. As we walk we hear a Curlew calling, this distinctive call is a feature of being in the Yorkshire Dales. We pass through another gate and continue on the track diagonally to the left to a another gate that takes us along a track through part of Winskill Stones.
Winskill Stones is one of those places where you marvel at the wonder of nature and then quickly switch to thoughts of the ignorance of man. This area has sections of limestone pavement, but in the recent past there was a lot more of it. For some reason (probably greed) it was thought a good idea to dig up the limestone for peoples rockeries. The famous gardner Geoff Hamilton campaigned against this and after his death in 1996 the charity Plantlife was able to buy and safeguard the area for future generations.
We meet a road and turn left towards Langcliffe and soon come across a stunning limekiln (Freddy's do like a limekiln).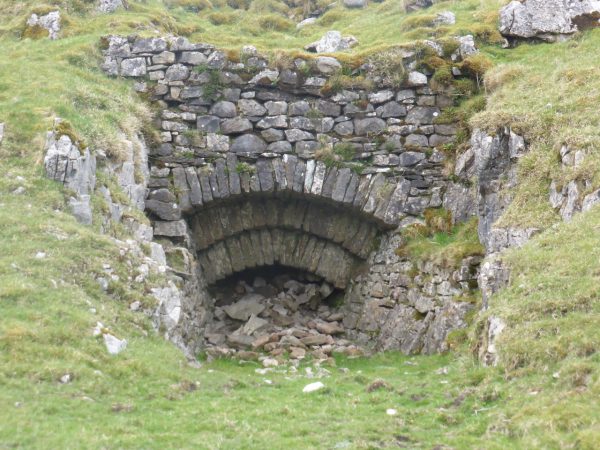 Our route continues by the road until we reach a gate on the left with a Pennine Bridleway sign. We go through and follow the same route as we took yesterday back to Settle.
My Suunto Traverse says that we have covered seven and a half miles. A cracking wander just long enough to work up a bit of a thirst. Cheers.
To view this route on OS Maps Click Here
To follow this walk you will need Ordnance Survey Outdoor Leisure Map OL2 – Yorkshire Dales Southern and Western areas
11th May 2016
© Two Dogs and an Awning (2016)