For a few years now I have been dabbling in researching my family tree. It is an interesting pastime which I delve into now and then. I have tried to be disciplined in order to ensure that I have triangulated information so I know the folk I am looking at are actually relatives.
It is surprising what you uncover and how much information is out there. As well as using a Genealogy site I have made a few trips to the Local History centres in Dorchester and Southampton. Both of which are wonderful resources and I look forward to getting back into both when the Covid-19 pandemic has eased.
Also of interest are church records and details held by local history groups. I have found these very accommodating and willing to share what snippets of information they hold. A while ago using census records I discovered my great, great, great grandfather, Thomas Coombes, was born in Hinton St George and that his father was a chap called Zachariah Coombes.
I contacted both St George's Church and the local history group and whilst they were unable to help with baptism or marriage records, these are held at the County History Centre in Taunton, they were able to tell me that Zachariah was a wheelwright and lived on the Hinton Estate. So today we are taking a walk from Hill Farm CL to look at where my ancestors lived in the early 1800's.
We leave the site and walk towards the farm barns, turning right on a footpath that leads past the old farmhouse and continues along a track until it bends to the right, here we go left along a footpath through trees to reach a field. We go north to reach another field, then north east to a stile leading to a road.
Turning left and walking besides the road for about a hundred yards we reach a footpath on the right. This goes through a belt of trees to enter a field continuing north easterly across fields to Diana Pond located in a copse.
The path crosses an arable field which has been recently ploughed. It is tough going and when we reach the point where we should enter another field there is no obvious crossing point. We go along the hedge line a couple of times before realising there is a gap near trees at the north east corner of the field. The path appears to have been unofficially diverted, but without any signage.
We are now on a track heading east near to a belt of trees and then going through the trees to reach a minor road, Pit Road, where we turn right. This road is heading towards Hinton St George and runs along the top of an escarpment. From a gap in the hedge line we get fine views across the valley.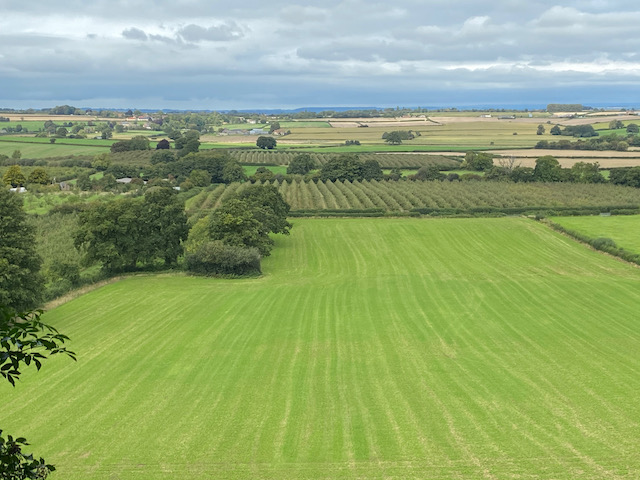 Nearing the edge of the village we pass the entrance to Hinton House. The house is not visible from the road, for over 500 years it was the home of the Poulett family who until the 20th century retained feudal control over the village. Apparently it is a fine house with stables designed by Sir John Soane in the late 18th century. A few years ago Lynnie and I were in London and had a few hours to spare so popped into the Soane Museum in Lincoln Inn Fields. We could have spent all day there looking at the designs and the wonderful collection of paintings including an amazing series of eight works by William Hogarth depicting "A Rake's Progress".
We continue along the pavement to reach the entrance driveway to St George's Church, I had hoped we would be able to go inside but sadly this is another church that is locked during the pandemic. Instead we spend a while wandering around the churchyard reading old headstones to see if we can find any family links, without success.
From the church we take a loop of the attractive village and stop to admire the medieval preaching cross, or village cross.
In 1863 Hinton St George became one of the first gas lit villages in the Country with coal gas produced on the Hinton Estate. Our walk takes us past the village community shop and the Poulett Arms before heading back towards the church.
We leave the village heading back to the entrance gate to Hinton Park and then take a right turn down a lane opposite the park gate. This lane, Shoot Hill, goes steeply down and then passes orchards. The sight of apple orchards in Somerset was once a very familiar sight, but many were ripped out in the 1990's when cider drinking became less popular. Now with a resurgence in popularity of apple based drinks orchards are being replanted which is good news for wildlife.
We stay with this quiet country lane for three quarters of a mile to pass Mill farm. Just after we take a footpath on the left and follow a path around the field boundary and then go across fields to reach Dinnington, close to the Dinnington Docks pub.
This pub was originally known as the Rose and Crown and its name was changed because the locals referred to it as the docks due to its close proximity to the now long gone canal docks. As tempting as it is to stop for a pint on a warm afternoon we decide to save a visit for a future trip to the area.
We turn left along the road and within a hundred yards take a footpath along a track on the right. This soon leads across fields to reach a minor road on the outskirts of Allowenshay. We turn right and walk up into the village turning left by an attractive cottage with a Victorian Postbox in the wall.
We follow the lane out of the village for just over half a mile to reach a busier road which we follow for a quarter of a mile to reach Kingstone where we stop to look at the exterior of the Church of St John the Evangelist and All Saints with its unusual tower.
From the church we cross the road and join a footpath heading across fields towards Dowlish Wake. At a minor road we turn left and follow the road into the village to pass St Andrew's Church.
In the churchyard is a gravestone to Ludwig Pettersen, he was a pioneer of the Klondike in 1898. Following the discovery of gold in Rabbit Creek in the Yukon Territory of Canada in 1896 there began what became known as the Klondike Gold Rush. Aged thirty Pettersen left his native Norway and headed to join the gold rush and travelled the notorious White Pass and survived an avalanche. Within a few years the gold was running out and Pettersen traveled the world before settling in Dowlish Wake in 1921 where he married a local girl and set up a poultry farm. He died in Taunton in 1934 aged sixty five..
We continue into the village to reach the 17th century packhorse bridge which crosses Dowlish Brook.
We leave the village via Mill Lane, signposted towards Chillington. At a junction with Ludney Lane we turn right towards Chillington and follow this lane for a mile to reach St James Church. From the church we follow a footpath sign along a lane between the church and the Old School House. This lane leads to a field which we cross heading north.
After passing through a kissing gate we follow the footpath downhill, with a hedge to our right to reach a farm driveway. Here we turn right crossing a stream and then head uphill on the drive to reach Nash Lane where we turn right. After a third of a mile on Nash Lane we reach a point where footpaths lead to the right and left. We take the path on the left going up steps in the roadside bank to reach a stile into a field.
We head east across the pasture field to cross the brook. On the far side we continue uphill heading for the barns at Hill farm. Besides the barns we go through a gate and turn right back to the caravan.
We have walked just over 10 miles and though we found no hoped for trace of past relatives it has been an interesting insight into the area where they lived over 200 year ago. Now it is time to enjoy the sunset whilst planning tomorrow's walk.
You can view this 10 mile walk on OS Maps and download the GPX File Here
To follow my walk you will need Ordnance Survey Explorer Map 128 Taunton & Blackdown Hills and 129 Yeovil & Sherborne
8th September 2020
© Two Dogs and an Awning (2020)
All information on this site is provided free of charge and in good faith and no liability is accepted in respect of damage, loss or injury which might result from it.  To the best of my knowledge the routes are entirely on public rights of way or within areas that are open for public access.
Walking can be hazardous and is done entirely at your own risk.  It is your responsibility to check your route and navigate using a map and compass.