A couple of years ago on the TV series "Coast" they were in this area and visited Sunderland Point and Sambo's Grave. Ever since it has been on my list of places to visit.

It is not far to drive to Potts Corner on Middleton Sands, but the road works to provide an improved link between the motorway and Morecambe add time to our trip.
Arriving at Middleton Sands we are immediately struck by the vastness of the expanse of sand. We can't see any sea. There are a couple of kites attached to carts and a group of model plane enthusiasts all making use of the hundreds of acres of firm flat sand. The dogs cannot believe their luck and charge about in all directions. On the horizon are numerous wind turbines, there is a drilling platform closer to us and to our right a nuclear power station. It looks like all energy sources are available here.
Heysham Nuclear power station has two advanced gas-cooled reactors. Construction on Heysham 1 began in 1970 with the reactor being fully operational in 1983 it is likely to remain operational until 2019. Heysham 2 became operational in 1988 and is expected to keep running until 2023.
This is the third nuclear power station we have been close to on our travels. If we continue at this rate we will become like one of those 'glow in the dark' toys that were popular when Ben was a child.
After the boys have had a good run around we follow the bridleway towards Sunderland Point. From the debris washed up across the path we deduce this is covered in water in exceptional high tides. The grassy marshes that separate the path from the beach are populated by bears a couple of which we meet on the path but they soon step aside to let us pass.
After about a mile and a half we reach Sambo's Grave on our left. It is set behind a stone wall in the corner of a field. It is a peaceful and tranquil spot to be laid to rest. The grave has a number of painted stones and messages around the cross. It is a popular place for the young and old to visit.
The grave is the burial site of a dark skinned cabin boy who arrived at Sunderland Point around 1736. At that time the point was a port serving Lancaster for those vessels too large to continue up the estuary. Its importance as a port declined after Glasson Dock was opened in 1787.
Sambo had arrived on a boat from the West Indies and was servant to the Captain. According to the Lonsdale Magazine of 1822 the story is as follows.
"After she discharged her cargo, he was placed at the inn……with the intention of remaining there on board wages till the vessel was ready to sail; but supposing himself to be deserted by his maser, without being able, probably from his ignorance of the language, to ascertain the cause, he fell into a complete state of stupefaction, even to such a degree that he secreted himself in the loft on the brewhouse and stretching himself out at full length on the bare boards refused all sustenance. He continued in this state only a few days, when death terminated the suffering of poor Sambo. As soon as Sambo's exit was known to the sailors who happened to be there they excavated him a grave in a lonely dell in a rabbit warren behind the village, within twenty yards of the sea shore, wither they conveyed his remains without either coffin or bier, being covered in the clothes in which he died."
He was buried in the rabbit warren because this was unconsecrated ground. As he was not a Christian he was unable to be buried in consecrated ground. The grave is marked by a plaque that reads:
" Here lies Poor Sambo A faithful Negro who (Attending his master from the West Indies) Died on arrival at Sunderland.
Full sixty years the angry winter's wave
Has thundering dafhd this bleak & barren shore
Since SAMBO's head laid in this lonely grave
Lies still & ne'er will hear their turmoil no more.
Full many a Sandbird chirps upon the Sod
And many a Moonlight Elfin round him trips
Full many a Summer's Sunbeam warms the Clod
And many a teeming Cloud upon him drips.
But still he sleeps till the awakening Sounds
Of the Archangel Trump new Life impart
Then the GREAT JUDGE his Approbation founds
Not on Man's COLOR but his WORTH OF HEART."
A moving verse to mark such a place.
We wander back to the car, on route Dexter finds a tennis ball and is eager to chase it so we venture back on the sands. A chap arrives with a horsebox and is soon driving his horse and small cart along the sand. If it were not for the drilling rig and the nuclear power station this would be a stunning spot.
[To follow our walk you will need Ordnance Survey Explorer 296 – Lancaster, Morecambe & Fleetwood]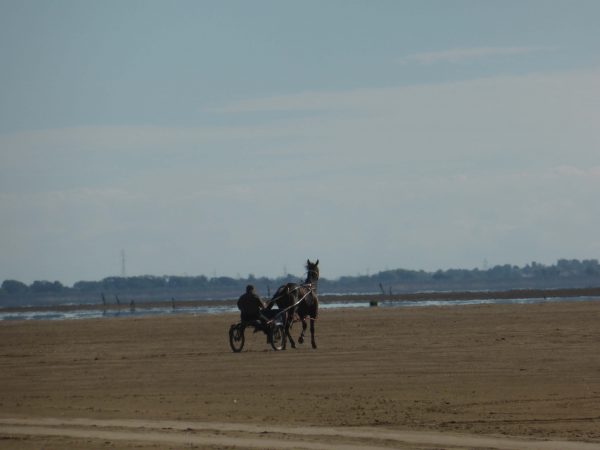 21st July 2014
© Two Dogs and an Awning (2014)