After a few weeks at home we are back on the road and heading west again, this time our destination is Seabreeze CL close to Appledore in Devon.  This is a caravan site we have visited a couple of time in the past, it is ideally located for us to catch up with Lynnie's Uncle and her cousin.
Our first visit to Seabreeze was in 2016 soon after it opened.  It is in a lovely setting close to the Northam Burrows Country Park and there is loads of space between pitches and very clean facilities.  Alice, the owner, has also planted some attractive flower beds.
After getting pitched up we head out for a walk on the Northam Burrows.  Access to the Burrows from the site is very easy, turn left into Burrows Lane. After going through the kissing gate we cross the Pill on the Appledore Bridge and walk along the grass besides the edge of the Taw and Torridge estuary.
This is open access land so we are free to roam, but out walk follows the route of the coastal path as it goes out onto the headland.
The tide is out and the views are cracking.
We continue along the coastal path reaching the eastern end of the Royal North Devon Golf Course, formed in 1864 it claims to be the oldest golf course in England.
It is a course that I have walked across on a number of occasions but never played.  It looks attractive on this sunny spring evening.
We reach the lake at Sandymere and join the tarmac track and then turn left to walk besides the access road heading towards the clubhouse of the golf course.  About half way down the road we turn left and follow a well-worn path that heads back across the golf course and crosses inlets of water.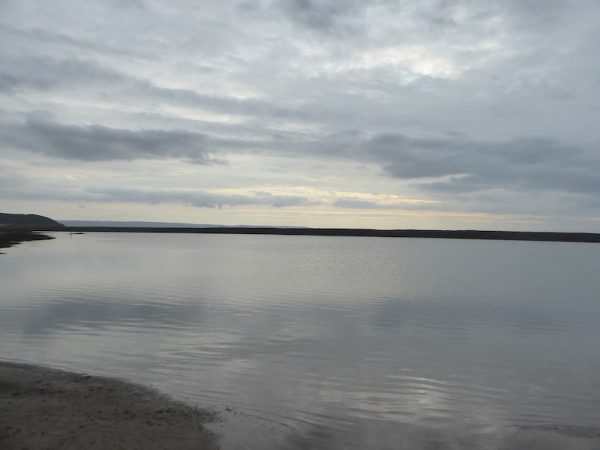 There are horses roaming on the Burrows and these appear to provide a convenient perch for the local starlings.
The path leads us back to the Appledore Bridge from where we walk back to the caravan.  Our little wander has covered four miles and it is now time to settle down with the Ordnance Survey map and plan tomorrow's longer excursion.
To follow this 4 mile walk on OS Maps Click Here
To follow our walk you will need Ordnance Survey Outdoor Explorer 139 – Bideford, Ilfracombe & Barnstaple
29th April 2019
© Two Dogs and an Awning (2019)