The car is going into the garage today so whilst it is there I am going to head out to bag a nearby trig point which has been in my sights for a little while. The starting point for my route is outside Pinchbeck's Garage in the village of Middle Wallop.
I start by crossing the busy A343 and walking a few yards to reach a footpath on the left hand side. This path goes through a field to a metal stile leading into a caravan storage yard.
The footpath goes directly through the storage area and then continues in a westerly direction.
At a crossing off tracks I turn right to follow a track heading north. On reaching a junction of trails I turn left and then within a few hundred yards take a track leading towards a minor road.
After crossing the road I continue along the track, to my right there is a view of the hangers at Middle Wallop Museum of Army Flying. The airfield was constructed at the start of World War II and was initially occupied by 15 Flight Training School, but as the war developed it became the base for fighter planes. In 1958 the airfield was taken over by the Army Air Corp and became a base for helicopter training.
This track leads to an arable field, the path crosses the field to join a tarmac lane to the north of Park Farm. I head north along the track passing barns and a water tower.
On reaching the B3084 I cross and continue north on a track, Georgia Lane, soon passing Oklahoma Farm.
The track becomes a minor road at Georgia Farm, I am not aware why the farms in this area are named after American States, it is something to research when I have more time. The road continues north and goes under the Salisbury to London railway line. For over twenty years I commuted from nearby Grateley to London and would often look out of the window and see this lane.
Heading towards a junction with a minor road at Fox Farm I get a fine view of Amport House in front of me to the right. Apparently, this house was built in 1857 by John Paulet, 14th Marquess of Winchester. In the early 1920's the house was purchased by Colonel Sofer Whitburn who then engaged Sir Edward Lutyen's and Gertrude Jekyll to redesign the gardens. At the outbreak of World War II the house and estate were requisitioned to be used as RAF Maintenance Command. The RAF later purchased the site and only recently vacated it, it is currently on the market.
At Fox Farm I turn left along the road and then after a few hundred yards fork right onto a road signposted to Quarley. When the road bends to the right I continue straight on along Grateley Drove. There are an assortment of old busses and other vehicles here converted to homes. I don't see anyone as I walk along, but I am sure my presence is noted.
On reaching a road I turn right towards Quarley Manor Farm. At the farm drive I turn left and follow a footpath through the farm buildings and then into a field to walk along the edge of Quarley Wood.
The path continues along the edge of fields, to my right I can see the Hill Fort at Quarley Hill, I am hoping to bag a trig on that hill, but know it is off the public right of way. As luck would have it a chap on a dumper truck appears as I reach the track leading to the hill fort. I ask him if I can wander up to the fort, he readily agrees and is surprised I thought I needed to ask.
It is a steady ascent to the Iron Age Hill Fort and it is easy to see why early inhabitants selected this spot, there are extensive views,
At the north eastern corner of the fort is an Ordnance Survey Trig Pillar, this is the 193rd I have bagged.
After admiring the views I head back down the track to the footpath and turn right and head above Manor Farm Dairy. At a junction of tracks I turn right and then after a few hundred yards take a footpath that crosses a field to reach the B3084.
At the B3084 I turn left and follow the road to the entrance to Portway Farm. The route now follows a hedge lined footpath towards a minor road.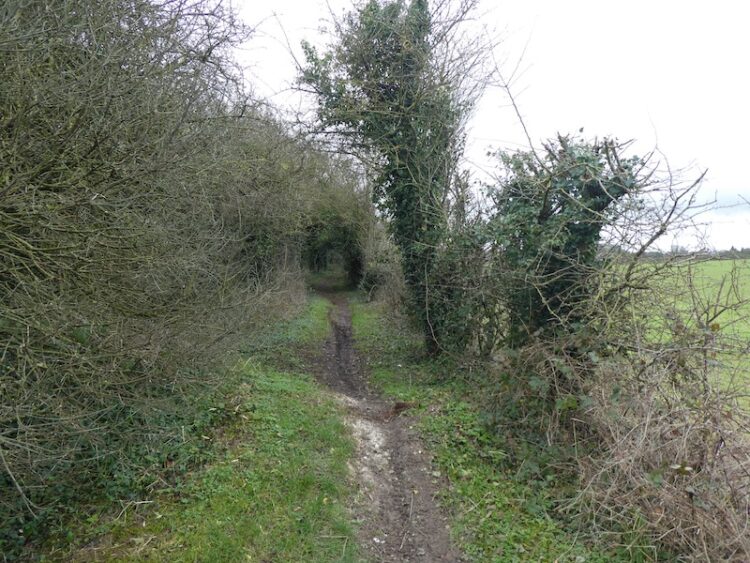 At the junction with the minor road I continue straight on towards Palestine. I have recently been reading "A Natural History of the Hedgerow and ditches and dykes and drystone walls" by John Wright. It is amazing how reading such a book has made me more aware of the hedgerows I pass. As I walk along this road I see a classic example of a hedge laid many years ago.
I ignore a road to the left, but a few hundred yards further on turn right into Zion Road. At a junction with Palestine Road I turn left and head south to reach a minor road, Mount Carmel Road. I turn left and after a couple of hundred yards at a junction of road and tracks I turn right and follow the broad track as it skirts the boundary of MOD land.
I stay on this track until I reach the second track on the left, this leads towards the entrance to Croft Farm and then becomes a minor road with the Wallop Brook running in ditches either side. As I reach the outskirts of Over Wallop I pass a pond and then turn right to walk into the village.
So far my walk has been dry, but as I enter the village it starts to pour with rain. Therefore, I decide to take the most direct route back to my starting point. This entails following the minor road through the village passing the White Hart pub. This is a pub I have not visited for years, but forty years ago it was a regular place to head for a pint and game of Bar Billiards.
The route is now very straightforward. I just stay on the road besides the Wallop Brook, passing the War Memorial to reach the A343 in Middle Wallop. From here it is a case of crossing the road and returning to my starting point.
My walk has covered almost twelve miles. Despite being so close to home it is the first time I have walked many of the paths so will no doubt be returning at some point in the future.
You can view this 12-mile walk on OS Maps and download the GPX File Here
To follow my walk you will need Ordnance Survey Explorer Map OL131 Romsey, Andover and Test Valley.
Additional Information
For more information on this walk including car parking, amenities, refreshments and detailed walking directions visit my associated Walking Moonraker website.
3rd February 2020
© Two Dogs and an Awning (2020)
All information on this site is provided free of charge and in good faith and no liability is accepted in respect of damage, loss or injury which might result from it. To the best of my knowledge the routes are entirely on public rights of way or within areas that are open for public access.
Walking can be hazardous and is done entirely at your own risk. It is your responsibility to check your route and navigate using a map and compass.