Today's walk is unusual for me; I am filling time between dropping our son at Gatwick Airport, to return to Oslo where he lives and works, and collecting our friends Mandy and Stuart, returning from holiday five hours later. I could have brought a book and found somewhere to while away the time, but for me five hours is long enough to fit in a reasonable walk.
The starting point for the walk is the car park of The Fox Revived at Norwood Hill. I called a couple of days ago and they confirmed they were happy for me to leave the car whilst heading out for a walk.
Leaving the car park I head north east along the edge of a road and soon reach a footpath sign on the right. I enter a field and walk a few yards to bag the Ordnance Survey Trig Pillar standing beside the hedge; number 194 bagged.
My walk continues by returning to the road and just over a hundred yards along I take a footpath on the left. I enter a field and head down towards a stile. The route continues downhill through a second field to another stile.
After crossing further fields the path runs along the margin of a field with a stream to my right.
At Nutley Dean Farm I go through a gate and turn right to follow the way markers through the farm, along the way passing an attractive pond.
At a fork in the track I go left and head north towards Dean Oak Farm.
At a crossing of footpaths close to a cottage with stables I turn left and follow the path down to a footbridge across a stream.
After heading through two fields I reach Deanoak Lane which I cross and continue on a footpath crossing further fields to reach the driveway of Dene Farm. The footpath crosses the driveway and continues through the edge of Dene Farm and then heads steadily uphill towards Swains Farm, on the summit of the hill is another Ordnance Survey Trig Pillar, my 195th.
I head west on the footpath descending through fields to reach the driveway of Swains Farm. I turn left and follow the driveway to reach a minor road where I turn left and walk along the broad verge to a footpath on the right. This heads through a muddy field.
At a junction of paths I turn left and follow the path into woods.
Emerging from the trees I head uphill, as I approach Heron's Head Farm I take a path on the right and continue across fields to Brook Farm. The path goes through the farm and then I take a footpath on the right heading towards a copse at Little Shellwood.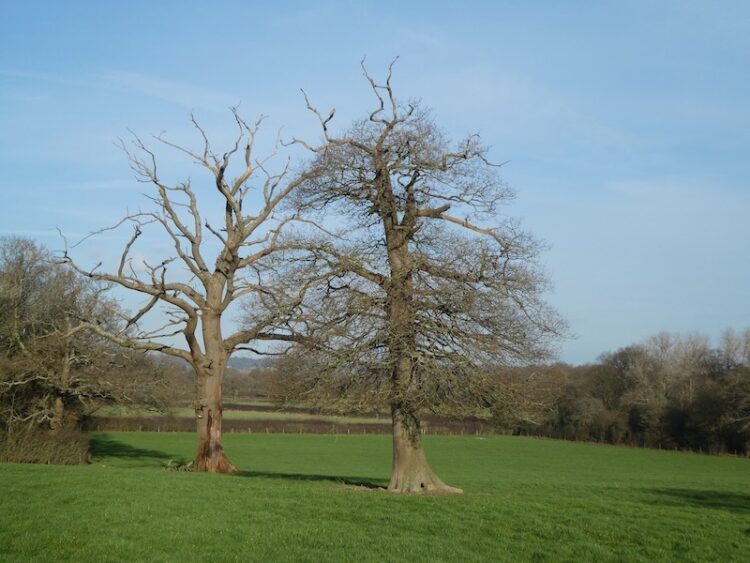 After going through the trees I emerge besides a road and turn right for a short distance before taking a lane on the left leading to Shellwood Manor.
Staying with the track I pass Shellwood Manor and some cottages and then spot in a field to my right my third OS Trig Pillar of the day, bringing my overall total to 196.
The route now follows this broad track west to a junction of tracks where I turn left to follow another track towards woodland close to Ewood Farm.
After passing the farm I continue on the track to reach a junction where I turn right and then within a few hundred yards take a footpath on the left leading through woodland to reach a minor road.
I cross the road and enter Hammond's Copse and follow the path through the woods to reach fields. The route now passes Parkhouse Farm and then down to cross a stream.
I go through horse paddocks where the path is not easy to distinguish. It then crosses stiles to enter fields with horses grazing, their hooves have poached the field and it is tough going as the ground is saturated. After a stile I go through another field and then reach a minor road where I turn left and soon cross Hales Bridge. I stay on the road to pass houses on the left and then take a footpath on my left that runs alongside a hedge and crosses a farm track.
My route is now through fields which are extremely muddy, with each step I am ankle deep, it is particularly hard going.
After this slog across fields I am grateful to reach firmer ground at Chantersluer Farm. Here I follow the farm driveway to a minor road where I turn right and gradually ascend to my starting point at The Fox Revived.
I have covered just over ten and a half miles and just have time for a quick pot of tea in the pub before heading back to Gatwick Airport to collect Mandy and Stuart. Any walk with three trigs cannot be bad, but I think this one would have been more enjoyable on a day when the ground was drier!
To follow my walk you will need Ordnance Survey Explorer Map OL146 – Dorking, Boxhill & Reigate.
You can view this 10.5 mile walk on OS Maps and download the GPX File Here (Subscription to OS Maps Required)
5th February 2020
© Two Dogs and an Awning (2020)