A rainy morning in North Devon so I take the boys for their early morning walk, forty minutes walking the lanes as there are no footpaths close by, then it's a leisurely breakfast and catch up on a few jobs.
The sun comes out at lunchtime so we set off for a walk. Lyn has been studying the map and has our route planned. No doubt it will involve at least one ice cream. I am instructed to drive to Fremington Quay, and immediately think we could have walked!
Boots on we head towards Instow on the Tarka Trail. We follow the route of the old railway track that ran between Barnstaple and Bideford, flat easy walking. We pass the Home Farm Marsh, an environmental site that is not accessible to dogs, and continue on before leaving the trail to take the footpath onto East Yelland Marsh. We are now on the opposite side of the estuary from Crow Beach House, where we stopped for a picnic yesterday.
We pass the jetty that was used to offload coal from South Wales to fuel the East Yelland power station. Generating electricity from its opening in 1955 until its closure in October 1984. Apparently the demise of the power station was a direct result of the closure of coal mines in Wales, it proved uneconomical to bring coal from other parts of the country. Today the whole site has been demolished and the jetty stands isolated surrounded by rusty ships.
Across the estuary there is a wind farm with a large number of turbines, we can also see a couple of fields of solar panels. Both of these modern forms of electricity generation are unpopular with locals whenever and wherever they are proposed. As we walk we talk about the balance between various methods of energy generation. We conclude that if someone devised a process to generate energy out of dog poop, Crosby would be worth millions.
We are now on Instow Barton Marsh following the path along the side of the estuary. We arrive at the outskirts of Instow and walk along the side of the cricket club with its attractive thatched pavilion. It's now over sixteen years since I last put on my whites but the memories of over twenty five years of village cricket will stay with me. No doubt as the summer goes on I will share a cricketing tale or two.
Instow has a famous cricketing connection. The popular umpire David Shepherd was born in Bideford and after an illustrious career he retired to Instow. His brother Bill was a promising cricketer, but gave up his career to run his parents post office in Instow. 'Shep' as he was known stood in ninety-two test matches, the most for an English umpire, and also stood in three consecutive world cup finals. He was famous for his superstitions, most notably lifting a leg when scores were on 111 or multiples of, he also tied a matchstick to a finger on Friday 13th so that he was always touching wood. In his retirement he occasionally worked in his brother's post office and sadly died in 2009 aged sixty-eight.
One of my favourite cricketing stories was when our umpire for the day, who was usually our wicket keeper but was unable to play, decided to appeal when one of our bowlers hit the opponent's pads. The batsman, off course, was given 'out'.
We are now on Instow beach, a vast expanse of sand, dogs running everywhere. Crosby soon finds a crab and makes short work of it.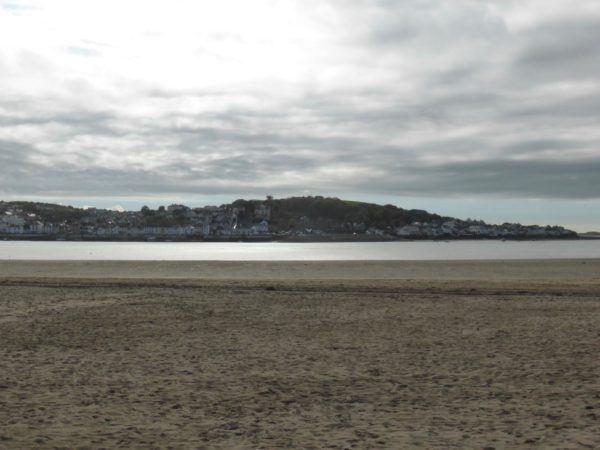 Lyn's sensors are working and she spots an ice cream van, but the breeze is up and it's not over warm. She opts for coffee instead, conveniently we are outside the Instow Arms. I don't like to drink before 6.00 pm and its only 5.30, I enter intending to have a cup of tea but when the chap in front of me orders a Doombar I rapidly follow suit, a sharpener for the walk back.
Refreshed we return to the Tarka Trail soon passing the demolished site of the East Yelland power station and head back to the car. Our afternoon wander has covered just over seven and a half miles. Not bad for a walk planned by Lynnie!
To view this 7.5 mile walk on OS Maps Click Here
To follow our walk you will need Ordnance Survey Outdoor Explorer Map 139 – Bideford Ilfracome and Barnstable
1st May 2014
© Two Dogs and an Awning (2014)