Yesterday was a day of thunderstorms and heavy rain so it was a case of trying to find a window between the downpours to get out and walk. I saved my main walk until early evening and managed to stay dry on a familiar route from Cholsey Grange CL to visit the Cobstone Mill.
Today there are still storms about but I would rather walk in rain than the oppressive heat of last week. Crosby and I are heading out for a jamabout from the caravan site. I use the term jamabout for a walk without a predetermined route. I often head off with a rough idea of where I am going and then spot something interesting, or just decide to explore a path I have not walked before. It is a great way to walk and has taken us to some interesting spots.
With lunch, water and wet weather gear packed in the rucksack Crosby and I head off from Cholsey Grange via the farm track to Ibstone Common and pass the cricket ground and pavilion. I follow the tarmac lane past Hellcorner Farm and on reaching the footpath that continues straight on from the lane gradually descend through woodland.
At a bend in the footpath I take the right fork going onto the downs with pleasant views of the valley.
I go downhill, straight over a field and through a gate into woodland. This brings me to Holloway Lane, which I cross to take the track directly opposite climbing up through woodland.
The track leads top hill to arrive at Turville Heath near the Barn cafe.
I head south across the heath to reach a minor road where I turn right and then in a few yards come to a bus shelter, here I cross the road and take the footpath opposite which goes through a kissing gate besides a house. Following the clear path I cross fields going through further kissing gates to reach a track where I turn right.
This track leads to a bench with fine views across the valley and then descends through arable fields to a crossing of paths. I go straight over and head up the opposite side of the valley.
On reaching a track, Hollandridge Lane I cross and join a footpath that descends to a lane where I turn left and walk a few yards to a road. I turn right and then after fifty yards take a lane on the left signposted to the church. This lane heads uphill to reach the attractive Pishill church.
Resuming my walk I continue uphill to pass Pishill House and then at a junction in the path go right to head east towards Long Wood. This track soon leads into woodland.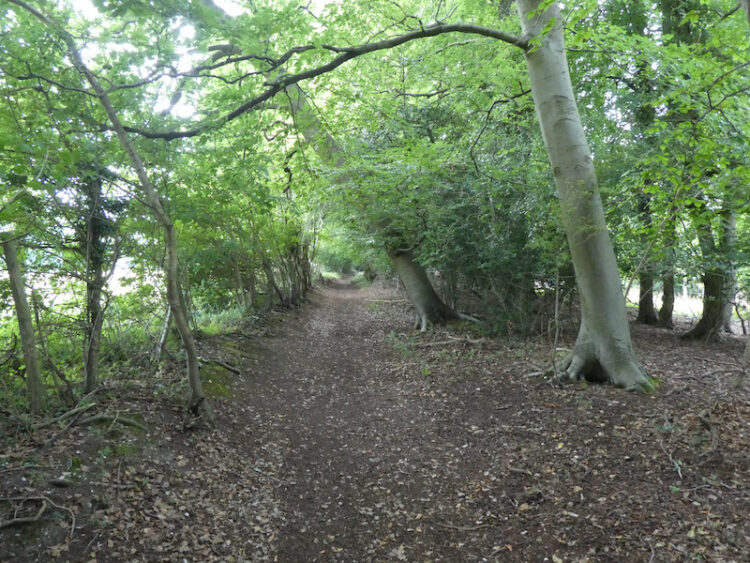 At a crossing of paths in the woods I continue straight on, still heading east towards Russell's Water. The path leaves the woods and becomes hedge lined and then passes farm buildings to reach a common.
I now follow a track across the common, still heading east and then as I near the village I turn right to head north around the edge of the common on the Chiltern Way. The well used path reaches trees and I follow the clear way-markers heading downhill.
On reaching a road I cross and join a Permissive Path that heads steeply uphill through the trees. Such paths are always welcome as they mean avoiding a section besides a road. I often wonder why more local authorities don't work with landowners to ensure safe passage for walkers. This path is well marked, and well used as it is on the Chiltern Way.
As the path starts to level it re-joins a public footpath with clear way-markers for the Chiltern Way.
This is an attractive area of woodland. I stay with the Chiltern Way as it undulates towards College Wood.
Once in College Wood there is a steep ascent to reach a gate to a field of pasture. One of the many signs on the gate highlights that the gate was paid for by the local Brakspear brewing company in exchange for circular walks from various pubs. I must be missing a trick, I have over 700 walks from 75 caravan sites. Perhaps I should I have done my blog as walks from pubs!
I cross a field of pasture and then go through another gate to reach Hollandridge Lane. I cross and continue on the Chiltern Way over a field and into woodland. At a crossing of tracks in the trees I go straight on heading north on a clear track.
The track leaves the trees and continues between fields and then at a way-marker goes right beside a fence and then narrows between properties. On reaching a lane I turn right and follow this track into North End where I turn left and walk besides the village green to reach a junction of minor roads besides the village pond. Here I go straight on along a track which soon reaches a gate into the Wormsley Estate.
I continue along the bridleway which soon becomes a fine sunken track heading downhill.
On reaching an estate road at the foot of the hill I take a footpath through a gate on the right and head across a field to Hale Wood. The path through this small area of woodland reaches a field which I cross and then follow the path into Great Wood and start to head uphill.
This is a stiff ascent and I try to tackle it without stopping which is a great test of both legs and lungs. Fortunately it is a cooler day today and I manage the ascent in one go. A few days ago in the heatwave I would have needed a couple of stops. Emerging from the trees the path crosses a field towards houses.
Following the path between gardens it then joins a driveway leading to Grays Lane. Here I turn left and follow the lane to pass Ibstone Common and the village cricket pitch where the storms of the last few days have put some colour back into the parched grass.
From the Common I cross the road and follow the driveway back to the caravan site. It has been a very pleasant day walking. I have covered just over ten miles and managed to avoid any rain.
You can view this 10 mile walk on OS Maps and download the GPX File Here
To follow my walk you will need Ordnance Survey Explorer Map 171 – Chiltern Hills West
13th August 2020
© Two Dogs and an Awning (2020)
All information on this site is provided free of charge and in good faith and no liability is accepted in respect of damage, loss or injury which might result from it.  To the best of my knowledge the routes are entirely on public rights of way or within areas that are open for public access.
Walking can be hazardous and is done entirely at your own risk.  It is your responsibility to check your route and navigate using a map and compass.