Each year when I visit Cholsey Grange CL I try to include a walk to Aston Rowant Nature Reserve. There is the option to drive nearer to the reserve and start from there, but my preference is always to set off from the caravan site. It is another hot day and I plan to walk over ten miles so I load the rucksack with plenty of water, both Crosby and I will need regular drink stops.
I leave Cholsey Grange by walking up the farm drive and crossing the road before going over the cricket field and carrying on diagonally across Ibstone Common to pass the standing stone.
Continuing across the Common I enter woodland and turn left through a gate to join the Chiltern Way. The chalky path leads steadily downhill, the Chiltern Way soon heads off to the left but I take the right fork that continues through Commonhill Wood, then into the open with woods to our right.
I join a track that takes me past the entrance to Wormsley Cricket Ground. At a footpath on the left I head around Wellground Farm.
I then start to climb into Langleygreen Plantation and at a crossing of paths turn left to walk downhill through the trees towards Lower Vicar's Farm.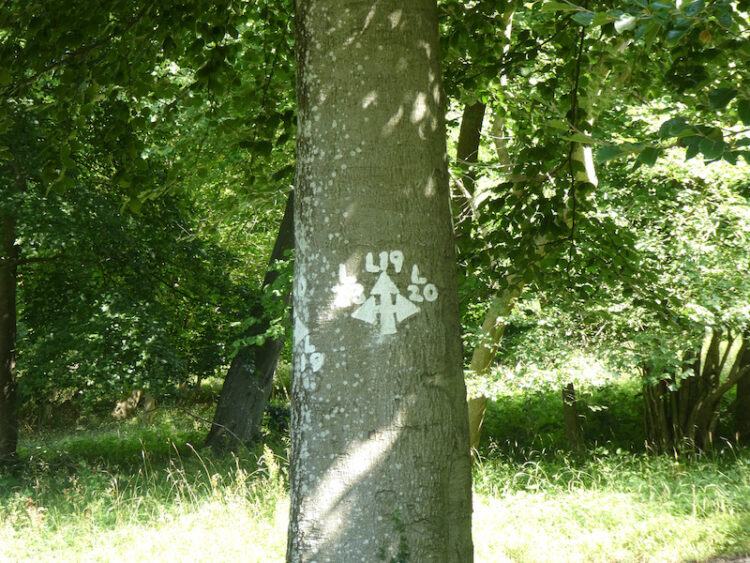 I reach a paddock and cross this diagonally towards the left and then skirt in front of Lower Vicar's Farmhouse. On reaching a tarmac lane I turn right and follow this route steadily uphill. The track passes Upper Vicar's Farm and then through a metal gate and up to a road that I cross to enter a field opposite. After crossing this field I am at the top of Aston Rowant National Nature Reserve. From here there is a cracking view across the valley below.
This is a cracking spot and a perfect place to sit on a bench and take a break to rehydrate. All the while there is the hum of traffic on the nearby M40, but I try to block this out and enjoy the view. After passing through a couple of gates I pick up a tarmac lane heading down to the Icknield Way / Swans Way / Ridgeway Path, here I turn left to follow the broad track.
Just short of two miles along the track I reach a tarmac lane and turn left to follow this, this is the route of the Oxfordshire Way, and I soon pass the sawmill and cattery at Pyrton Hill House and then continue straight on up the footpath as it heads over Pyrton Hill.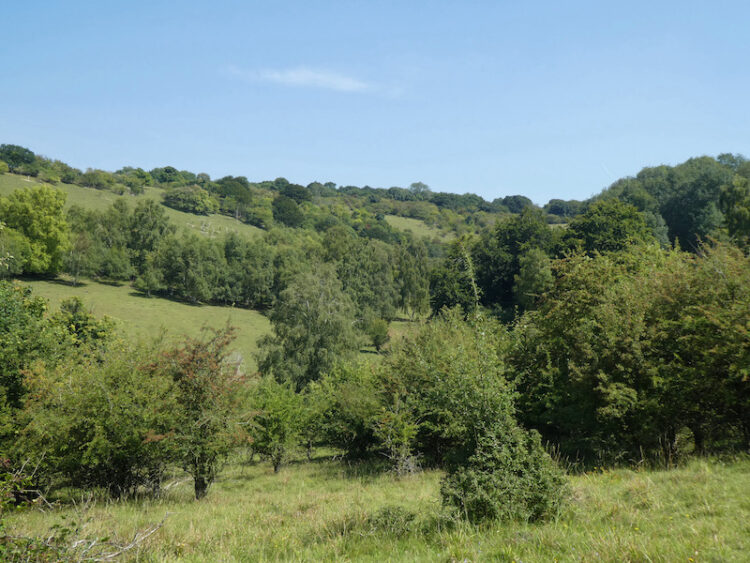 As the path begins to levels out I fork right still on the Oxfordshire Way, to cross fields to reach a road where I turn right and then fork left soon after into Hollandridge Lane. After 100 yards the road sweeps to the left, but I continue along Hollandridge Lane, this is a Restricted Byway heading towards Stoner. As the track enters Queen Wood I take a footpath on the left, now I am back on the Oxfordshire Way and I follow this through the attractive Fire Wood.
This path leads through the bottom of a valley to reach a junction of paths where I continue straight on, to follow the path through Longhill Hanging Wood. As the track leaves the trees it becomes an estate road passing Turville Park Farm.
I am always intrigued when I pass this farm because there are usually a couple of old buses parked in the barns. I have walked by many times but have never seen anyone to have a chat with about them.
After passing the farm I continuing along the bottom of the valley passing through a gate. Then on reaching a crossing of paths I turn left to head uphill on a track between arable fields with fine views along the valley.
At the top of the hill there is a bench perfectly placed for a stop for another drink and opportunity to admire the view.
I now follow the track to an old metal kissing gate and go through to head across a couple of fields of pasture with newer kissing gates to reach Turville Heath.
On reaching Turville Heath there is a bus shelter, a number of years ago I pinned a card with details of my blog on the notice board. I am pleasantly surprised to see it is still there!
I cross the heath towards the Barn Café and then turn left and walk along to the footpath that follows a flinty track as it descends steeply towards Holloway Lane.
After crossing the tarmac road I continue on across a field of pasture and cross another lane to pass through a small section of woodland to enter another arable field. The route heads steadily uphill to a stile, then continues on the well-defined path to a kissing gate. I then turn left to follow the bridleway, lined with Beech trees, towards Ibstone.
The path becomes a tarmac lane and continues on to Ibstone Common. From here it is a short stroll back down the driveway of Cholsey Grange CL. My walk has covered close to thirteen miles on a very hot day. There is a suggestion of thunderstorms due soon. It will be a blessed relief from this persistent heat.
[To follow our walk you will need Ordnance Survey Outdoor Explorer Map 171 Chiltern Hills West]
You can view this 13 mile walk on OS Maps and download the GPX File Here
11th August 2020
© Two Dogs and an Awning (2020)
All information on this site is provided free of charge and in good faith and no liability is accepted in respect of damage, loss or injury which might result from it.  To the best of my knowledge the routes are entirely on public rights of way or within areas that are open for public access.
Walking can be hazardous and is done entirely at your own risk.  It is your responsibility to check your route and navigate using a map and compass.