Having just about recovered from our bracing (shorthand for bitterly cold) tramp on Dartmoor on Saturday and three weeks into our tour I decide a day to myself and a day off from walking is in order (overdue).
My masterplan is a day at the National Trust property Overbeck's which will involve relaxing with a cappuccino at some point, followed by a sunny saunter into Salcombe to sample a Salcombe Dairy ice-cream.

Freddy and I walk from North Sands and part ways at Overbeck's. I decide to look at the Edwardian house first. It was the home of the scientist and inventor Otto Overbeck from 1928 to 1937. Part of the house is a museum housing some of Otto's collection and inventions, the remainder of the house is a youth hostel which was a condition of Otto Overbeck's bequest to the National Trust that it was used as a public park, museum and hostel for youth.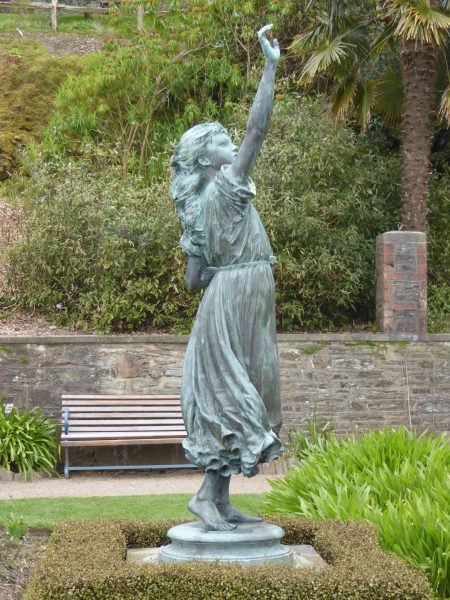 There are an eclectic mix of exhibits in the small museum, collections of birds eggs, butterflies, shells, stuffed birds and animals alongside collections of photographs documenting localshipwrecks and Ottos inventions. His most famous was his Electronic Rejuvenator claimed to cure many ills, I could have done with this after my walk on Dartmoor! As the principal chemist to a firm of brewers he discovered teetotal beer – a method of taking from beer and stout the power to intoxicate whilst leaving the flavour – that never caught on then! A giant music box called a polyphon, forerunner to the gramophone, plays a disc every hour.
The views from the cliffside house are stunning and look over the real star of the show the subtropical gardens.
I enjoy a cappuccino on the terrace (all going to plan) before wandering around the beautifully landscaped grounds. Visit over I head down into South Sands where I pause to watch the passengers disembark from the passenger ferry onto the trailer to be brought ashore.
I need to step up the pace it is a steep up and down walk, not quite the gentle saunter I had envisaged, I forgot about the hills. I make the town just before 5pm – Salcombe is closed! Holiday season is not yet in full swing, nearly all the shops are closed along with the cafes and bars and worst of all Salcombe Ice-cream Parlour. I hightail it to my meeting point with Freddy outside The Salcombe Dairy Factory Shop – closed. Distraught – I shouldn't have stopped to watch that ferry and my phone app shows that I have done over 13,000 steps! Still a most enjoyable day and you know what they say about the best laid plans of mice and men….squeak, squeak!
18th April 2016
© Two Dogs and an Awning (2016)