For a long time I have been saying that I am going to reduce the amount of work I take on but Lyn keeps reminding me that I am not good at saying no.  Especially when the assignment is working with an organisation that brings real value to society and helps develop communities.  So today the sun is shining, it is a cracking day but I am busy working until mid afternoon.  The dogs are not bothered, they are recovering from their trek in the Black Mountains yesterday and happy sleeping in the sun.

Today's walk is a short drive from Ashley Farm CL and starts on the westerly side of Mordiford Bridge where there is parking in a lay-by.  We cross the narrow bridge with its nine arches, parts are said to date from the 14th century but mainly built in the 16th century it is not designed for modern traffic.
Having safely negotiated the bridge we take a lane alongside the now closed Post Office with its Victorian Post Box.
We cross over a stream and then immediately turn left up a track (for the early part of this walk we are following the Wye Valley Walk). The track brings us to a road which we cross to walk alongside an old mill.
We go through a gate, crossing a field to a kissing gate then into an orchard.  It is lovely to be in an orchard.  When I was working and living in Taunton in the early 1990's they were ripping out old orchards because there was not a market for the cider apples.  Now with the revival of cider, orchards are being replanted.  I suppose it made sense at the time but it is such a pity that so many old orchards were lost.
We follow the way-markers through the orchard to a metal gate and then briefly walk up a tree lined track to reach a lane, here we turn left and walk along a track to Hope Springs Farm. We turn right following the Wye Valley Walk way-markers along a track and then cross a few fields to a metal gate and join another track.  We turn left and left again onto a tarmac road,  this gradually heads up hill and we continue along until we find the sign for "Tom Springs Memorial" on the right.  We go though a gate and skirt the field to another gate with the memorial just the other side.
Tom Springs was born in 1795 in nearby Fownhope, he was a bare knuckle fighter and was heavy weight champion of England from 1821 to 1824.  He featured in epic fights, including a bout with the Irish Champion John Langan, this was held at Worcester Racecourse in 1824 and reportedly drew a crowd of over 40,000.  The fight lasted an amazing 77 rounds.  Soon after this contest he retired and became a pub landlord, there are conflicting stories, he either ran the Castle Tavern in Holborn London or returned to the village of his birth to run the Green Man.  He may well have been landlord of both pubs during his retirement.  One thing for sure, the customers would have been well behaved!
We return to the road and just after the first house on the left take a footpath along a track (ignoring a path soon after leaving the road on the right), after a few hundred yards we turn right, passing a forestry gate into Haugh Woods.  It is decidedly hot as we steadily climb up. At a junction of paths we turn left and then almost immediately right to follow a path through woodland.  Unusually we are following a route from a walking book (in our experience never a great idea) and this tells us to turn right when we reach a track.  Instinctively I know this is wrong but we follow the instruction for a while before receiving confirmation from the view ahead that we are going back the way we came.  So it is a quick turn around up the track.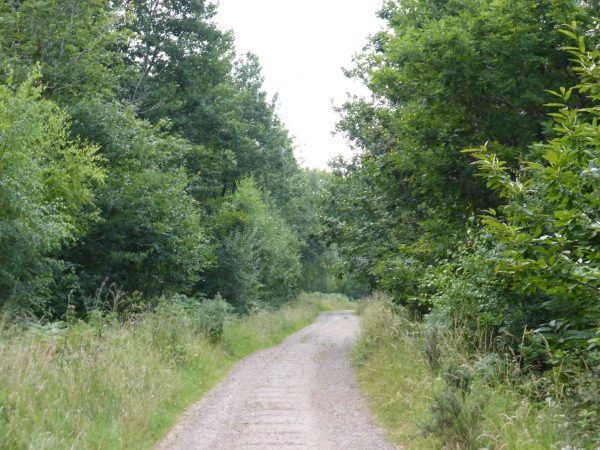 I could try to describe the route, but frankly it is far better that you follow the tracks on an ordnance survey map and head through Haugh Wood to the car park on the road that dissects the wood.  Walking through the wood we hear strange sounds; I speculate it might be a wild boar, but later assume it could be Muntjac deer.  One thing we don't consider is a dragon and why should we?  (Read on and you will find out).
From the car park we follow the broad path to its left, through a forestry barrier.  At a junction of tracks we turn left downhill, keeping straight ahead at a cross roads of tracks and then we glimpse the Black Mountains in the distance.
We are advised in our walking book to follow the track and just after it sweeps right take a footpath on the left. The guide says it is difficult to spot, however, the difficulty comes deciding which track to take, obviously the guide was published before mountain biking became popular in these woods.  We opt for the clearest and seek to follow this in a westerly direction heading to Mordiford.  If I returned tomorrow I would not be certain I was following the same track through the woods, but eventually we come to the road where we turn right and walk downhill into Mordiford.
In the village we are tempted to pop into The Moon for a sharp'ner, outside they are advertising Otter Ale and Timothy Taylor Landlord, two of my favourite beers.  We decide to pass on this, but not before I spot a caravan site behind the pub, so we may well return with the Coachman.  Lynnie will need to keep me on a short leash then!
On the green across the road from the pub, is a stone with an inscription and close by a small information hut.  The stone was placed here in 2014 to commemorate William Husband and his niece Ann Evans and also Elizabeth Greenly and her daughter Jemima.   All four were swept away in floods that struck the village following a storm on 27th May 1811.
Husband and his niece were lost trying to save some pigs in a barn by the stream and Greenly and her daughter were lost when their house was swept away.  This is another reminder of how a tranquil spot can quickly be turned by nature into a disaster area.  The water trickles through the stream today, but on that fateful day rose by eight feet as water and debris cascaded down from the hills above.
In the hut there is also information about the Mordiford Wyvern (Dragon).  The story goes that a young girl called Maud was walking through the woods and she found a baby wyvern, bright green and no bigger than a cucumber. She took it home and kept it as a pet by feeding it milk.  As it grew it returned to the woods and started taking local livestock and terrorising the villagers.  Maud was the only person safe from the dragon as it came down to the village to drink from the river.  There are various accounts of how the dragon was slain, but for many years locals lived in fear of dragons in the woods and as late as 1875 the local rector found two parishioners trying to drown newts because they feared they were baby dragons.
As far as I can see the most dangerous thing by the river today is the traffic, but Lynnie is concerned about another threat.  She has become obsessed with the spread of Himalayan Balsam and in all our travels over the last three years we have never seen it more abundant than it is here.  This is a horribly invasive plant that needs to be eradicated before it gets totally out of control.  The problem is that it dies back in winter and aids soil erosion on riverbanks.  The flowers are very attractive to pollinators and the seedpods burst if disturbed distributing seeds some distance. Allegedly, the leaves and pods are edible and the flowers can also be made into a jam. Apparently there is a project in Germany that uses the plant for jam making and other food products the proceeds are then used to finance the eradication of the plant.  It would be interesting to read the business plan of the company behind this.
Our wander about has covered just over six miles, a very interesting stroll on a hot and sticky afternoon.
To view this walk on OS Maps Click Here
To follow our walk you will need Ordnance Survey Explorer Map 189 – Hereford & Ross on Wye
22nd July 2016
© Two Dogs and an Awning (2016)