There are not many positives coming from the Covid-19 pandemic, but one is that I have done a lot more walking closer to home. In normal circumstances Lynnie and I travel a lot in the caravan, usually spending about one hundred and fifty nights a year away. However in 2020 our travel has been restricted to just sixty nights and given the Covid situation we are currently not planning any travelling in 2021.
Today I am meeting up with my walking buddy Nigel, from New Forest Navigation. The starting point for our walk is the National Trust Spread Eagle Hill car park (Grid Ref ST886187). From the car park we go through a gate and head north across a field. There are stunning views and it looks like we are going to be in for a cracking day.
After going through a gate we veer to the left to follow a footpath heading north west across Compton Down towards Melbury Hill which is currently shrouded in low cloud.
The path descends and then has a stiff ascent to the summit of Melbury Hill where we go through a gate and wander across to the Ordnance Survey Trig Pillar which sits 839 feet above sea level. This is the 230th trig pillar I have bagged.
Since we started walking together I have been trying to get Nigel to share my enthusiasm for trigs, it is a slow process, but I will persist and I am sure that sooner or later he will get the bug. On top of this trig is a Toposcope. I always find these interesting features, unfortunately the visibility is poor today so we cannot see any of the points in the distance.
From the trig point we turn and retrace our route heading downhill to a point where a footpath crosses the access land. Here we go through a gate and take a path along the top of an area of access land which skirts the top of a cracking contoured inlet.
As we walk the cloud starts to clear and we get good views across the Blackmore Vale.
The path leads us to a track where we turn left and walk uphill to the car park from where we started our walk. So far we have completed two and a half miles, but there are still a few more to do. From the car park we go through a gate and follow a fence lined path heading south to reach the Fontmell Down Nature Reserve.
This nature reserve is owned by Dorset Wildlife Trust and covers 155 acres of land. It is a stunning area to walk. Our route soon leads through a belt of trees heading towards a minor road.
on reaching the road there is an option to turn left to follow the road a short distance to a junction. This would cut a corner from our walk but would also mean missing out on another trig point so we turn right and follow the road downhill to reach a footpath on the left which leads off a small parking area. This path heads west and after passing through bushes soon reaches a field with fine views across the valley.
On reaching a junction with a path we turn left and follow the path across fields to reach a gate leading to a minor road. We turn left along the road and go steadily uphill to reach the summit of Sutton Hill. Tucked away in the hedgerow on the left is an Ordnance Survey trig pillar, my 231st. In November this trig is difficult to spot so I would imagine in the Spring and Summer it would be impossible to see.
At a junction of roads at Sutton Clump we turn left and walk besides the 'B' road. This road is busier than we anticipated and there is a narrow verge so we proceed with care. Had we not been so keen to visit the trig pillar it would have been a safer option to have turned left earlier and not done this extra little loop. At a crossroads we turn right and take the road signposted towards Ashmore. This minor road leads downhill passing Fontwood House to reach a wide entrance to Forestry Commission land at Ashmore Wood. Here we turn right and follow the forestry track into the woods.
We follow this track through the trees into Stubhampton Bottom. Late autumn and winter are my favourite times of the year to walk through woods. At this time of the year it is possible to appreciate the full structure of trees and the ground below them.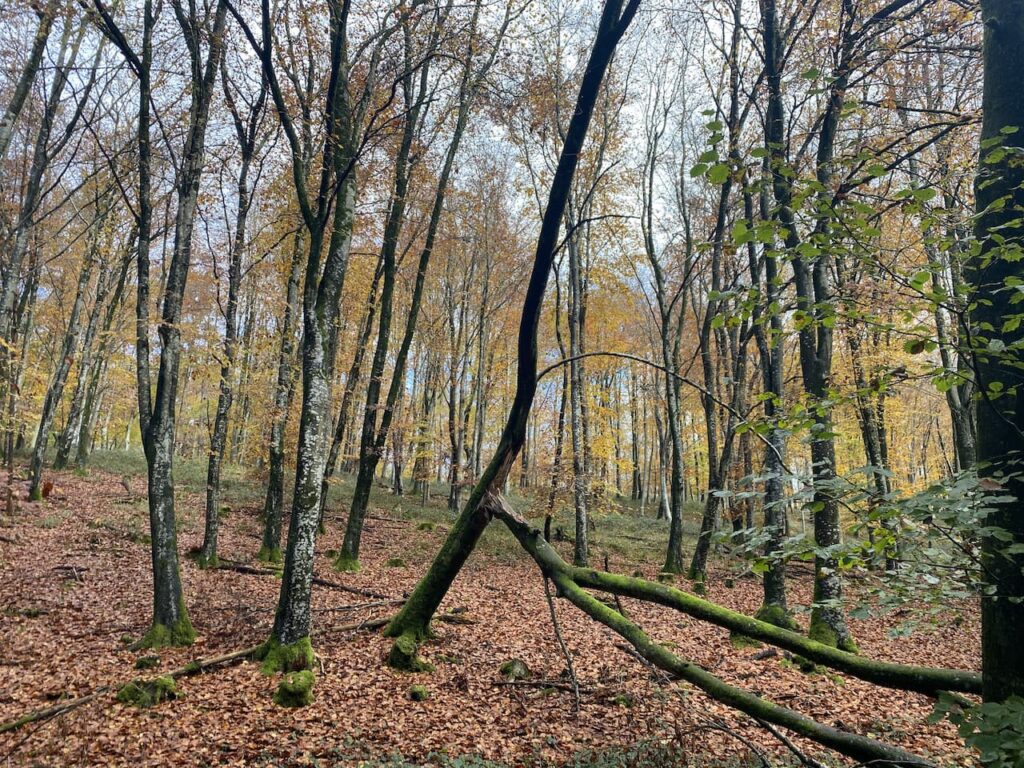 We stay with the track until we reach a crossing of footpaths near to Hanging Coppice, here we turn left to join the Wessex Ridgeway and follow this path steadily uphill along the edge of the woods with fields to our right.
We stay with the path, ignoring a path on the left where the Wessex Ridgeway turns to the north and then pass a gateway to Ashmore Bottom. Years ago Lynnie and I walked in this area and until now I had forgotten about it, but I do recall going through Ashmore Bottom and trying to avoid a herd of inquisitive cows. Our route today stays besides the edge of the woodland and then continues on the path heading east as it follows a track to reach a copse where it turns left and continues on to pass through Wiltshire Copse. At a footpath sign on the left we follow a fence-lined path towards Ashmore.
On reaching a minor road we turn right and walk into Ashmore and past the village pond. This is a dew pond, which means that it is only fed by rain water. The village sits on chalk so the pond is lined with clay and would have been created to provide drinking water for local livestock and those being driven through the village along the droves. Apparently the last time the pond dried out was during Queen Victoria's Golden Jubilee in 1887.
Each year locals hold the Filly Loo around the pond. The event is led by a Green Man and involves dancing and merriment around the pond. The origins of the event and the meaning of Filly Loo have been lost in time but being held around the time of the summer solstice it is thought to have Pagan influences. It is therefore ironic that proceeds from the event now go to support the local church and chapel, as well as other local amenities.
Besides the pond sits the village bus shelter. This is a grand affair, but it is not clear if it still serves its original purpose as it is difficult to find details of buses running to the village.
Close to the pond is the village church of St Nicholas. There has been a church at this location since medieval times but according to Historic England the current church was built in 1874 by Charles Edwards of Exeter.
On the church is a very clear Ordnance Survey benchmark. In recent times I have been "bagging" these marks along with my trig bagging. There are over half a million in the Country so plenty to keep me occupied for the rest of my days. Strangely, despite stating he has no interest in these marks, Nigel is quick off the mark to see if he can spot this one first.
From the churchyard we turn right heading out of the village past Manor Farm and then take a footpath on the right going northwest to Shepherds Bottom Plantation. Entering another field we follow the path to the right and then turn left to head into the attractive valley of Shepherds Bottom.
The path goes uphill to pass West Wood. On reaching a road we cross and then go over a stile onto Compton Abbas Airfield. The footpath runs diagonally across the grass runway of the airfield, but the warning notices indicate that this might be a bit precarious.
It was from this airfield that Asil Nadir fled the UK in 1993 following the collapse of his company Polly Peck and an investigation by the Series Fraud Office. He was a fugitive until 2010 and then was tried and convicted and given ten years imprisonment for false accounting and theft totalling £32 million. As we head across the runway I keep an eye out for planes taking off and landing, but fortunately we encounter no flights.
After crossing the runway we go over another stile and then turn left to follow a footpath along the perimeter fence of the airfield. To our left there are fine views over Melbury.
On reaching a road we cross and enter a parking area where we turn left and follow the fenced path besides the road heading back to our starting point. Our walk has covered fourteen miles and throughout we have had cracking views. I will have to return to Melbury Beacon on a clear day to get the full value and see just how far can be seen from the toposcope.
You can view this 14 mile walk on OS Maps and download the GPX File Here
To follow our walk you will need Ordnance Survey Outdoor Explorer Map OL118 Shaftesbury & Cranborne Chase
10th November 2020
© Two Dogs and an Awning (2020)
All information on this site is provided free of charge and in good faith and no liability is accepted in respect of damage, loss or injury which might result from it.  To the best of my knowledge the routes are entirely on public rights of way or within areas that are open for public access.
Walking can be hazardous and is done entirely at your own risk.  It is your responsibility to check your route and navigate using a map and compass.