I am out again today walking from Martin Down with my friend Nigel from New Forest Navigation. We have plotted a thirteen mile route that will take us to Pentridge Knoll and then across to Sixpenny Handley. I have walked to Sixpenny Handley from Martin Down previously, but on that occasions it was an anticlockwise route whereas today we are going clockwise.
The starting point for our walk is the Martin Down Nature Reserve car park besides the A354 (Grid Ref SU036200). We start our walk from the southern end of the car park and head out passing a metal barrier besides some information boards. Initially the path heads through some shrub but soon reaches the vast expanse of the 850 acre nature reserve.
We continue down the track to reach the disused rifle range butt and here turn right on a path that heads a few hundred yards besides the butt to reach the Bokerley Ditch where we turn left .
This ditch is thought to have been built in the iron age and fortified in the 5th century. It runs for around 3.5 miles and is an impressive structure.
We follow it heading south westerly for almost a mile and a half before turning right at a junction of paths. This path leads through trees to reach a track where we turn right and within a few hundred yards turn left at a junction of three paths. After going through a belt of trees we follow the path besides a field to reach a metal gate onto the access land of Pentridge Down.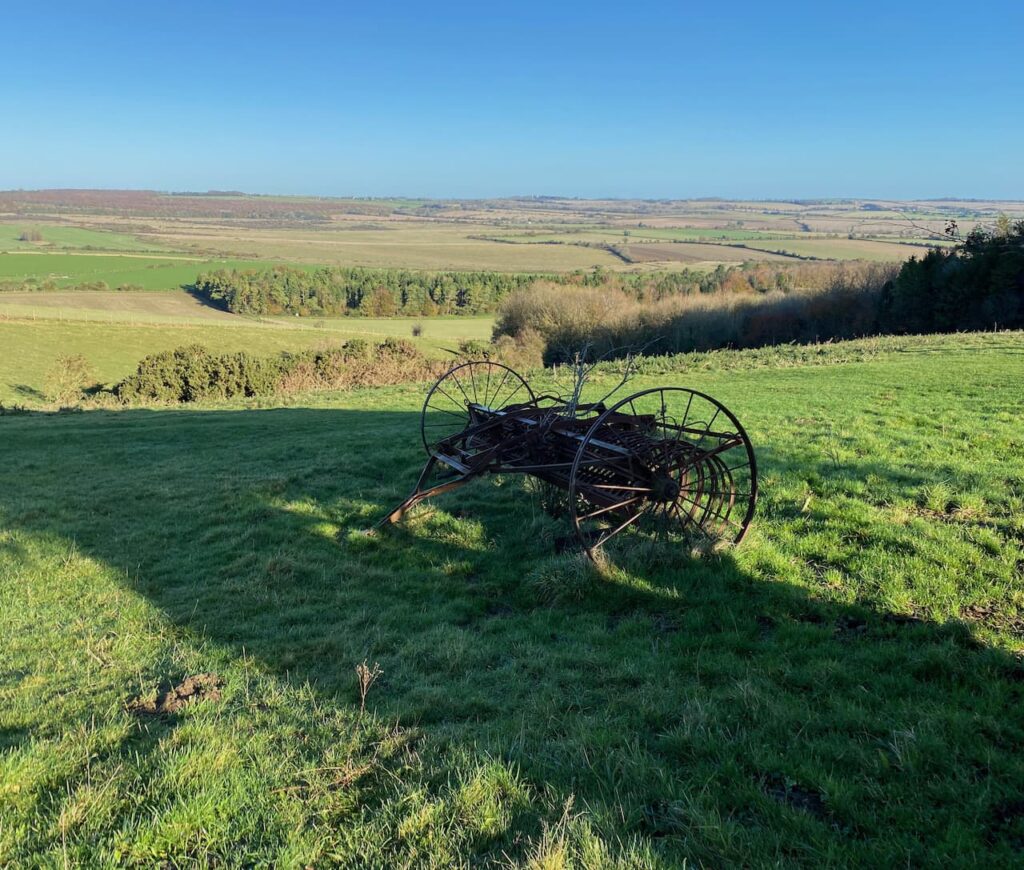 Now we turn to the left and follow a path around the boundary of the access land heading towards Penbury Knoll.
After passing through a copse on Penbury Knoll we go through a gate and continue along the top of a field to a junction of paths close to a wooden gate. Here we turn right and head downhill through a field of pasture containing cattle. They show no interest in us so we pass without incident and then join a track still heading downhill. We go through a gate to reach a junction of tracks and then turn left to follow a path heading west on the route of the Hardy Way which is a 220-mile route linking locations across Wessex associated with Thomas Hardy.
The path initially follows a track and then heads uphill across an arable field towards Salisbury Plantation. At a fork in the track we go right, still on the Hardy Way, heading towards a garage besides the A354. After crossing the main road we continue on a path which soon heads between fields towards Sixpenny Handley.
On reaching a minor road we turn left and wander into the village, turning right at a junction and heading up the High Street. The village website explains that their odd name derives from two medieval hundreds: "Sexpena (meaning Saxon Hill) and Hanlega (high clearing). Apparently in the 14th century it was known as Sixpenne et Hanle. But later was known as Handley or Handley St Mary. It was only in the middle of the 19th century that it became known as Sixpenny Handley which is often written as 6D Handley.
On reaching the church we head through the churchyard to join a footpath heading north across fields towards Dean Lane.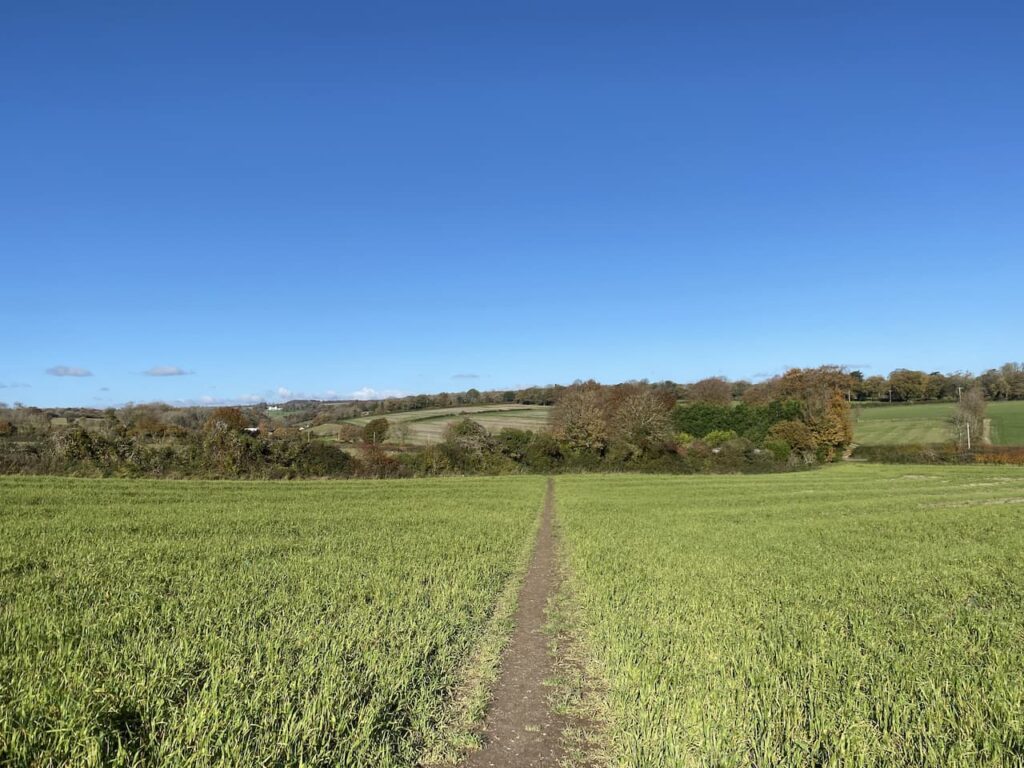 At Dean Lane we turn left and walk along the country lane to Shermel Gate. There are a network of paths here, we take a track that goes to the right of a property and leads to a metal barrier.
This woodland is open access land. We follow the track past the barrier and continue to a wide crossing of tracks where we turn right and then at the next junction go left on a track through Stonedown Wood.
At a junction of footpaths in the north east corner of the woods we go through a gate and head east across a field of pasture on a footpath leading to Middle Chase Farm. After crossing a minor road we continue along a broad track towards East Chase Farm. There are stunning views across to Penbury Knoll from here.
This track leads to a minor road where we continue straight on to reach Cutler's Corner where we turn right onto a hedge lined track which leads into the woods of Venditch Chase. The map shows that Kitt's Grave is located in this area. On previous visits I have searched for evidence of the grave and with Nigel's superior navigation skills I hope we might find it today. But despite finding the grid reference where the grave is said to be we can see no evidence of it on the ground.
Local folklore is unclear of the origin of the person buried at Kitt's Grave, however it is widely thought to be either a young girl or a Romany woman who had taken her own life. Therefore she could not be buried on consecrated ground and with no parish willing to claim her she was buried at the meeting point of three local parish boundaries. However, it could also be an ancient long barrow, so it is a case of picking whichever tale you prefer.
Our route now follows a clear path through the woods with a fence line to our left.
Venditch Chase is littered with long barrows and also has an ancient Grim's Ditch running through it. I have walked through it a number of times but have never wandered about in the woods. I will have to make a point of coming up here one day to explore a bit. Our route today takes us in a south easterly direction towards the A354. We emerge from the trees as we near the road and get a cracking view towards Clearbury Ring.
We cross the A354 to enter the car park where we started our walk. We have covered 13 miles and despite having walked some of the paths previously it has been interesting and a great opportunity to catch up with Nigel. It won't be too many weeks before we are walking together again.
You can view this 13-mile walk on OS Maps and download the GPX File Here (Subscription to OS Maps Required)
To follow our walk you will need Ordnance Survey Outdoor Explorer Map OL118 Shaftesbury & Cranborne Chase
4th November 2020
© Two Dogs and an Awning (2020)