I am always keen to do as little driving as possible when we are away.  For most of my life I was happy to drive anywhere, but now I need no excuse to leave the car behind.  So today is another day when I will walk from the Caravan and Motorhome Club's site in Minehead.

On leaving the site I turn left and walk uphill along the pavement besides the A39, Hopcott Road.  On reaching the Hopcott I turn left to follow the narrow tarmac lane as it heads steadily uphill passing Higher Hopcott.
The road then enters woodland with a steep final ascent to reach a small car park.
A network of paths lead from this car park, I take the route of the Macmillan Way West still heading uphill. I ignore a path on the right soon after leaving the car park and then where the Macmillan Way forks to the left I take the right fork to follow a footpath along a track.
It is still a steep ascent and then the path starts to level slightly on leaving the trees to enter an area covered in gorse.  At a crossing of paths I turn right to follow the route towards Tivington.
I am now back on the Macmillan Way heading west to reach another crossing of paths.  Here the Macmillan Way turns left towards Wootton Courtney, however, I keep going straight ahead soon reaching an Ordnance Survey trig point tucked to the left of the track on a high bank. This trig on Periton Hill is one I have previously bagged.
At the next crossing of footpaths I continue straight on to pass the National Trust plaque and enter Holnicote.  Within a short distance the track forks and I go right towards Headon Cross.
This path goes through an attractive area of woodland before descending steeply to reach the minor road where I turn right to cross the A39.
I now follow the minor road opposite as it climbs steadily, as the road sweeps to the right I continue straight on along a track towards East Lynch.
As I approach the farm I take a footpath on the right, which runs behind a fine old barn.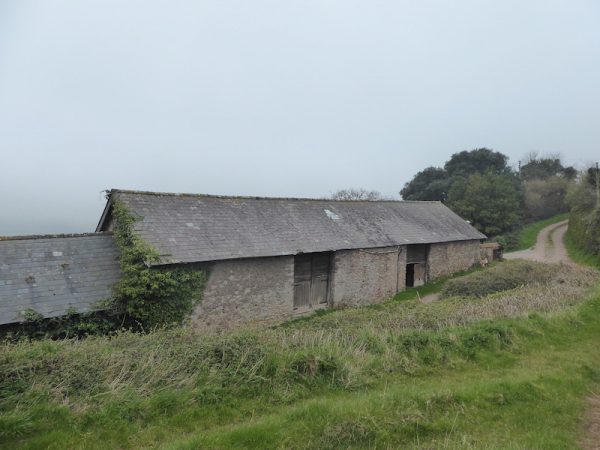 I stay on the wide grassy track as it sweeps by farm cottages, ignoring a footpath on the left and continuing uphill.
On reaching a minor road at Dean's Cross I turn right and then left to take a track, Dean's Lane, heading uphill.  In contrast to the warm weather we had yesterday the low cloud has reduced visibility and made it a lot cooler.
Despite the cool weather I generate some heat ascending the hill and stop for a breather when I reach a gate leading onto moorland.
Continuing on the track above Selworthy Combe the low cloud reduces visibility even further but the abundance of gorse in flower brightens things up.
On reaching a minor road, Hill Road, I cross and then turn right along a track running parallel to the road.
Nobody appears to be about today, I have not met a soul since starting my walk.  Usually I would expect to see a few people up here on North Hill, but either due to the lack of visibility I can't see them or they have decided not to venture out until it clears.  It would seem I am all alone.
I go through a couple of gates and then the path sweeps to the left towards a car park.  In the distance I see a solitary walker, with a large backpack, on a path heading in from the left. As I approach the car park the chap stops on a bench.  My route leads behind him, but given that I have not seen anyone for a few hours I decide to go and greet my fellow walker.
We introduce ourselves and I enquire if the size of his pack is an indication that he has just walked the South West Coastal path, which ends in Minehead.  Dan confirms he has walked the path, but started much further round the coast in Southwold in Suffolk.  He then explains he is walking the entire coast of Britain raising money for the mental health charity Mind.
After chatting for a while we find we are both heading the same way, well as far as Minehead.  I would have some explaining to do, if I walked all of Dan's intended route not returning home for over a year!
As Dan and I walk we talk about the motivation each of us has to embark on a charity walk, my walking 2,019 miles, whilst still a challenge, is minor compared to Dan's epic journey. Dan explains his struggles with mental health issues and I congratulate him on being so open.  When I was his age struggling with my own mental health it was very much a taboo subject and would have been seen as a sign of weakness and would undoubtedly have hampered my career progression.
Sadly whilst recognising so many individuals suffer with mental health issues our overburdened and underfunded national health service is still slow to respond to individual needs. Giving someone a few pills to brighten up their mood does not address the underlying issue and more needs to be done to provide counselling support and remove the stigma related to this debilitating condition.
A network of paths lead from North Hill back into Minehead, Dan and I follow the broad track running parallel to the coastal path. As we head downhill I enquire if Dan has come across another charity walker, Beth, who is also going around the coast.  Coincidentally he says he walked a few miles with her a few days ago.  I have followed Beth on social media since she started her walk, so decide to contact her to say hello as she heads through Minehead.
On reaching the centre of Minehead Dan and I bid each other farewell.  I will continue to follow his journey by viewing his website "Dan Walks the Coast".
I now return to the caravan through the streets of Minehead.  My walk has covered just over ten miles, it is always good to walk on these hills but today's journey has been made all the more memorable through my encounter with Dan. The few miles we shared together will leave a lasting impression on me.
To View this 10 mile walk on OS Maps Click Here
To follow our walk you will need Ordnance Survey Outdoor Explorer OL9 – Exmoor

29thMarch 2019
© Two Dogs and an Awning (2019)