In true Baldrick tradition I have a cunning plan entailing us caravanning during the winter months. Not continually, but getting away in the Coachman for at least 5 nights each month. I am not sure how this will work out and a few feet of snow might scupper things, but for now the weather is good so we decide to head off.

We would have started this tour a few days earlier, but some months ago I booked tickets for Lynnie and I to see Billy Bragg and Joe Henry at Portsmouth's New Theatre Royal (boasting a fabulous interior). I have not visited Portsmouth many times, there is a longstanding and unpleasant rivalry between fans of Saints and Portsmouth and many of my previous visits have been to watch football matches. On most of those days it was like a war zone. I lived in Tooting in the 1980's during the riots, they were like a picnic compared to visiting Fratton Park, especially when Saints scored in the last minute to win a Cup Tie.
Anyway I digress, I have been a fan of Billy Bragg since the 1980's many of his views resonate with mine, although I have not read the Socialist Worker since 1979, these days I prefer The Guardian. There were many things to enjoy about Billy and Joe's performance both are consummate musicians whose styles and voices complement each other. Their songs from their rail journey across the USA when recording their "Shine a Light" album were cracking.
Of course given the political events of recent months there was an opportunity for Joe to apologise to the rest of the world for his fellow Countrymen's aberration in electing Trump as their next President. Whilst Billy reminded us, as if we needed reminding, that we had also made a monumental cock-up in the EU Referendum. Both Joe and Billy sang a few of their own songs, which in Billy's case were some of his classics, embellished with political rhetoric. A good dose of socialism.
I left feeling good from the entertainment and having spent a few hours in the company of a few hundred likeminded people (you don't go to watch Billy unless you have strong socialist beliefs). It gave me hope, which at the moment is all that many of us can cling to. Billy says that we should go for Solidarity, but surely that is what those with differing views have done in producing a democratic majority to turn the USA and the UK further to the right than is comfortable.
Back on the streets of Portsmouth there is a decided chill to the evening air and walking to the Guildhall Square, (another fantastic building) we are amongst a throng of youngsters shifting between drinking establishments. Being a country boy such sights are unfamiliar to me. I went for a walk earlier today, and admittedly over clubbed the clothing with five layers on. None of these young ladies are wearing a vest, or for that matter much else. Unbelievable!
Our November trip in the Coachman is along the south coast to East Sussex and the Caravan Club main site at Littlehampton. Usually we stay on small CL sites, where only up to five vans are allowed. So being on a main site is like driving on the M25 when you usually drive around country lanes. But for us this site serves a purpose, not too far away and enabling us to explore some unfamiliar coastline. At this time of year most of the few CL's around here are closed.
As soon as we are pitched up we walk to Littlehampton to have a look around and exercise the dogs. Our route into Littlehampton is straightforward; just come out of the site turn right and then quickly left and walk alongside the main route into town.
From the town centre we follow the signs to the Riverwalk and Seafront. We join the river walk on the banks of the River Arun close to the RNLI Lifeboat Station. Until this point we have not been overly impressed with Littlehampton. Then wow! Along this riverbank it is absolutely stunning!
We walk along the broad promenade towards the seafront. The place is packed with young families and older folk taking the late Sunday afternoon air. There are numerous languages being spoken, it is a wonderful place to be.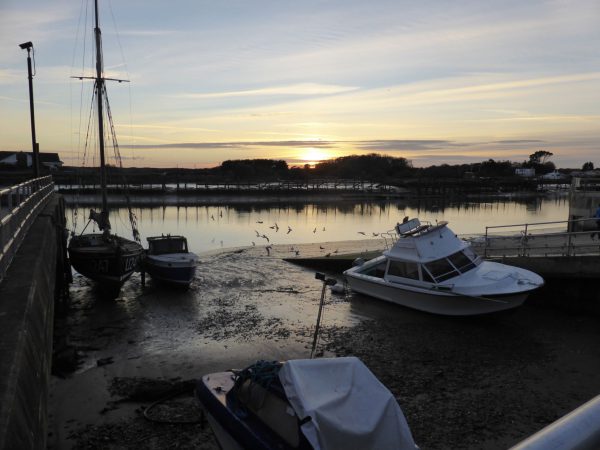 There are times and places in our travels that live long in the memory. The glorious sunset this evening with the tide out will be one such moment.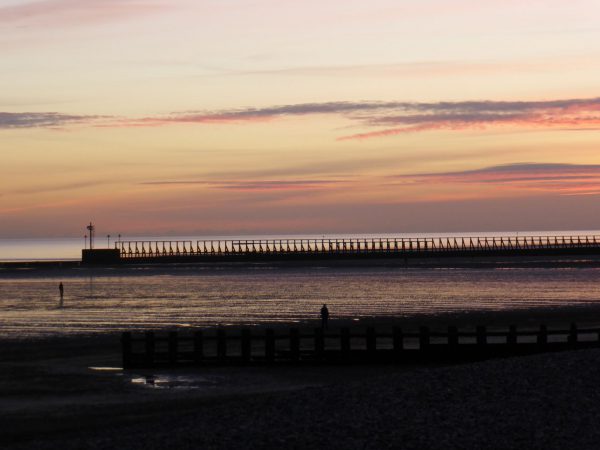 It takes us a long time to walk along the seafront, every second the sky is changing and it is truly wonderful. At moments like this despite all the shite that is happening around us you just have to marvel at the beauty of the universe we live in. I despair that those who we have foolishly elected to safeguard our futures seem intent on destroying it.
Turning to head east the moon is rising and it is a special moon. Of course it is the same moon that we always see, but this full moon is a "Supermoon", it will appear as the largest moon since 1948, it is 15% brighter and larger than the average full moon. Lynnie tells me we must wait until 2034 for the next, let's hope we are still around to see it!
After sauntering along the sea front for nearly an hour we turn around and retrace our steps back to the caravan site. Despite the gloomy nature of this blog I am perky at the moment. Last winter I purchased a Pork Pie hat that has rarely been worn, but I have decided that it is going to be my preferred bonnet for the winter. It has been perched on top of my turnip today. I have noticed some folk I pass smiling at me, or are they laughing? Who cares!
13th November 2016
[To follow our walk you will need Ordnance Survey Explorer Map 121 – Arundel & Pulborough]
© Two Dogs and an Awning (2016)
All information on this site is provided free of charge and in good faith and no liability is accepted in respect of damage, loss or injury which might result from it. To the best of my knowledge the routes are entirely on public rights of way or within areas that are open for public access.
Walking can be hazardous and is done entirely at your own risk. It is your responsibility to check your route and navigate using a map and compass.