We have been home for just over two weeks and I am itching to get away again in the caravan.  Last weekend I looked at the forecast for the South of England and it was mild and dry, amazing weather for late October.  Whilst Lynnie likes the idea of getting away, she also, correctly, sees the need to spend some time in the garden before the onset of winter.

My eagerness to get away is not due to dissatisfaction with being at home; it is more the desire to explore another part of the Country.  We have agreed to head off in November, as yet time and destination unknown.  The compromise for now is that alongside gardening we will fit in a couple of outings.  Yesterday I ventured to the golf course for the first time in a year, I don't think I am getting full value from my membership!  Today we are taking a trip to Stourhead House and Gardens just off the A303 close to Mere.
One of the benefits of being at home is that we can leave the dogs when we go out.  They have had a good walk this morning and are settled for the day.  I don't recall  ever visiting Stourhead, I may have as a nipper, on a family outing, but I don't think so.  It has long been on my list of places to visit, and if you are going to visit Stourhead autumn is an excellent time.
It is half-term and very busy, so we decide to walk up to the house before exploring around the lakes, on the way we pass the greenhouse and old stables.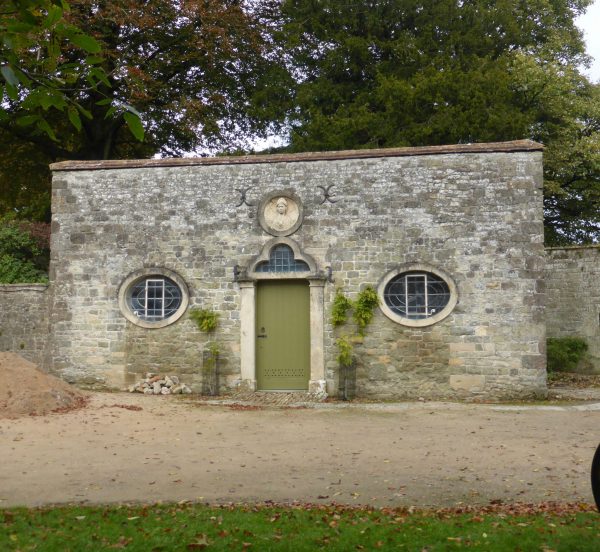 Henry Hoare purchased Stourhead in 1717; he was the son of Sir Richard Hoare the founder of C.Hoare & Co Bankers.  Apparently Henry and his father were commissioners for the building of 50 new churches in London.  The Hoare family had a bit of cash and toured around collecting art and antiquities.  The house has a fascinating collection of artifacts.
The last Hoare to live in the house was Henry Hugh Arthur Hoare; he gave the house to the National Trust in 1946.  His only heir was Captain "Harry" Henry Colt Arthur Hoare, who died in November 1917 from wounds he received in the First World War during the Battle of Muhar Ridge, which was part of the South Palestine Offensive.  Much of the house is dedicated to the memory of Captain Harry, unfortunately it is far too busy to really stop and take it all in.  We must visit again outside of the school holidays.
We wander into the stunning grounds.  There are a myriad of paths, so there is little point describing the route we took.  Visitors will find their own way around but the splendour of the place is soon apparent when we catch a glimpse of the Temple of Flora between the trees.
I don't follow current affairs on the radio, in times past I used to listen to Radio 4 every morning, but more recently have tired of the mindless talking over that politicians do.  Nowadays when I listen to the radio it is usually Radio 3, the one exception being PM with Eddie Mair.  If you listen to this programme you may know that annually Eddie has a conversation with the head gardener at Stourhead about the autumn colour.  With the stunning hues of the autumn trees it is obvious why they choose this location for the broadcast.
This week Lynnie and I have been listening to Alan Bennet reading from his diaries 'Keeping on keeping on' on Radio 4.  We like Bennet's style and humour and his ability to turn an observation or reflection into an amusing tale.  Like Bennet we love to hear snippets of other people's conversations, today we are walking a few yards behind a couple and their young son, aged about eight.  The lad is telling his mother he is going to make a roulade and can't decide if he is going to use the Nigella or Mary Berry recipe.  It is refreshing to hear, but still a conversation that I would never have expected and certainly would have never had with my mother.
The view we now have is of The Pantheon, built in 1753/54, this building has a fine collection of marble statues.
The buildings add interest but are like a supporting actor, at this time of the year the undoubted star is "Mother Nature"
Wandering around the lake we stop briefly at the cave like Grotto.
Next it is The Gothic Cottage, this building was constructed in 1806 and is also known as Watch Cottage.
There are many more buildings and interesting things, but as this is a blog and not a tour guide I will mention just two.  The first is the Palladian Bridge, built in 1762, whilst clearly a bridge it is unnecessary as it is only a short walk around, so it clearly served as a structure to please the eye.  I like this as a concept.
I must have seen Palladian Bridges before, (Lynnie soon tells me that I have, there is one close to home at Wilton House) but have never stopped to think how such a bridge is defined. The origins are from the work of Andrea Palladio (1508-1580) a Venetian architect who based his designs on Ancient Greek and Roman architecture.  Unknowingly I have looked at many Palladian Houses, one particularly good example is the Queen's House at Greenwich.  Lynnie and I visited there in October 2015.
The other structure that intrigues me is the Bristol High Cross.  It is an interesting monument, with a fascinating history.  Built in 1373 as a market cross in was located in the centre of Bristol to commemorate Edward III granting a charter that recognised Bristol as a county, separate to Gloucestershire and Somerset.
Three hundred and sixty years later in 1733 it was decided the cross was a hazard to traffic and it was agreed to move it to College Green in front of the cathedral.  The cross was erected there but before long it was considered to obstruct those wishing to promenade around The Green.  In 1780 it was gifted to Henry Hoare for his estate at Stourhead and has remained here ever since.
We have spent an interesting afternoon here amongst the stunning scenery with so many interesting things to see.  The only downside has been the hoards of people, so we will plan our next visit outside of the school holidays.  Only a few weeks now before we will be back in the caravan exploring again!
27th October 2016
© Two Dogs and an Awning (2016)