It is another sunny day and Lynnie's back is slowly improving, but not sufficiently for her to go for a jam about, so we decide to head back to Tenby.  I can walk from the town and there are a number of places that Lynnie wants to visit.

Parking in a long stay car park on the edge of Tenby we walk into town, Lynnie heads into the centre whilst I pick up the Pembrokeshire Coast Path above the harbour as it heads above North Beach.  The dogs scent the sea and are keen to head down towards the sand, but they are banned from this section of beach.
Heading north the road soon comes to a dead end, but the Coast Path continues straight on towards Waterwynch.  At a junction in the path I turn right down to Waterwynch Beach, this is a stunning secluded spot.  Apparently this beach was a favourite landing spot for Paul Jones the 18th century Scottish pirate.  He is said to have made frequent visits to the Bristol Channel and would stop for fresh water on Caldey Island.  Waterwynch Beach was used when he wanted to pop into Tenby, you can see why he would choose a secluded spot like this rather than the wide expanse of beach around the town.
I walk back past Waterwynch House to briefly rejoin the Pembroke Coast Path, but within a couple of hundred yards leave this and continue up the tarmac lane towards the A478.  At the main road I turn right and then cross the road to look at the small corrugated-iron St Anne's Church, built in 1928.
Just after the church I take a tarmac lane on the left passing a large caravan site, at the end of the lane I turn left to follow another track towards Knightson Farm.  Just before the farm gate I pick up a footpath on the left that leads through woodland to Knightson Bottom.  This is a stunning section of woodland, the Bluebells are splendid, mixed with the ferns in the dappled sunlight and with the accompaniment of constant bird song it is a cracking spot.  Lynnie would love it here.
After passing under the railway bridge I turn left and head towards Scotsborough House, these ruins are all that are left of what once must have been a fine house.  Subsequently I have seen an artist's impression of the house and its clear that in it's heyday this was a substantial building.
A local newspaper reports that in the early 1600's the house was the residence of Thomas ap Rhys (born 1570).  It is said that as he struggled to hear the bell ring at St Mary's Church in Tenby he had it lined with silver, a monument to his wife Margaret Mercer (died 1610) stands in St Mary's.
Local legend has it that families living in this mansion and also nearby at Trefloyne lived by wrecking.  They put false lights on a windmill at the end of South Cliff, all was well until the son of one family and the daughter of the other went abroad, returning their ship fell foul of the false lights and was wrecked.  An interesting tale, but I can find no other record to say who the individuals were.
Reportedly Scotsborough was abandoned in 1824 after an outbreak of smallpox killed most of the residents.  Whether there is truth to this tale I cannot verify, but one thing is for certain, whatever made the inhabitants flee must have been significant.
I continue by heading down the track towards the B4318 where I turn right, walking besides the road for a few hundred yards.  The verge is narrow but with considerate drivers there is no issue, however, one young lady seems oblivious of my presence and passes at speed just inches from me.  I am beginning to wonder if I should have a dashcam strapped to my rucksack for just such incidents.
I have noticed that most of these scary moments are caused by delivery vans, young girls, BMW drivers or care workers dashing between appointments, the first and latter are both working.  Delivery driver's contracts are often punitive for failing to meet delivery times and require an excessive number of deliveries per day.  In the case of the care workers, they seldom get paid for their travel time between vulnerable clients and are again given difficult time schedules to keep.  I am of the view that two things should happen, these individuals should have contracts that truly reflect their hours of work and secondly if they are involved in an accident it should be treated like any other work place accident and be investigated, the employer should be held responsible if it is found that unrealistic targets have been set.
I am somewhat relieved when the footpath appears on the left and I turn towards Nabbs Bridge.  This is a pleasant wooded path besides a stream, I continue on towards Holloway Bridge and on reaching the edge of Penally turn right and within a few yards right again besides a disused night club (it seems an odd place for a night club). I follow this minor road past disused quarries until I reach a track that heads straight on when the road bends sharp to the right.
The lane heads across Trefloyne Manor Golf Club and on reaching some cottages I take a footpath on the left that starts by following the border of the golf course and then climbs into Trefloyne Wood.
I cross a field and then reach a road and take another footpath almost opposite.  After climbing a stile I enter a meadow and follow the footpath across one field and into a second.  The view of Caldey Island from here is a real cracker.
Suddenly I notice a fox watching my advance; it is about twenty yards away to the right and appears content that I pose no threat.  I have seen many foxes on my walks, but never one so calm and still with the dogs so close.
On reaching a hedgerow I turn right along another footpath to head behind a disused farm joining a road where I turn right and head down the hill.  At the junction I resist the temptation to pop into the pub and turn right to walk along a lane with campsites either side.  At a footpath sign I turn left and cross a field to join the pavement besides the A4139, here I turn left and within a few hundred yards take the footpath on the right that crosses the railway line and skirts the rifle range before heading through the dunes and crossing Tenby Golf Course.
The dogs sniff the sea air and pull at their leads as we approach the beach.  In next to no time Crosby is in the sea.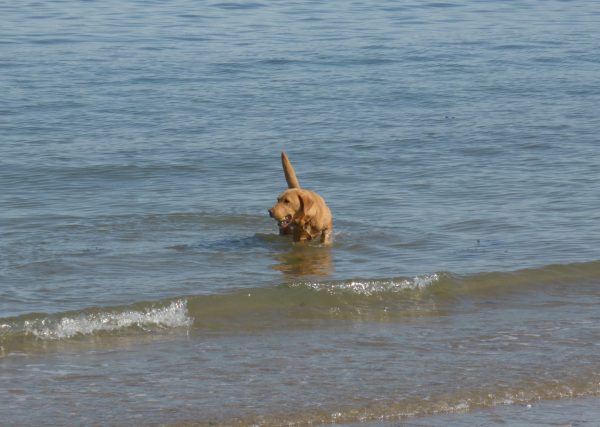 Dexter is adept at avoiding getting too wet, he will venture into the sea if necessary to fetch his ball, but would prefer to be on the sand.
In the distance I spot Lynnie walking towards me and reunited we walk back to Tenby along the beach whilst the dogs run around.  There appear to be even more Jellyfish washed up on the beach today.  It is really fascinating to see these creatures.  I am not sufficiently up to speed with marine biology to know if they will have perished whilst out of the sea between the tides (but assume so), or perhaps they have been sunning themselves waiting for the tide to turn?
As we walk back Lynnie tells me about visiting the National Trust Tudor House and the museum.  Later looking at the pictures I find it hard to believe she has not spent the afternoon in some Mediterranean town.
My walk covered just over nine and a half miles; there were so many things Lynnie would have found interesting that, if her back is up to it, we shall revisit before heading home.
10th May 2017
[To follow our walk you will need Ordnance Survey Outdoor Leisure Map OL36 – South Pembrokeshire]
© Two Dogs and an Awning (2017)