The weather continues to be challenging. I have never been anywhere where the wind has blown cold for so long. It is totally relentless and chilling to the core.  It is a real pity, because the site is one of the best we have stayed on and what we have seen of Little Downham seems really friendly.
We have been hunkered down in the caravan for most of the day and I persuade Lynnie that she should join me on a wander around a few local tracks. We leave Heathbield CL and turn left along the Ely Road and head out of the village along the pavement passing Allotments Farm and then turn right down Fox's Drove (Track).
At the bottom of the lane we turn right along Hurst Lane, up until now the path has been reasonably firm underfoot, but now it is a case of trying to find a way that avoids the mud.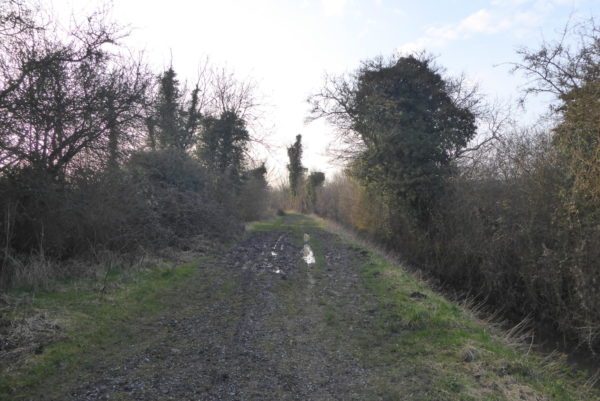 After passing The Paddocks we continue along Calway Lane, another muddy track taking us through the nature reserve and then after passing a couple of fields we join West Fen Drove. Looking out over the fens we see a chilly mist settling over the fields.
At the end of the track we turn right and walk slightly uphill along Redcaps Lane and then at the top of the lane turn right joining the High Road back into Little Downham and then return to Heathbield CL. Our walk has covered just over 5 miles and we are glad to get back to warm up.
We thoroughly enjoyed our trip to the Plough pub at the other end of Little Downham and have decided to treat ourselves to another splendid Thai meal and a couple of pints of well kept ale this evening.
After our meal we settle down for a chat with the Landlord. I ask about a photograph we have been admiring of a group of chaps on a charabanc outing seated outside of a pub called the Spade and Becket. It is not a pub name I have come across so enquire as to where the pub is located.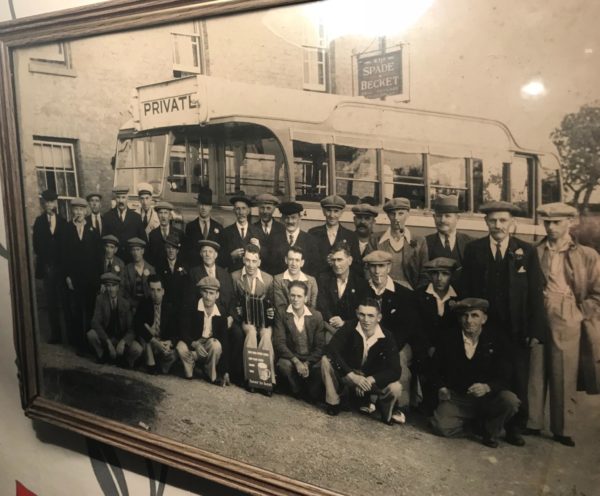 Interestingly it turns out to have been at the other end of the village and I have passed the building every day on my morning wanders. Later I look up how the pub derived its name. Apparently the Spade and Becket is not an uncommon pub name on the fens. The spade part is obvious; in these parts spades were used to dig the ditches, but the becket I have not come across. It turns out that this is a nautical term for a loop or hook used to secure the oars and the like. So the becket was used for storing the spade.
We learnt a lot of local history during the evening, but the Landlord tells it better so if you are in this area it would be a real shame not to visit this cracking pub. Cheers!
To view this 5 mile walk on OS Maps Click Here
To follow our walk you will need Ordnance Survey Outdoor Explorer Map 228 – March & Ely
16th March 2018
© Two Dogs and an Awning (2018)