An obvious advantage to long-term travelling is that there is no pressure to try and see everything. This morning I take a leisurely stroll with the dogs in the grounds of Paxton House. There are few folk about and it is very relaxing just to wander and listen to the birds, watch the River Tweed and get some fantastic views of the Chainbridge further upstream.
After lunch we decide to pop into Berwick-on-Tweed. At the end of Paxton House drive I see a sign for the Chainbridge Honey Farm, so instead of turning right as planned I turn left.
We drive down and across the Chainbridge. It is a squeeze for the Freelander to get through the posts either side of the bridge, but we breath in and just get through. The Honey Farm is on the far side, crossing the River we have entered England from Scotland. Here the border runs up the middle of the Tweed.
The Union Chain Bridge was the first major bridge of its kind to be designed for vehicles and is the oldest surviving suspension bridge in Europe. It was christened the 'Union Chain Bridge' because it linked Scotland to England. Captain Samuel Brown RN built this remarkable bridge in 1819-20. It took less than a year to build and at the time had a record-breaking span of 449 feet. This is a stunning bridge and it makes you wonder why such places are not better known. I suppose part of their beauty is that they are hidden gems waiting for you to meet them in a chance encounter, and not high on the tourist route.
As soon as we arrive at the Honey Farm I know our plans for the day need to be rescheduled. The place is packed with old farm machinery that has been restored and displayed. The range of equipment is astounding.
We wander around looking at tractors of all shapes and sizes, seed drills, threshing machines etc. After a while we see some stairs and climb to a balcony with another amazing collection of memorabilia. This is a wonderful place.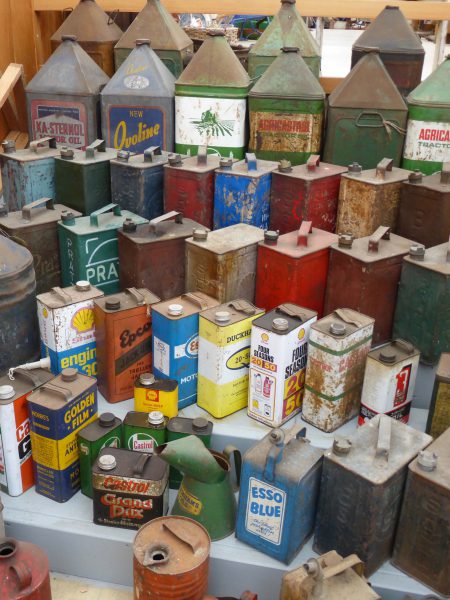 Eventually we head off in search of honey, Fred's do like honey. You would think that being a honey farm they would be pushing the honey, but when we locate the area where it is sold it is secondary to the displayed information about beekeeping, with a live hive inside the shop (behind a glass panel with bees coming in through the outside wall). Fascinating.
Then a whole room dedicated to the Union Chain Bridge. This is a commercial enterprise but apart from the café in a double decker bus and a small room selling honey, other bees wax products and greetings cards there is no way to spend money. We buy honey and I can hardly wait to get back to the van to taste it. But first we are off to Berwick.
Berwick upon Tweed is an interesting town. It sits just a couple of miles from the Scottish Border and is the most northerly town in England. Over the years it has often changed hands between the English and the Scots, lastly in 1482 when the English re-took it.
We decide to take a walk around the town walls, but first wander through the town to look at some of the historic buildings many of which L S Lowry included in his paintings. There is currently an exhibition of some of Lowry's work in the town. If we get a wet day during our stay I think we will make a visit.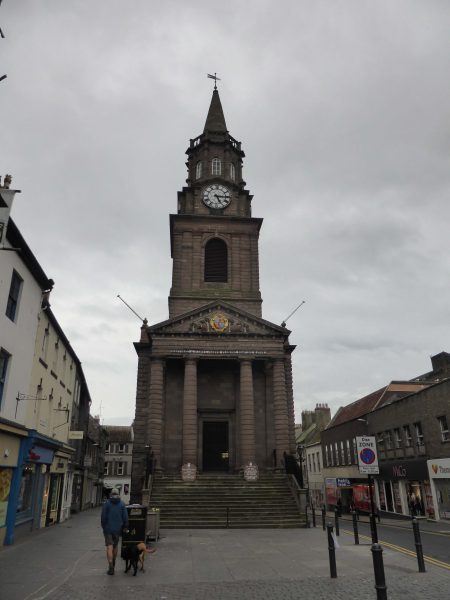 Our walk brings us to Sandgate and we pass through the walls to the waterfront. Here we get a clear view of the three bridges that bring transport to and from the town. Furthest away is the Royal Border Bridge, a railway bridge, next is the more modern Royal Tweed Road Bridge and closest to us the Old Bridge, this bridge just takes traffic out of town.
The Old Bridge is a fifteen span sandstone bridge measuring 1,164 feet and built between 1610 and 1624, it is a stunning bridge. The Royal Tweed Bridge looks modern, but it was built in 1928 and at the time had the longest concrete span in the country at 361 feet. The Royal Border rail bridge was built under the supervision of Robert Stephenson and opened by Queen Victoria in 1850. It is 720 yards long, with 28 arches and carries trains 126 feet above the River Tweed.
Our wander around the walls is littered with interesting buildings, too numerous to mention. The ramparts and walls are incredibly well preserved. They were built during the reign of Queen Elizabeth I and reportedly cost £128,648 (which is said to be equivalent to £40m today, or slightly less than two Southampton footballers).
After only a day here we already know that we want to return to this far corner of England and spend more time exploring the town. But for now I have a pressing engagement with a jar of Robson's Chain Bridge Farm Heather Honey. As Pooh Bear almost said "Isn't it funny how Fred's like honey. Buzz, buzz, buzz, I wonder why he does".
4th July 2014
© Two Dogs and an Awning (2014)