Last year my walking buddy Mandy and I did a walk through Arten Gill and up to the Ordnance Survey Trig Pillar at Great Knoutberry Hill it was a great walk but the weather was miserable and we didn't get any views at all. So today I am going to repeat the walk but this time Lynnie is joining me and I'm not sure if this is because she wants to see the Arten Gill railway viaduct or is out to bag another Ordnance Survey trig pillar.
The starting point for our walk is a parking area beside the Dent Head Viaduct (Grid Ref: SD777844). We set off down the road towards Cowgill and Dent. We soon pass Bridge End Cottage and continue down the lane besides the River Dee.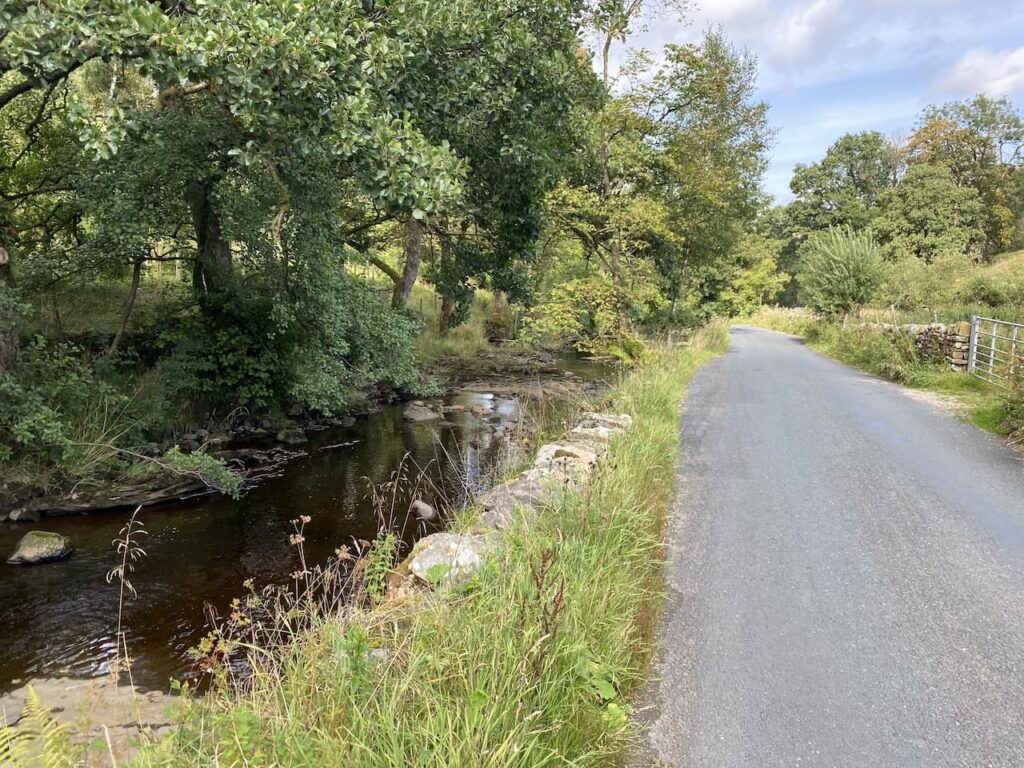 Last year whilst walking along this road I saw a Red Squirrel, so we keep our eyes peeled. Although walking along a road there its very little traffic and what there is is going very steady because a lot of sections are single track with passing places.
Nearing Store House Bridge we stop to look across the river at a limekiln. This listed building is thought to date back to the early 1800's.
Where the road bends over Stone House Bridge we take a lane on the right to pass cottages.
We are now on Arten Gill Lane and follow this as it goes through a gate and joins an ancient track heading towards the Arten Gill Viaduct.
As we walk up the lane, the viaduct dominates the view. It is a stunning bit of engineering and is listed as bridge number 84 on the Settle to Carlisle Railway. Work on its construction started in May 1870 and was completed in July 1875. The unstable nature of the ground in the gill meant that some of the piers are rooted to a depth of 55 feet into the ground.
The viaduct is 660 feet long and 117 feet high and stands 1,100 feet above sea level. Parts of the structure are constructed with Dent Marble quarried from Arten Gill beneath it.
We continue gradually ascending, it is a good long drag up this hill, but the scenery is worth it.
When Lynnie and I are walking together we tend to walk at different paces, Lynnie is quicker than me on the flat but on ascents and descents I am faster. So going uphill I pause occasionally to allow Lynnie to catch up. It does mean I get a chance to admire the far reaching views.
At a junction of paths we turn left continuing on the Pennine Bridleway as it heads north through a metal gate.
The path soon levels and heads east along Dent Fell through a series of gates.
In contrast to the last time I was up here it is a clear day and the views are stunning.
The Pennine Bridleway sweeps towards the north and as we pass Green Bank we take a path on the right which follows a fence line and ascends Pikes Edge on Great Knoutberry Hill.
Last year heading up this hill I encountered a couple of boggy sections, nothing to worry about but it needed care to avoid getting wet feet. Now after such a prolonged dry spell the ground is firm under foot. However, when we reach the trig pillar on Great Knoutberry Hill it is surrounded by water. This does not prevent Lynnie climbing on top. Personally I think this is bad trig etiquette.
From the trig we keep with the line of a dry stone wall as it descends from the hill in a south easterly direction. It is clear from the worn path that there are frequent visitors here. The path leads downhill past the disused Cross Pits Colliery and then we cross a wall stile to join a track.
Here we turn right and follow the track to the junction of paths we were at earlier at the top of Arten Gill. This time we turn left on the Pennine Bridleway towards Newby Head Road.
This route takes us south through Swineley Cowm descending towards a minor road, we can see for miles in front of us.
At the minor road we turn right leaving the Pennine Bridleway to head back along the road towards Dent Head Viaduct. Construction started on this viaduct in 1869 and was competed in 1875. Work was hampered by the constant rain and snow, in 1872 it is said that 92 inches of rain fell on Dent Head instead of the usual 68 inches.
We stay with the road which descends to go under the railway line and then we are back at our starting point.
You can view this 9 mile walk on OS Maps and download the GPX File Here
To follow this walk you will need Ordnance Survey Outdoor Leisure Map OL2 – Yorkshire Dales – Western Area
11th September 2022
© Two Dogs and an Awning (2022)
All information on this site is provided free of charge and in good faith and no liability is accepted in respect of damage, loss or injury which might result from it. To the best of my knowledge the routes are entirely on public rights of way or within areas that are open for public access.
Walking can be hazardous and is done entirely at your own risk. It is your responsibility to check your route and navigate using a map and compass.