After such a prolonged dry spell we were bound to get rain at some point. Following our walk on Fylingdale Moor yesterday we popped into Whitby for a fish and chip supper by the harbour. Afterwards whilst wandering around the harbour we got caught in a torrential downpour.
Although today started bright the forecast thunderstorms arrived at lunchtime. I don't mind walking in the rain, but I always avoid heading out when there is thunder and lightning about. Going out onto a moor when lightning is forecast is too risky for me.
In the last couple of years I have switched to using the Met Office weather app. I find it a lot more accurate than others I have tried and the short range forecast is usually spot on. I have also become more adept at judging if clouds heading our way are going to deposit their contents on us.
After today's lunchtime storm the forecast is for a clear afternoon with further risks of thunder this evening. So I decide on another walk in nearby Cropton Forest, but this time I will drive from the site the couple of miles to the car park at the Cawthorn Roman Settlement.
From the car park I pass the information board about the Roman Camps and follow a well-made path to reach the ramparts of the camp.
This is a well preserved extensive camp built by the Romans between AD90 and AD130 and consists of two main camps and an annex.
I follow the path towards a viewing platform. I had thought this might provide a more expansive view over the site, however, it is not much higher than the ramparts so does not give a perspective of the scale of the camps.
There are a range of paths around the Roman Camps, but I have plans for a longer walk. I had hoped there might be a path from here into Cropton Forest, but it soon becomes obvious that I need to return to the car park and walk along the entrance driveway and then turn right along the lane for 500 metres to reach a minor road leading to Keldy Cabins and the Forest.
This is a quiet lane and pleasant walking, I soon arrive at a gateway providing an extensive view, but clearly indicating there is no access to the field. I would like to see greater access to the countryside, preferably through the adoption of a right to roam. However, I hold out very little hope given the policies of the current government.
Proceeding along the road in front of me there is an abundance of pheasants. It is now clear why the landowner is so keen to keep folk out of the field. I have lived all my life in a rural community but I am not a supporter of shooting.
I pass a farm cottage at Keldy Banks and ignore a footpath on the right and continue along the tarmac track.
My route is now straight forward, keeping to the driveway for just over two kilometres to reach the entrance to Keldy Cabins.
These cabins are part of a wider network of holiday accommodation run by Forest Holidays in partnership with Forestry England. The land for the cabins is on a 125 year lease and provides an opportunity for people to holiday amongst the trees. I had imagined basic log cabins, but these offer luxury accommodation.
I continue heading north through the cabins and then walk along a forestry track heading towards High Muffles.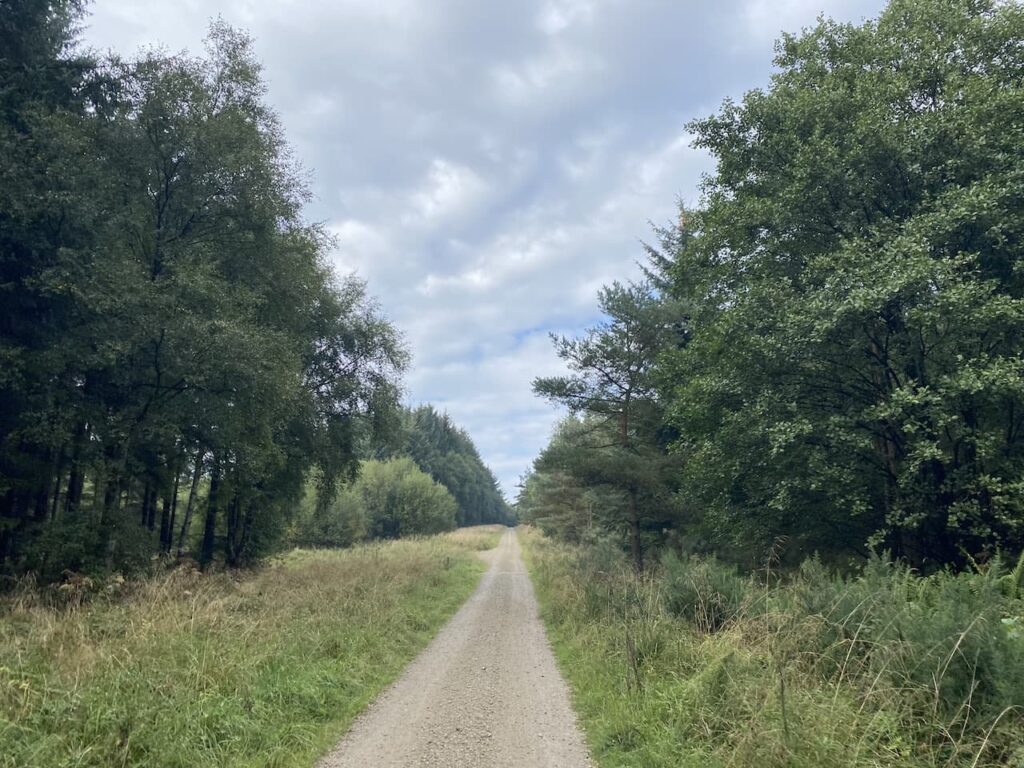 After two kilometres I reach a barrier at High Muffles.
At a crossing of forestry tracks I turn right and follow the fingerpost direction towards Stape.
I am now heading east and pass the entrance to Life House and then ignore a track on the left. I then pass a couple of small ponds.
In April 2019 two beavers from Scotland were rehomed in an enclosure in Cropton Forest as part of an initiative to slow the flow of water from the forest into surrounding communities which had been suffering from flooding.
Since their introduction the pair have bred and produced kits so they should soon be starting to make a positive impact on the environment. I am not sure where in the forest the beavers were released, but I can't see any obvious sign of them being active in this section of woodland.
I continue on to reach a junction of tracks at the edge of the forest and turn right soon reaching a minor road, Middle Head Road, I turn right again and head south along this lane passing farms.
When the tarmac ends I continue along a track heading south.
The track passes through an attractive area of deciduous woodland.
On reaching a gate I cross a field.
To the left is Elleron Lodge, this is a small country estate with 225 acres of land. The property was on the market a couple of years ago for £3.5m and it looks like it is undergoing major renovation.
After crossing the field I go through a gate and continue on the path through trees.
After crossing a stream on a footbridge I keep with the clear path leading towards the entrance driveway for Keldy Cabins.
On reaching the tarmac lane I turn left and retrace my route back towards the car park.
You can view this 8 mile walk on OS Maps and download the GPX File Here
To follow my walk you will need Ordnance Survey Explorer Map OL27 – North York Moors Eastern Area
6th September 2022
© Two Dogs and an Awning (2022)
All information on this site is provided free of charge and in good faith and no liability is accepted in respect of damage, loss or injury which might result from it. To the best of my knowledge the routes are entirely on public rights of way or within areas that are open for public access.
Walking can be hazardous and is done entirely at your own risk. It is your responsibility to check your route and navigate using a map and compass.