Today I am heading out from Brigholme Farm CL to bag another trig point and visit Giggleswick Common, an area I have not previously visited.  I had thought I had bagged all the trig points within walking distance of this CL, but scanning the map last night I realised I did not have the complete set.

Leaving Brigholme Farm I turn left along Station Road and then at the crossroads turn right into Raines Road.  This takes me past the playing fields of Giggleswick School and an old hospital, which has been converted to residential accommodation.  On reaching a finger post I take a footpath towards Dallicar Lane.
The walled path leads up behind houses and then turns right to rise steadily across fields of pasture.  I stop and admire the view behind me.
At a crossing of paths I continue straight on and get good views of Giggleswick Chapel.  This is a fine building, both externally and internally.  Lynnie and I have viewed the interior in the past and it is amazing.  Built in 1897 as a gift from the local MP Walter Morrison the building was designed so that it was complete and had no scope for future internal or external alteration.
My route reaches a field of pasture containing inquisitive cattle.  If I was walking on my own I would feel comfortable, but as I enter the field with Crosby they start to head towards us.  Quickly assessing my options I realise I am going to have to go right through them, or turn around.  I opt for the latter.  I retrace my steps a bit and take a path that leads by the School Chapel and then through an area of tennis courts to reach a minor road, Craven Bank Lane.  Here I turn left and follow this lane uphill passing the school cricket field.
This is a very quiet lane to walk along and at the top of the hill there are good views of the disused Giggleswick Quarry, this closed about ten years ago and apparently has recently been sold.  According to local newspaper reports it will be converted into an industrial facility.
On reaching a junction with the busy A65 I cross with care and take the road almost opposite which is signposted to Eldroth and Lawkland.  I always think it is a route that you could imagine Tolkien sending Bilbo Baggins.   I keep going straight on at the next crossroads and stay on the lane to cross a railway line.
Staying on the minor road I soon pass a rocky outcrop in the field on my right.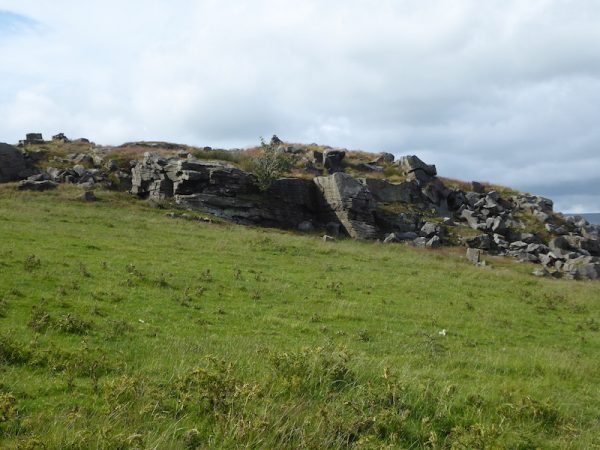 It is a clear day and as I walk I get some cracking views of Pen-y-ghent.
On reaching Four Lane Ends I go straight across into Stackhouse Lane and then at the next junction take a right turn into Black Bank Road.  After going through a gate besides a cattle grid I turn left and then immediately left to head up a farm track towards Howith, Ravenshaw and Butterfield Gap. At a fork in the track I go left and soon reach a trig point, just over the dry stone wall in the field on my left.  This is the 149th I have bagged.
After the trig I go through a gate by another cattle grid and continue along the track to pass farm buildings and then reach a gate into a field of pasture.  The cattle occupying the field are very frisky and after consulting the map I weigh up my options.  I was planning to go through the field with the cows but decide for the second time today to seek an alternative route.  So I head back down the farm track to reach Black Bank Road and turn left to follow the lane.
At a bend in the road I follow a path across a field, although not marked as a footpath on the map it appears well walked and this brings me to the edge of Giggleswick Common. As I head up onto the common I follow a clear route with a dry stone wall to my left.
Soon as I head uphill on the common I get a cracking view of Ingleborough.
This is a vast area of access land, but I can only really see one discernable route and fortunately that is the way I am heading so I follow it across the common, on the way encountering a bit of boggy land around streams.
The route stays on the lower side of the common and then sweeps to the left to head steadily downhill to reach a tarmac lane by Sandford Farm. My route is now very straightforward and follows the tarmac lane.  Normally I try to avoid too much road walking, but these are very quiet country lanes with some cracking views.
The lane starts as Wham Lane, it sounds like a nod to a 1980's pop band, but it is actually leading to Wham.  Soon after this hamlet of a couple of houses it becomes Storth Gill Lane and in front of me I can see Settle with impressive scars in the distance.
At a junction I carry straight on and go under the railway line and then cross the A65 to join Brackenber Lane and pass the Craven Arms.  To my left I notice a plaque in the wall, it reads "1597-98 Plaque Stone, The Stone was enclosed by the Settle Naturalists and Antiquarian Society in honour of Thomas Brayson Esq JP The Settle Historian and Antiquarian 1930"
The siting of the stone is slightly ironic because a couple of years ago the local council planned to make a 15-acre industrial estate out of the farmland close by.  I don't wish to sound a luddite but such a plan to despoil such a cracking spot seems ludicrous to me.
From here I follow the pavement back to Station Road and return to Brigholme Farm, my walk has covered close to 12 miles.  Despite needing a couple of diversions to avoid frisky cattle and spending a lot of time walking on country roads I have thoroughly enjoyed my wander.
To view this 12 mile walk in OS Maps Click Here
To follow my walk you will need Ordnance Survey Explorers OL2 Yorkshire Dales Southern & Western
20th July 2019
© Two Dogs and an Awning (2019)