After a few weeks at home we are off again on our travels, this time Lynnie and Dexter have joined Crosby and I so we have a full compliment in the caravan. Our location for the stay is the Caravan and Motorhome Club site at Fairlight Wood, just outside Hastings. Whilst travelling yesterday it started raining and by the time we were setting up it was torrential. Putting the awning up in rain is not my definition of fun, but eventually it was fully erected and I was soaked.
The site is surrounded by woodland so my early mornings walk was a wander into Guestling Wood, owned and maintained by the Woodland Trust. It is not too long before I lace up my boots and head out again, this time with just Crosby to go for our main walk of the day. Leaving the caravan site I cross the road and enter Guestling Wood and follow the broad track through the trees heading westwards.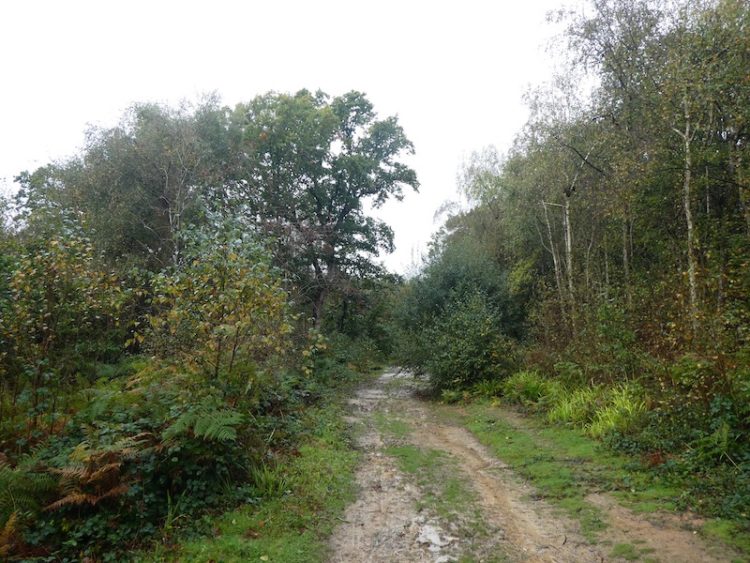 There are various paths off this main route, but I stay with it until a junction of paths with way-markers, here I turn left to join the 1066 Walk Hastings Link and follow the way-markers towards the edge of the wood.
I leave the woods through a kissing gate and head across a field following a well-worn pathway through pasture.
After passing the driveway to a cottage I turn right, still on the 1066 route, through some trees and then follow the footpath besides a wooden fence.
The path now follows along the edge of Glebe Wood; it is well used and easy to follow.
On reaching a road, Chapel Lane, I turn left and walk the short distance to a junction where I turn right along Pett Road. Within a few hundred yards I take a footpath on the left, entering a field of horses, and follow the path uphill across the field. Through a gate the path crosses a couple of fields of pasture; the route continues to be well way-marked.
After crossing a farm track I pass besides a gate and follow the path as it veers to the left to reach footbridges over streams.
Emerging from the copse into an arable field I cross and follow the way-markers into another field, from here I get a good view of the west face of Fairlight Hall. This grand country house was built in 1855 for William Drew Lucas Shadwell; he had recently inherited his Uncle's fortune and set about establishing a country estate by acquiring around 4,000 acres of land and tenant farms.
In 1936 it was purchased by Queens School, Shoreham and during World War II was used as a school for German Jewish refugees. The school closed around 1949 and since then has gone through a succession of private owners. These days as well as being a private home it appears to be a venue for musical events.
On reaching a road I stop to admire the view behind me.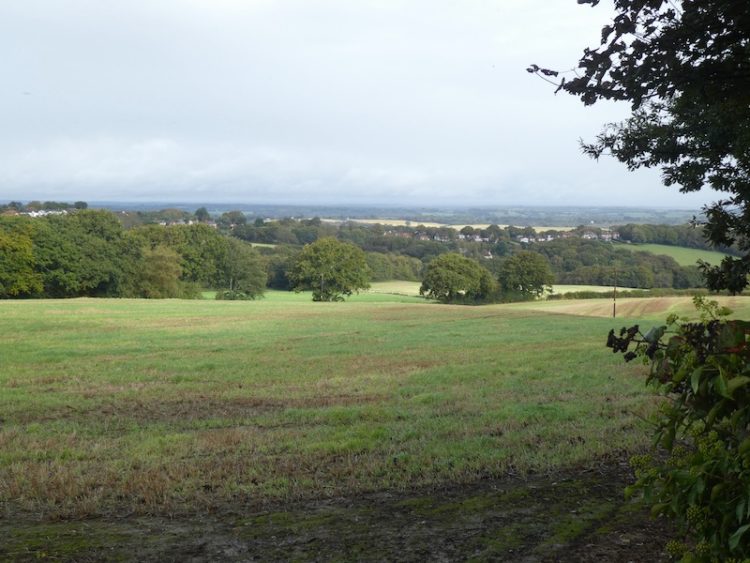 After crossing the road I go over a stile to join a track going steadily uphill.
At a junction of paths I turn right along a track.
The views to my right over Pett Levels towards Camber Sands are extensive.
After a few minutes I reach a lane, Mill Lane, where I turn left. Within a few hundred yards I come to a trig point on my right. This is the 179th I have bagged.
It was around this spot in September 1787 that General William Roy built a 32-foot tower to use in his mapping exercise for the British and French governments to make sea trade safer. Roy had previously invented a theodolite that enabled the accurate measuring of land. It was his ambition to conduct a full survey of Britain and he was the driving force behind the creation of the Ordnance Survey, which was founded in 1791 a year after his death.
Close to the trig point is North's Seat. According to the Hasting's Observer this spot is named after a local Liberal MP Frederick North. Apparently in 1819 a windmill was built on the site but this burnt down in 1869. In 1870 a large circular seat was erected to commemorate Frederick North, he was a much admired individual who was said to have helped many local charities.
I now head south down Mill Lane; this becomes a tarmac track before reaching houses. At a junction I turn left and then almost immediately take a footpath on the right leading to a grassy hedge lined track with views out to sea.
At a junction with Barley Lane I turn right and head towards Hastings, after passing Shear Barn Holiday Park I take a path on the left that runs through the Hastings Country Park, still going towards Hastings. The path rejoins a lane where I turn left and then after passing a barrier head up to East Hill. Just before I reach the open space I take a faint overgrown track on the right leading to East Hill trig point, the 180th I have bagged.
It is overgrown around the trig and as I have no desire to rip my coat on the brambles and thorns I have to be content with getting within a few yards of it. Returning to the path I turn right to gain the open space of East Hill, this is part of the 850-acre Hastings Country Park, which spreads from here along the coast to Fairlight.
It was my intention to pick up the coastal path and follow it from here to the coast guard cottages at Fairlight. However, notices state some of the paths are closed due to landslips, so I decide to retrace my steps to Barley Lane.
A couple of years ago Lynnie and I followed a route up Barley Lane and carried on through to the coast guard cottages, so rather than take the various footpaths on the right leading towards the coastal path I stay on the lane. On reaching a sign to the Country Park I carry straight on through a gate to follow a well-used path.
Soon as the path opens out I see the coast guard cottages in front of me.
To my right are cracking views out to sea.
On reaching the coastguard cottages I turn right to head down to the viewpoint on Fires Hill. Here I read a cartoon board by local artist Julian Hanshaw.
It explains that Pett Level, down to my left, was considered a possible location for German Gliders to land in an invasion. To make it unusable as a landing site telegraph poles were sunk into the ground and cars abandoned there.
I now turn around and take the track along by the cottages and head up towards the visitors centre. Since last here work has commenced on a new centre, which looks far larger and grander than the current wooden shack.
Next to the current visitors centre is a plaque commemorating Grey Owl 1888-1938 and the inscription reads "Born and educated in Hastings, Archibald Stansfield Belaney early became fascinated with the North American Indians and their way of life. Emigrating to Canada in 1906, he spent most of the following two decades among the Indians of northern Ontario. He adopted their lifestyle, became expert in hunting and trapping, and assumed the name Grey Owl. During the 1920's he became alarmed at the rapid despoliation of the wilderness, the wanton slaughter of wildlife and the threat to Indian cultural survival. He stopped trapping and from 1929 until his death achieved worldwide acclaim through his books and lectures in which he pleaded for recognition of "the natural brotherhood between man and animals" and for the protection of the wilderness".
After his death from pneumonia, apparently exacerbated by his excessive drinking, it was discovered that Belaney had falsely claimed to having been born to a native Indian mother. Supposedly she met his Scottish father whilst they were both touring Britain with Wild Bill Hickok's Wild West Show. The discovery of this fraudulent claim damaged his reputation. However, during his lifetime his books and lectures attracted a huge following it is indisputable that he had considerable influence on the development of wildlife conservation.
After visiting this site a couple of years ago I mentioned the plaque to my then 91-year-old friend Maurice. Amazingly he told me when he was a child Grey Owl had visited his school in Yorkshire and given a talk to the children.
I take the lane to the right of the visitors centre and follow it to St Andrew's Church, Fairlight, this was built in 1845, although one of the bells in the belfry is said to date from the 14th century.
Past the church I reach a road and turn right to follow the narrow pavement downhill. Just after passing Peter James Lane on the left I take a footpath, also on the left, which is close to a fire beacon.
The path heads downhill across a field and then goes through a stretch of woodland. Out of the woods I cross a couple of fields and then take a footpath on the left through a hedge. On the far side there are three footpaths. I take the one on the right to meet Rosemary Lane.
I turn left along the lane heading towards Pett. At the top of the lane I turn right along Pett Road and then after a couple of hundred yards take a left up Watermill Lane. This leads to the entrance of Fairlight Wood Caravan Park.
My walk of just over nine miles has covered some attractive countryside with interesting historical significance, especially for a man with a "habit" of purchasing Ordnance Survey maps!
[To follow our walk you will need Ordnance Survey Explorer Map 124 – Hastings & Bexhill]
You can view this 9 mile walk on OS Maps and download the GPX File Here
15th October 2019
© Two Dogs and an Awning (2019)
All information on this site is provided free of charge and in good faith and no liability is accepted in respect of damage, loss or injury which might result from it.  To the best of my knowledge the routes are entirely on public rights of way or within areas that are open for public access.
Walking can be hazardous and is done entirely at your own risk.  It is your responsibility to check your route and navigate using a map and compass.