It appears that I am the flavour of the month for nasty bitey things.  When we were away in Ripon a few weeks ago some horrible fly decided to take a bite of my arm, this required a couple for days of antihistamines to calm it down.  This trip, whilst walking in Mordiford something horrible had three goes at my chest and I am back on the Piriton, unfortunately,   it makes me a bit drowsy (especially when taken with Guinness) so we make a slow start today.

We are just heading out for our walk after lunch when there is a downpour.  So our walk is delayed until late afternoon.  We take the short drive to Fownhope and park in the recreation field car park close to the church.  Our walk starts by going back along the driveway of the recreation park and then turning right along the tarmac lane.  We follow this road for nearly a mile before bearing right down a track heading to the River Wye.
This is a broad slow moving stretch of river and it is pleasant walking, as we turn a bend there is a woman in the distance just about to enter the river for a swim.  She appears to have forgotten her costume and on seeing us scurries back to the bank to put on the missing items before returning to the river for her swim.  I can't say that a dip in the river appeals to me, but then I am not much of a swimmer.
After a mile along the river bank we bear left taking a broad track uphill through woods and away from the river.  This brings us to a minor road and we turn left toward Brinkley Hill Farm.  By the farm we take a sharp right to follow a way marker for the Wye Valley Walk, this follows the edge of a field and then turns sharp left to go along a track (a footpath carries straight on but the Wye Valley Walk goes left here).  This brings us to another minor road where we turn left and head steadily uphill.  At a crossroads we go straight across and then we reach Capler Lodge with a viewpoint back across the River Wye.
Passing Capler Lodge we take a footpath to Capler Camp (we are back on the Wye Valley Walk) and continue on this wooded footpath as it goes beneath the Iron Age Hillfort.  As the track we are on curves to the left we carry straight on and go through ramparts of the hill fort.  From here we get great views across the Wye Valley.
We are still on the Wye Valley Walk and follow the way markers past a building and then down through woods to cross a field and enter the back of Caplor Farm where we join a track that leads to a minor road.  Here we turn left and then almost immediately right to cross a field and then descend across another before crossing a stream. We then climb uphill before the route sweeps to the left to follow a path that leads into Paget's Wood.
This beautiful woodland is owned by the Wildlife Trust.  Recently there have been many negative media stories about charities and if you believe the slant that some journalists like to take it is easy to assume that there is something seriously wrong with the charity sector.  Of course, like any sector there are some problems, with some charities requiring close supervision or regulatory action, but the vast majority of the over 160,000 registered charities are doing wonderful things for our society.  The Wildlife Trust is one such charity and it is one we support.
We follow the Wye Valley Walk through the woods and on reaching a road cross and carry on with Common Hill Farm on our left.  At a fork in the footpath we leave the Wye Valley Walk to continue along a hedged track which we follow into woodland which eventually emerges from the trees to give a fine view of the valley below.
From here we go downhill and then come to a junction of tracks, we take the second on our left which takes us downhill to a lane which has a fine old covered pump and telephone box converted into an information kiosk.
I think these initiatives are great, we have come across a number on our travels, some are art galleries, others provide a local library and a few like this are full of information.  Such things rely on volunteers both to start them and then to keep them running, I think they should be encouraged and supported.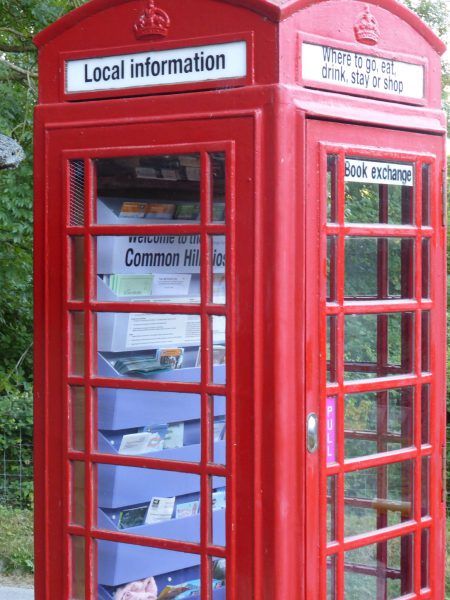 We turn right and follow the lane back to Fownhope, on entering the village we stop to look at the village stocks.  They are believed to have been built in the 14th century and were restored in 1909 by the parish.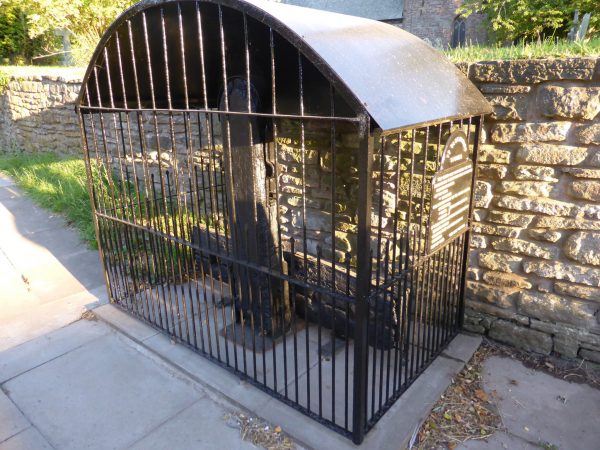 There are said to be only four remaining stocks in Herefordshire.  Personally given the amount of litter I have seen around the county town I would build a few more and put them to use (it might be a coincidence but we have not seen any litter in Fownhope!).  Oh dear I am having another Victor Meldrew moment.
We follow the lane besides the church that soon brings us back to the playing field where our car is parked.  We have covered almost seven miles on our wander and it has been a very pleasant walk.  Just right for a warm afternoon, but I have a hankering to get back into the Black Mountains before we leave this area in a few day's time.
To view this walk on OS Maps Click Here
To follow our walk you will need Ordnance Survey Explorer Map 189 – Hereford & Ross on Wye
24th July 2016
© Two Dogs and an Awning (2016)