We have reached the final day of our tour to Hereford the weather has been cracking.  In fact too hot for us on a couple of days but it is slightly cooler today making it perfect for a trip back to Llanthony for a walk in the Black Mountains.

After the misinformation from the sat nav a couple of days ago we use a map, and  knowing the route the journey is straightforward.  We park in the car park by Llanthony Priory and go down the drive passing through a gate and immediately turning right to walk along the edge of the Priory.
After another gate we turn right and are now behind the Priory, the steep uphill path we are on is the Beacons Way and we follow the way-markers towards Hatterrall Hill.  As we climb we get some wonderful views.
On the ridge we turn left to join the Offa's Dyke Path.  About half a mile along we meet a trig point, we are 1712 feet above sea level and the breeze makes it cool up here.
We now carry on along the ridge with really stunning views on either side.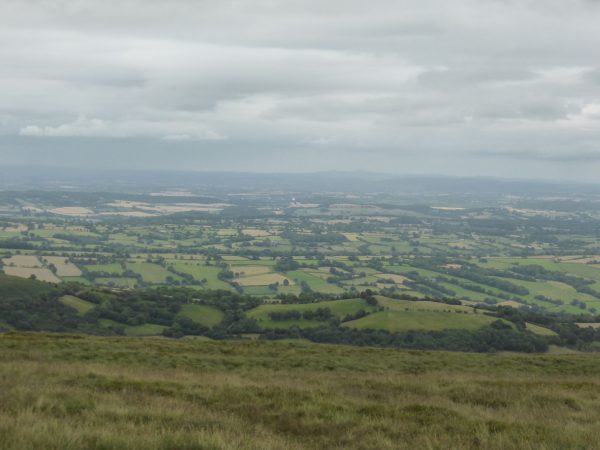 To our right is England and to the left is Wales.  The sun is shining in England but it is looking a bit ominous in Wales.
The next trig point is about two and a half miles along the ridge and is 2001 feet above level.
Now we are on the ridge we have decided (or more truthfully I decided, as I have the map) to continue until the end of at Hay Bluff, which is close to five miles away.
It is great walking along this ridge, although Lynnie is not so sure as she has cottoned on to the fact that this walk is going to exceed the eight or nine miles she had specified.  Thankfully just as she is becoming slightly fretful about the distance we meet some ponies providing a good excuse for a stop.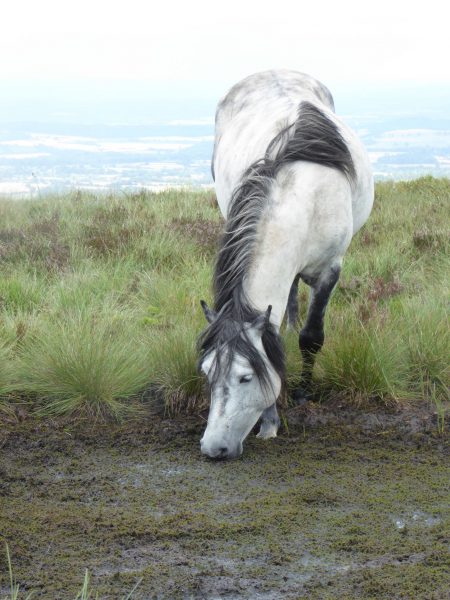 The next section is a bit desolate and marked by a series of cairns.  On this clear day they are not required but looking at the weather heading our way from Wales they might be soon.
Finally we reach the trig point at Hay Bluff standing 2221 feet above sea level and, there is no mistaking which country this stands in.
I consult the map, I am tempted to suggest that we cross the valley and climb Twmpa or Lord Hereford's Knob, but coming from the west are some very dark clouds and although slow moving, rain is threatening.
So we agree to turn left and follow the path shown on the map crossing Flynnon y Parc, there are more amazing views from here across the valley and out towards Hay-on-Wye.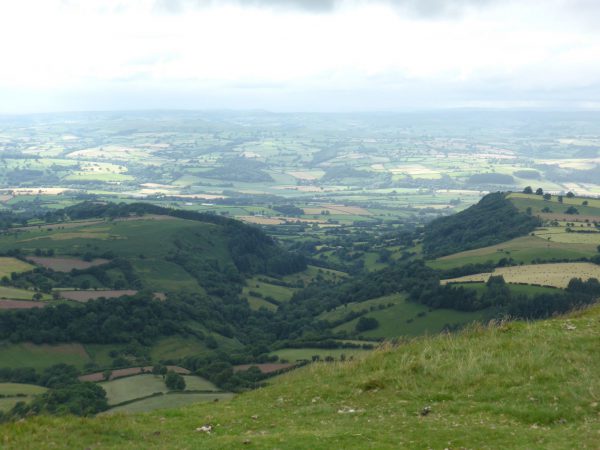 We continue along the path descending to meet a road (Gospel Pass), we decide to follow this back to Llanthony, which is six miles away.
Almost three miles along the road we reach Capel-y-Ffin and stop at St Mary's Chapel, built in 1762 it is an interesting building from the outside and Lynnie goes in to explore.
It measures just 26 feet by 13 feet inside, but is packed with interesting features, including a small balcony.
But what grabs Lynnie's attention is the mouse on the font cover.  We assume this to be the work of Robert (Mouse man) Thompson (1876-1955).  Thompson was an oak furniture maker from Kilburn in North Yorkshire and his trademark was a carved mouse.
Leaving the Chapel we are on the route that we walked a few days ago.  It is a pleasant three-mile stroll back to Llanthony.  Our walk has covered over sixteen miles and has been a real stunner.  It is certainly a walk I would like to do again, maybe next time extending it to climb Lord Hereford's Knob.  It is now time to head back to the Coachman and start packing up for our trip home tomorrow.  It will only be a few weeks before we are off again to spend a couple of weeks at Cholsey Grange CL.
To view this walk on OS Maps Click Here
[To follow our walk you will need Ordnance Survey Explorer Map 13 – Brecon Beacons National Park]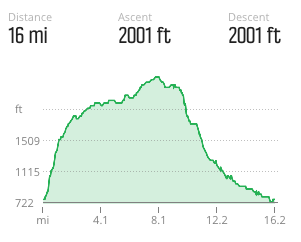 25th July 2016
© Two Dogs and an Awning (2016)