A sunny spring day. Today would have been Lyn's mum's ninety-third birthday, sadly she passed away shortly before Christmas. We had booked our stay near Poole so we could be with Miki on her birthday, so despite the sunshine the day is tinged with sadness and memories.
We have a few things to sort out in Poole and then set off for our afternoon walk. We drive through Poole Park, very busy with families enjoying the Bank Holiday sunshine. Past the crazy golf, Lyn and I have fought a competitive round here in the past and from the passenger seat I am challenged to a round later in the tour, I will definitely have to get my Odyssey Two Ball Putter out of the store before that occurs.
We drive around Poole Harbour, past Sandbanks, a Sunday school outing for me when I was a child, "All aboard the skylark" (Bell's coaches). For Lyn a bus ride from Upton to Poole and a walk across the park. Then it's the queue for the ferry to Studland. I don't like boats. When I was a nipper my mother's parents lived, according to my father 'on the wrong side of the Itchen', in those days no bridge apart from the floating bridge. It may have been on chains but still scary to a young Fred. When we went on holiday to the Isle of Wight I had weeks of sleepless nights worrying about how the Red Funnel would navigate through Southampton Water and then across the Solent. Today's trip is across calm water and is over before it started. I feel like Frances Chichester and there are crowds on the other side to greet me, or perhaps they are queuing to go the opposite way.
We park in a layby and head away from the beach and out across the Nature Reserve and Godlingston Heath up to the Isle of Purbeck Golf Course, once owned by Enid Blyton. I played this course some twenty years ago on a hot July day, gorse and bracken everywhere and almost impossible to keep the ball on the baked fairways. I promise myself that I will play the course again before too long. I might even try and get Jools, my old golfing mucker now living in Swanage out, his company is much missed.
We walk towards Newton Heath. In the 1970's this was the centre of controversy when they started to drill for oil. It is reportedly the largest onshore oil field in Western Europe. It was 1936 when the oil industry started in the Purbecks, drilling wells at Kimmeridge. Back in 1890 the Kimmeridge Oil and Carbon Company reported that it had dug 5,000 feet of underground tunnels at Kimmeridge to extract oil shale. At it's peak Wytch Farm produced 110,000 barrels of oil per day. Today it is very peaceful, not a hint of Dallas.
We walk to Ower Quay that overlooks Poole Harbour, with Green Island directly in front of you. There are three islands in Poole Harbour, Green Island, Furzey Island and the more famous Brownsea Island. I went to Brownsea Island when I was young on a Cub's outing. Normally I would have been excited. But it was a Saturday and Saints at home to QPR and I wanted to see Rodney Marsh play. Akela was heavily pregnant and went into labour, so a few older Cub's including Maff and I, had to go back on the train. I am sure that we had a responsible adult with us, but that part of the memory has gone. All I recall is that on the train from Southampton to Salisbury there were lucky people who had been to the match. I was offered a look at a programme, but it was poor compensation. Soon after I left the Cubs.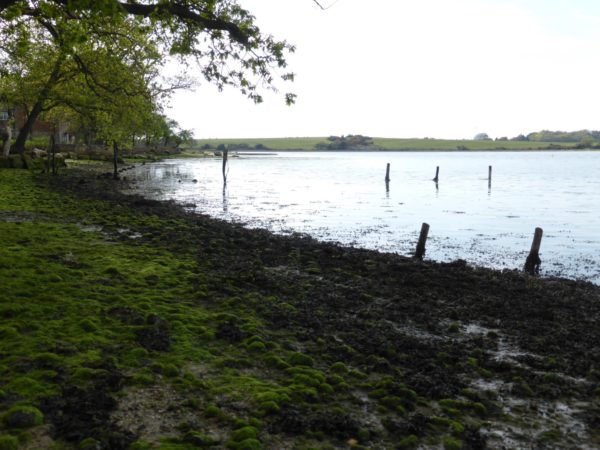 Ower Quay is very tranquil, hard to imagine that this was once a bustling port serving Corfe Castle. Lyn has hold of the camera, so we are not going to leave in a hurry. But eventually we retrace our steps before heading to Newton Copse.
The sun is bright and we hear our first Cuckoo of the year. We pass Goathorn Farm and then back to the car. The new app on my phone tells us that we have walked almost 8 miles in just over two hours. That's a good pace!
Home to the Unicorn for a well earned beer and to try and catch up with some blogging. Moving day tomorrow!
You can view this 8 mile walk on OS Maps and download the GPX File Here
To follow our walk you will need Ordnance Survey Outdoor Explorer Map 15 – Purbeck and South Dorset
Additional Information
For more information on this walk including car parking, amenities, refreshments and detailed walking directions visit my associated Walking Moonraker website.
21st April 2014
© Two Dogs and an Awning (2014)
All information on this site is provided free of charge and in good faith and no liability is accepted in respect of damage, loss or injury which might result from it. To the best of my knowledge the routes are entirely on public rights of way or within areas that are open for public access.
Walking can be hazardous and is done entirely at your own risk. It is your responsibility to check your route and navigate using a map and compass.